Although most tourists visit Turkey's largest city Istanbul in summer, we think there is something magical about Istanbul in winter with less crowds, cosy bakeries and restaurants and the city in a festive mood for the New Year.
I am from Australia and we're not used to cold weather or snow but we love winter time in Istanbul. There are still plenty of things to do out and about.
You only get a few days that dip below zero degrees Celsius (32 F) during winter.
Natural gas is used as the main form of heating indoors. You'll find that public transport, shops, cafes, and even most houses are comfortably warm in winter, sometimes bordering hot, so there are plenty of place to escape the cold.
Visit historical sites in the Sultanahmet neighbourhood
Mosques and historical sites in Istanbul have long lines in summer, so if you are travelling in winter, you'll have attractions mostly to yourself.
The area of Sultanahmet has some of the most famous historical sites in Istanbul (in fact in the whole country), all within walking distance to each other.
Here are our top recommendations for places not to miss in the Sultanahmet neighbourhood.
Hagia Sophia
Topkapi Palace
The Blue Mosque
Basilica Cistern
The Hippodrome
Istanbul Archaeology Museums
The Grand Bazaar
Take in a local show
The Ataturk Cultural Centre (Atatürk Kültür Merkezi, commonly called AKM) is a famous concert hall on the east of Taksim Square, an impressive building where you can watch exhibitions and shows. It hosts lots of events; ballets, operas and concerts, even shows for children.
Helpful tip
If you have children, you can book a workshop for them. The Ataturk Cultural Centre hosts music, storytelling, drawing, painting, ballet, drama, dance and theatre workshops, starting from just 100 Lira in 2023 ($3.50 USD). Our toddler loved their music and storytelling workshops. Their workshops are small, only holding 10 children so each child gets to join in and participate.
At Galata Tower, you can take in a Turkish show along with dinner, accompanied by the famous whirling dervishes at the restaurant there, popular for the incredible view at the top.
If you'd like to enjoy the city skyline out of the cold, you may want to book a Bosporus dinner cruise accompanied by a Turkish belly dancing performance.
Relax in a Turkish Hammam
In Ottoman times, people would go to the local hammam to bathe, as most houses did not have a place to shower.
Today it has become a luxury experience, with locals and tourists going to relax and be pampered. A typical hammam session lasts for 45 minutes and includes a tradition body scrubbing, a foam wash, and a massage.
The warm and steamy bath area is lovely place to linger and relax on a winter day.
Visit a museum to learn about ancient history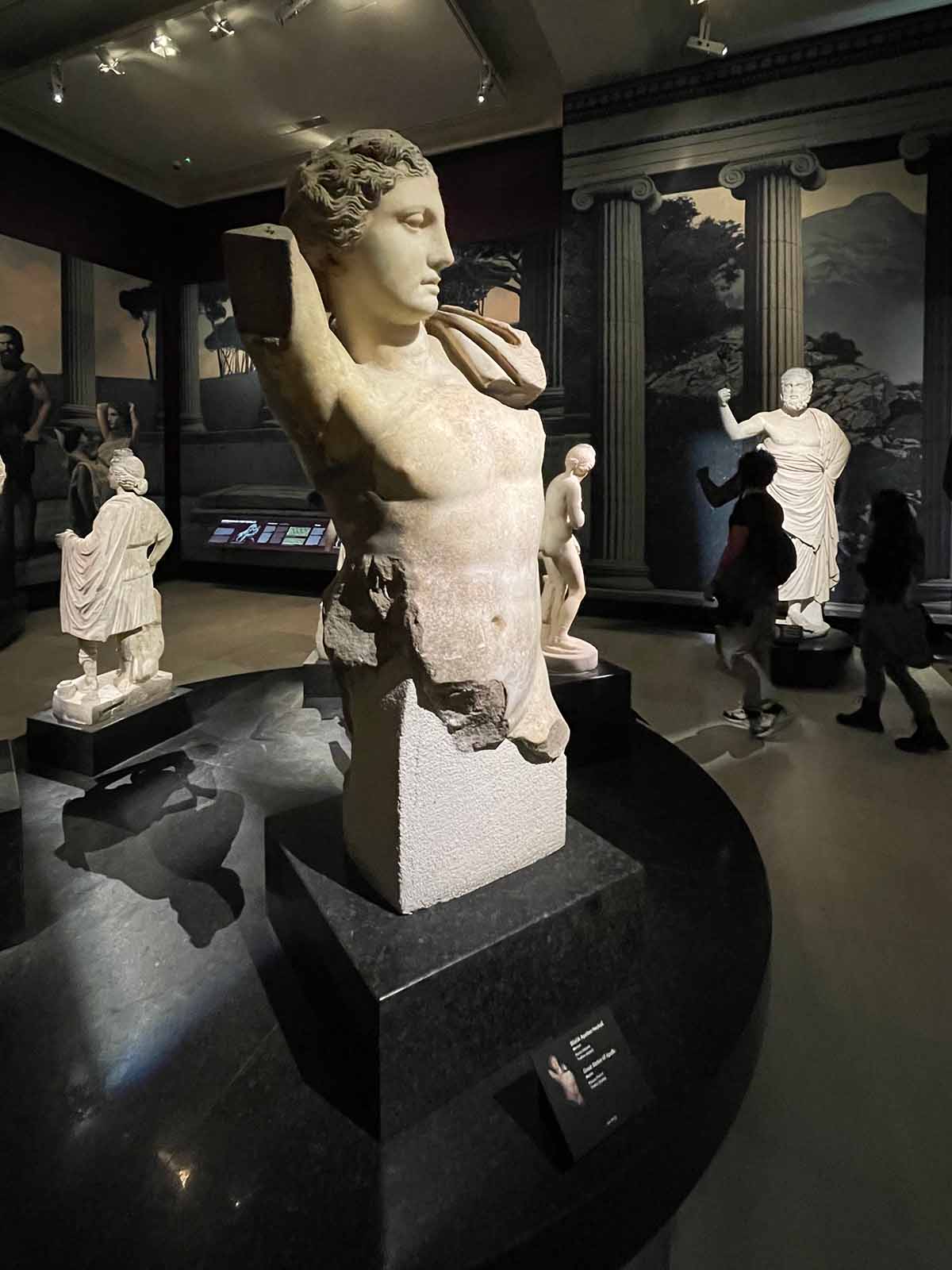 Istanbul has over 80 museums where you can see impressive displays and artifacts dating back to 140 AD, almost 2,000 years old!
We were fascinated by the Topkapi Palace Museum which was the headquarters for Ottoman sultans for centuries. It's pretty opulent with 4 courts and a harem section, as well as a large treasury of weapons, jewels, robes and manuscripts.
Some other museums we'd recommend visiting are:
Istanbul Archaeology Museums
Istanbul Modern
Rahmi Koc Transport Museum
Museum of Turkish and Islamic Arts
Enjoy pastries at a bakery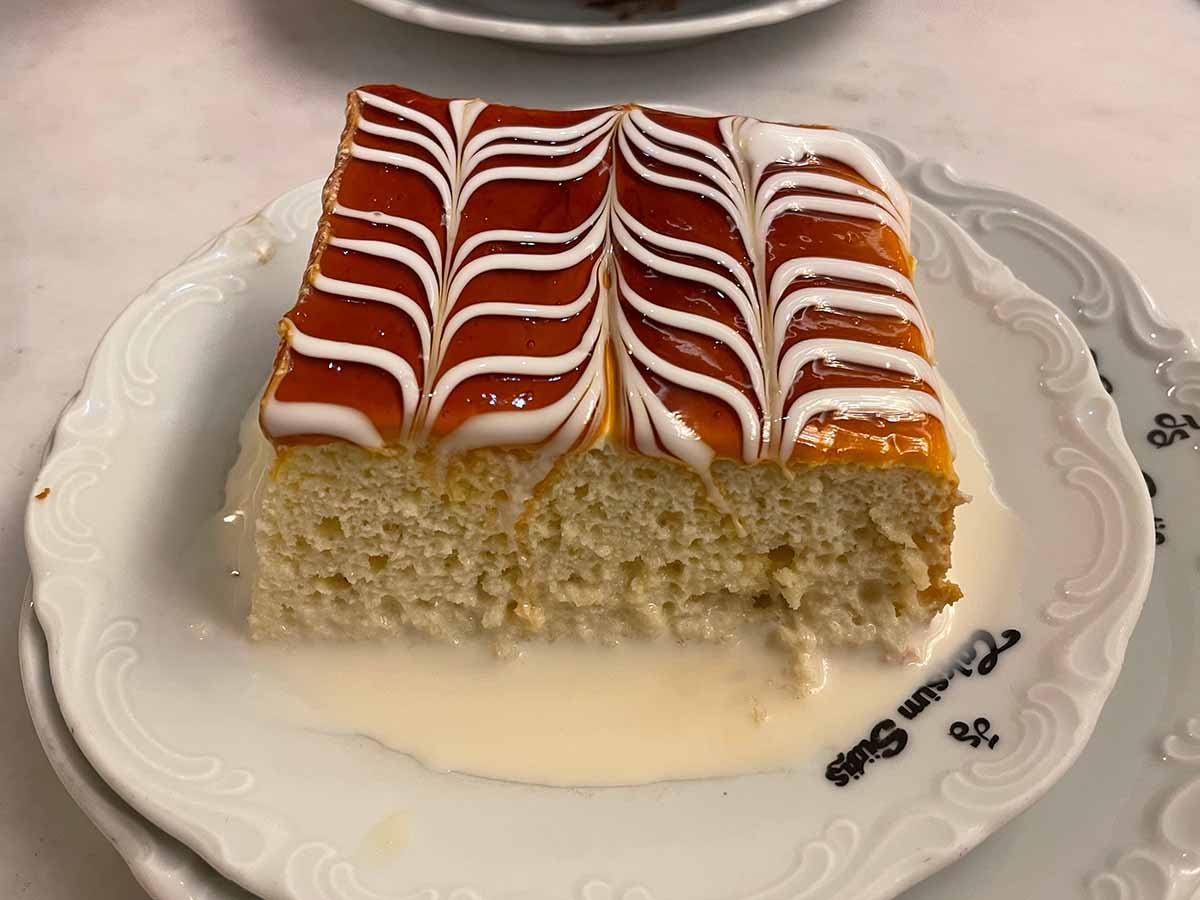 In winter it is hard to beat a fresh pastry from a bakery paired with cay, black tea served in a tulip-shaped glass. In Turkey bakeries are called "firin".
Another favourite snack in Turkey is the simit, a bagel-shaped breadroll covered in roasted sesame seeds. You can request them to be filled with Nutella or served with melted cheese.
Of course, baklava freshly baked and still warm from the oven is hard to beat, too.
Most restaurants and cafes open late in Istanbul, after 9am, so a bakery is a great place to go if you are up early and want to eat breakfast out of the cold. Bakeries generally open between 6 and 7 am.
Try warm winter drinks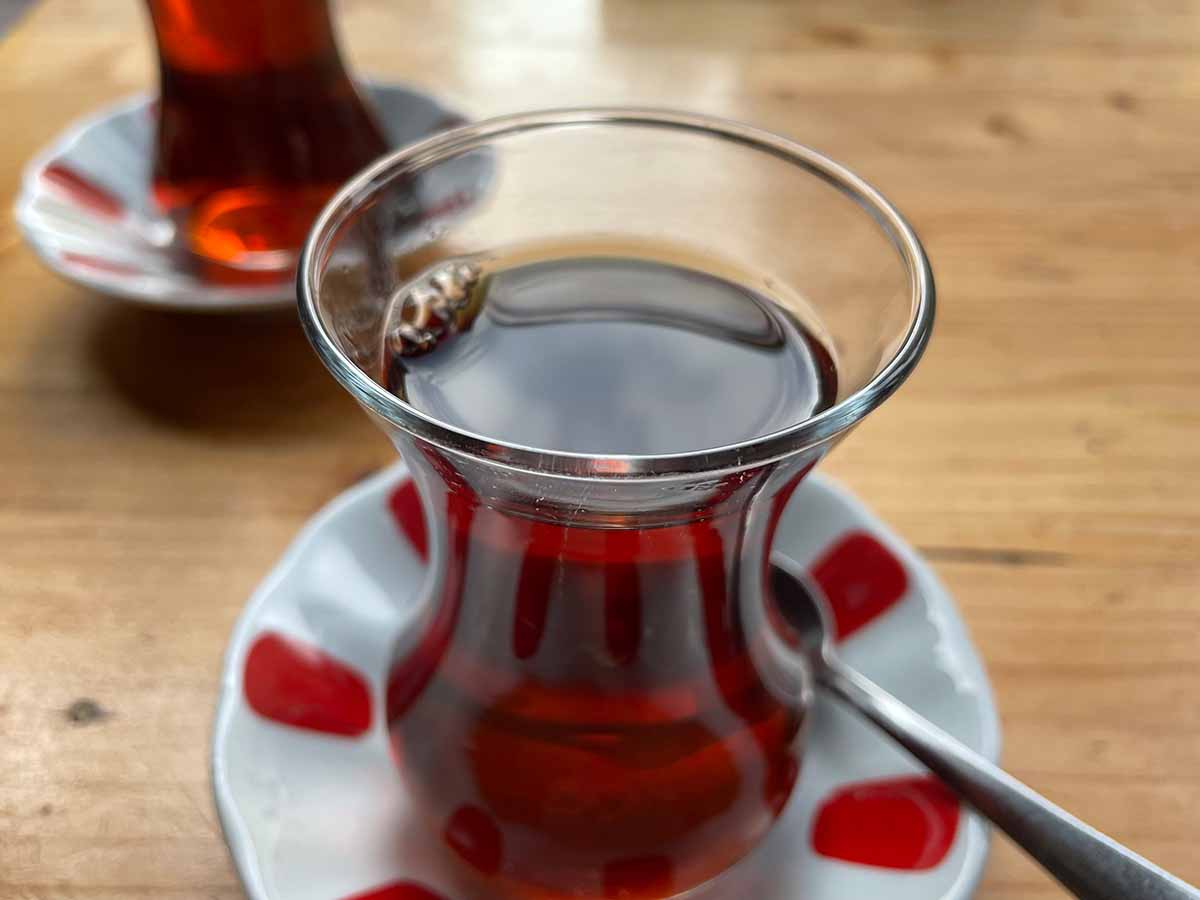 Turkish tea
It's an understatement to say that tea is popular in Turkey. In fact, Turks consume the most tea in the world with the average person consuming roughly 4 kilos per year, and up to 10 cups of tea per day in winter!
Turkish coffee
Instead of a traditional brew, Turkish coffee is boiled. It has a strong flavour and we often see it served with Turkish delight. While not as popular as Turkish tea, this coffee is a go-to wake-up drink. Just don't drink the grounds at the bottom like we have. Ewww.
Boza
Boza is a popular Turkish drink in winter. It is sweet and tangy and made from fermented grains like millet, barley, wheat, and corn. It's so thick it's somewhere between a drink and a pudding.
Salep
But probably the most popular traditional drink in winter (apart from tea and coffee) is salep, a thick warm drink made from sweetened milk, the ground roots of orchids, and topped with cinnamon.
Nane Limon
Nane Limon is another common drinks for locals, although not as well-known among tourists. It consists of water boiled with mint (nane) and topped with lemon, an effective cold preventative.
Read in a bookstore cafe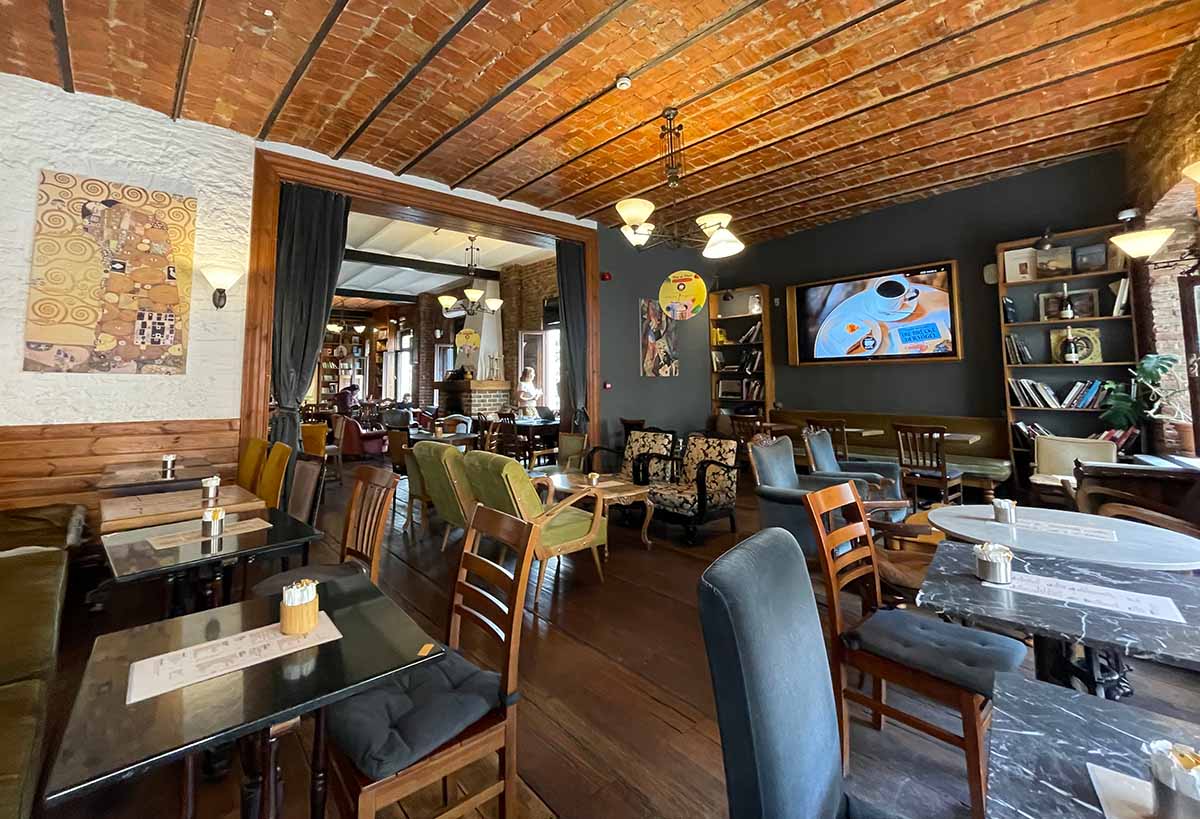 If you relax over a good book, why not check out one of Istanbul's bookstore cafes. You can browse from a wide selection of books and find a cosy nook to read. Some of our favourite bookstore cafes serve a traditional Turkish breakfast, along with pastries and warm drinks.
Here are two of our favourites:
Minoa Cafe and Bookstore
Vişnezade, Süleyman Seba Cd. No:52/A, 34357 Beşiktaş/İstanbul, Türkiye
This 3-level bookstore has an impressive selection of both English and Turkish books and an equally popular café serving both western style options and traditional Turkish staples. The café is lined with books which you can read as you enjoy a coffee or tea from their excellent barista.
Türk Alman Kitabevi and Cafe
Şahkulu, İstiklal Cd. No:237, 34431 Beyoğlu/İstanbul, Türkiye
This bookstore café is located on the busy Istiklal shopping street. It has 2 levels filled with small nooks for reading. Although most of the books are either German or Turkish, it's still a great place to come even if you can't read either language. You can sample their delicious cakes and bring a good book from home.
Shop in one of Istanbul's huge shopping malls
There are plenty of indoor activities in Istanbul if you want to get out of the cold.
Istanbul is a popular shopping destination with a number of huge malls spread across the city. Here are some of our favourites.
Istinye Park Shopping Mall, Sarıyer district
Istinye Park is a very popular shopping mall in Istanbul, located near the Bosphorous Bridge in the Sarıyer district. The mall has 291 stores, including international and local brands, a cinema, a theatre, and a food court. Istinye Park is known for its luxurious architecture and high-end stores.
Cevahir Shopping Mall, Şişli district
Located in the Şişli district, Cevahir is one of the largest shopping malls in Istanbul, in fact it said to be the largest shopping centre in Europe. The mall has over 300 stores, including international and local brands, a cinema, a theatre, and a food court.
Zorlu Center Shopping Mall, Besiktas district
Zorlu Center in the Besiktas district is probably the most luxurious and high-end shopping mall in Istanbul. and often regarded as THE high-end shopping mall. The mall also has a theatre, a concert hall, and a food court.
Akmerkez Shopping Mall, Etiler district
Akmerkez Shopping Centre is huge with 8 floors. It won 2 awards for best shopping centre in Europe when it was first built. When you need a break from shopping you can sit in the extensive food court, which offers everything from Turkish cuisine to modern fast food options.
Kanyon Shopping Mall, Levent district
Kanyon Mall in the Levent district is a great place to go for the whole family with several toy stores – Armagan Oyuncak, LEGO Store and Tirtil Kids – as well as Cinemaximum on the first floor.
Forum Istanbul, Bayrampaşa district
The Forum in Bayrampaşa is Istanbul's largest shopping centre and has plenty of activities like LEGOLAND® Discovery Center, SEA LIFE Aquarium, a Cinema, IKEA, Joypark and FunLab.It also has popular stores like IKEA.
In fact, Sea Life Istanbul boasts Europe's longest underwater ocean tunnel at 83 meters long – plus 15 different species of sharks.
Go ice skating
Ice skating is a magical thing to do in Istanbul in winter, especially around Christmas time. There are several large ice-skating rinks in the city, both outdoors and indoors in some of Istanbul's largest shopping malls.
Pick up souvenirs in one of Istanbul's covered markets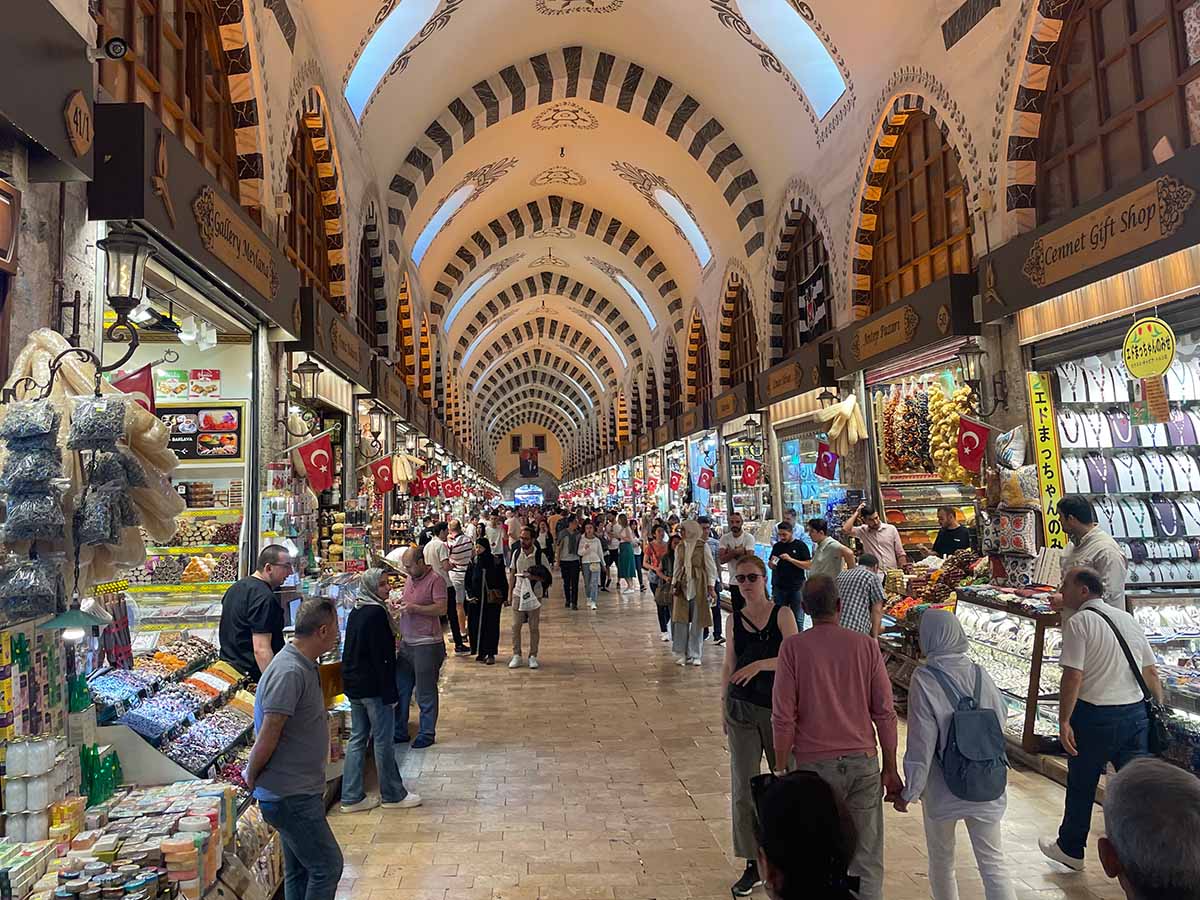 Istanbul has some large markets built during the Ottoman empire. Often vendors will offer you cay as you browse their store, and bargaining for a good deal is expected. It's as much a cultural experience as a shopping trip.
Grand Bazaar
Beyazıt, 34126 Fatih/İstanbul, Türkiye
The Grand Bazaar located in the Fatih district (next to Beyazit tram station) is the largest Ottoman Bazaar, built in 1461. It has 3600 shops and is covered so you'll enjoy a colourful experience with handbags, gold, diamonds, jewellery, souvenirs, and more while being out of the cold.
Spice Bazaar
Rüstem Paşa, 34116 Fatih/İstanbul, Türkiye
The Spice Bazaar (also called the Egyptian Bazar) was built in 1640 and, like the Grand Bazaar, is also covered. It has 86 shops with spices and sweets, just a short walk from the Grand Bazaar.
Try Turkish street food
While the simit is a popular sight in Istanbul, you can also see tradition red karts with vendors selling roasted corn and chestnuts, a great snack on a freezing day.
Although summer is when you will see the most tourists in Istanbul, our favourite season in Istanbul is probably winter (December-February) with the more relaxed vibe, discounted hotel rates, and things to do that can only be fully enjoyed in winter.
Plus, with a little sprinkling of snow Istanbul looks absolutely stunning!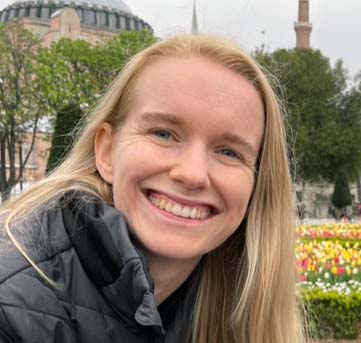 I'm a teacher and writer living abroad. I love languages, drinking lots of çay (tea) with friends, experiencing different cultures and going on adventures with my family.