While Christmas is not generally celebrated in Turkey, being a Muslim country, there are still plenty of things to do in Istanbul at Christmas time. The city is ablaze with lights in December ahead of New Year's, which is a big deal in Turkey and the city feels festive in anticipation.
The winter months of December, January and February have less tourists, so you won't experience long lines at mosques, museums and historical sites.
Of course, the 25th of December is not a public holiday in Turkey, so everything is open and people go about their normal workday.
In Turkey, Christmas is called Noel.
1. Enjoy the lights on Istiklal Street and Galata Tower
The busiest street in Istanbul, Istiklal Caddesi, is decorated beautifully with lights and decorations at Christmas time. In fact, you'll even see decorated pine trees everywhere, although all of this is actually meant for New Year's.
From the Galata neighbourhood you'll get views of the famous Galata Tower which is festooned with lights in December.
2. Go Christmas Shopping in one of Istanbul's huge malls
Our favourites are the seaside Galata Port mall or the luxurious Zorlu Centre, but all the large shopping malls in Istanbul have beautiful lights and New Year displays in December.
3. Try the winter street food
Warm up with corn on the cob or roasted chestnuts as you wander the streets. You can get both corn on the cob and roasted chestnuts from vendors with the classic red karts on just about every main street in Istanbul.
4. Visit a Christmas market
While Istanbul does not boast many Christmas markets, there are a few that are gaining popularity.
The Istanbul International Women's Winter Bazaar is hosted by the International Women of Istanbul group, an expat group of women who put on events and raise money for good causes. In 2023 the bazaar will be held at the Istanbul Dedeman Hotel in Gayrettepe on the 10th of December. It is just 50 TL entry for adults and free for children under 12 years old.
The Christmas Market Istanbul is held at the Four Seasons Istanbul Hotel and has a 10-day program with famous artists, market stalls and a merry-go-round.
5. Go ice skating
Ice skating rinks in Turkish are called buz pisti, and they are often only open over winter the season, so Christmas is a great time to enjoy a skate in the frosty outdoors.
Vega Ice
Maslak Mah. Ayazağa Cad. No: 4 Saryyer/Istanbul
Vega Ice is an outdoor rink which can be magical in winter, located at Uniq Istanbul shopping centre is in Saryyer.
Icessporto Buz Pisti
Büyükdere Cad. No:171, 1st Levent, Besiktas/Istanbul
Icessporto ice rink is another popular skating venue. It is located in the Metrocity shopping centre and hockey tournaments are regularly held there.
Silivrikapi Ice Rink
Sümbül Efendi, Hisaraltı Cd. No:111, 34107 Fatih/Istanbul
This ice rink is one of the largest in Turkey with 9,000 square metres and 2 Olympic sized tracks.
Buzluk Buz Pisti
Yeni Sahra Mah., Istiklal Sok., No: 10/4 Atashehir/Istanbul
Buzluk Pisti is a popular ice-skating rink on the Asian side of Istanbul.
Flash Ice Rink
Eski Londra Asfaltı Kültür Sok., No:1 (opposite Bakırköy Devlet Hospital), Bakhchelievler/Istanbul
Flask Ice Rink is located in Metroport shopping centre in the Bakhchelievler district. If you are not a confident skater, you could sign up for lessons here as they offer lessons for both children and adults.
6. Try salep – a classic winter drink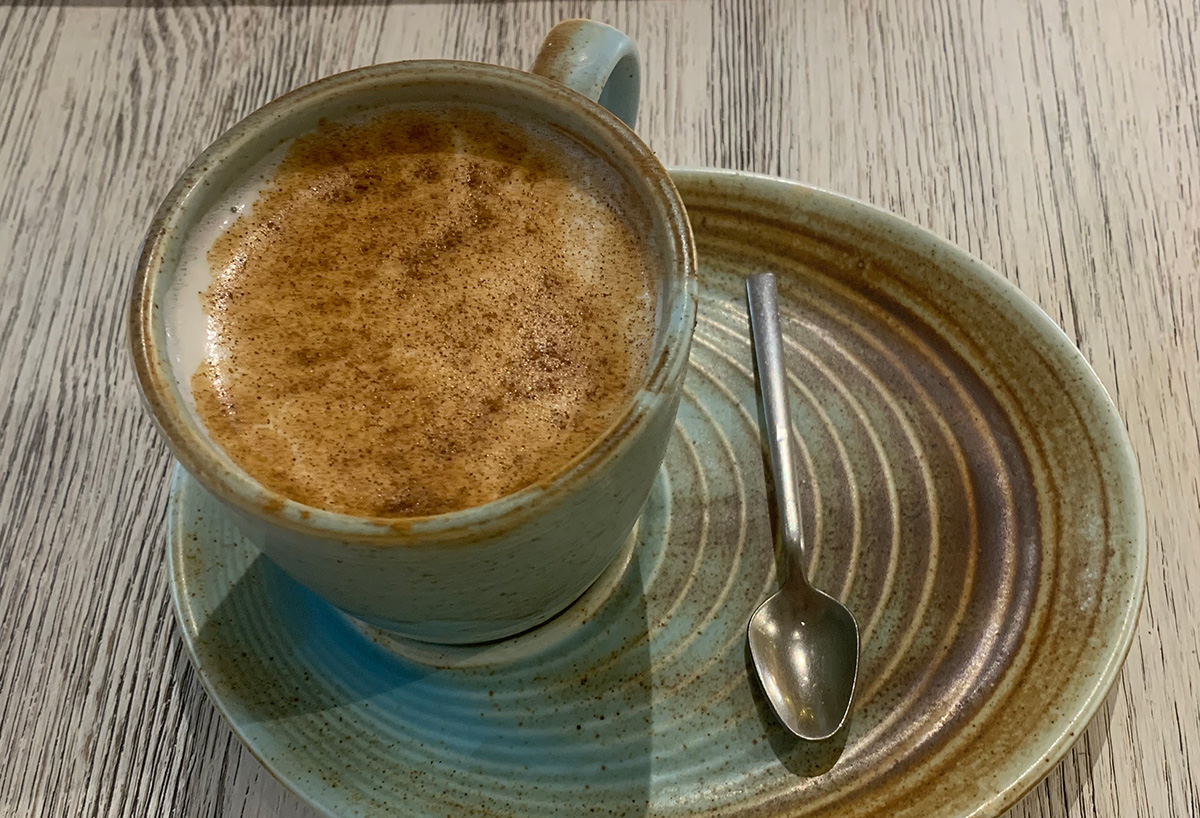 Salep is a hot milky drink, sweetened with sugar and thickened with flour made from the roots of orchids. It is sold is many coffee shops in Istanbul in winter and is usually served with a dusting of cinnamon.
Orchids are abundant in Turkey, growing wild in meadows, fields and forests. Salep is prized not just for its taste but also for its health benefits. For example, salep is supposed to relieve colds, be good for the heart and increase energy levels.
Drinking a steaming hot cup of salep on a wintery Istanbul day will be sure to bring on the Christmas vibes.
7. Book Christmas dinner at a hotel
Most international hotels in Istanbul offer a special Christmas menu, but you have to book in advance.
Below are several restaurants that serve traditional Christmas menus on Christmas day:
Hilton Istanbul Bosphorus in Harbiye
A Christmas favourite with expats in Istanbul, the Bosphorus Terrace Restaurant at the Hilton in Harbiye offers a five-course buffet and activities for the kids like face painting and balloon making, accompanied by live classical music.
View on Agoda.com
Swissotel The Bosphorus
Swisshotel The Bosphorous in Maçka offers both a brunch and a dinner on Christmas Eve in their two restaurants, with stunning views from their Gabbro Resto-Bar.
View on Agoda.com
Conrad Istanbul Hotel
The Conrad Hotel in Beşiktaş serves a traditional Christmas eve dinner and Christmas day buffet, as well as hosting carols.
View on Agoda.com
8. Book a Bosphorus Cruise
Go on a Bosphorus dinner cruise and take in the city lights. You can enjoy live music and food and drinks, just be sure to book in advance.
9. Visit the Christmas display at Şekerci Cafer Erol in Kadiköy
Şekerci Cafer Erol is on the Asian side of Istanbul in Kadiköy. It is one of the oldest candy shops in Istanbul and has a Christmas display set up all year. It is a great place to enjoy a hot drink and some baklava or Turkish delight while you take in the displays.
10. Attend a Christmas service on December 24th
There are several churches in Istanbul and all of them have Christmas services. Here is a few of the oldest and most frequented ones:
Saint Anthony of Padua
The Church of St. Anthony of Padua is the largest Catholic church in Istanbul and has several Christmas mass services on Christmas Eve. It is located on the busy İstiklal Caddesi.
Hagia Triada Church
Built in 1880, the Hagia Triada Church is considered to be the largest Greek-Orthadox shrine in Istanbul (also called the Holy Trinity Church and Aya Triada Rum Ortodoks Kilisesi in Turkish). They hold a service on Christmas Day in Greek.
Cathedral of the Holy Spirit
This is the second largest Roman Catholic church in Istanbul. In addition to their Christmas services which are held in a number of languages (English, French, Italian and Turkish), they also hold a Christmas Eve carol concert.
11. Make your own Christmas meal, with a few tweaks
You may be able to get a Turkey for a DIY Christmas meal, because big grocery stores normally stock turkey in late December for New Year's. Often Turks will eat stuffed turkey or chicken on New Year's, along with an assortment of mezzes.
If you can't find a turkey, whole chickens are plentiful in big grocery stores. Pumpkin and sweet potatoes are not always available in small Turkish fruit and veg stores, but you can still find them in international stores like Carrefour.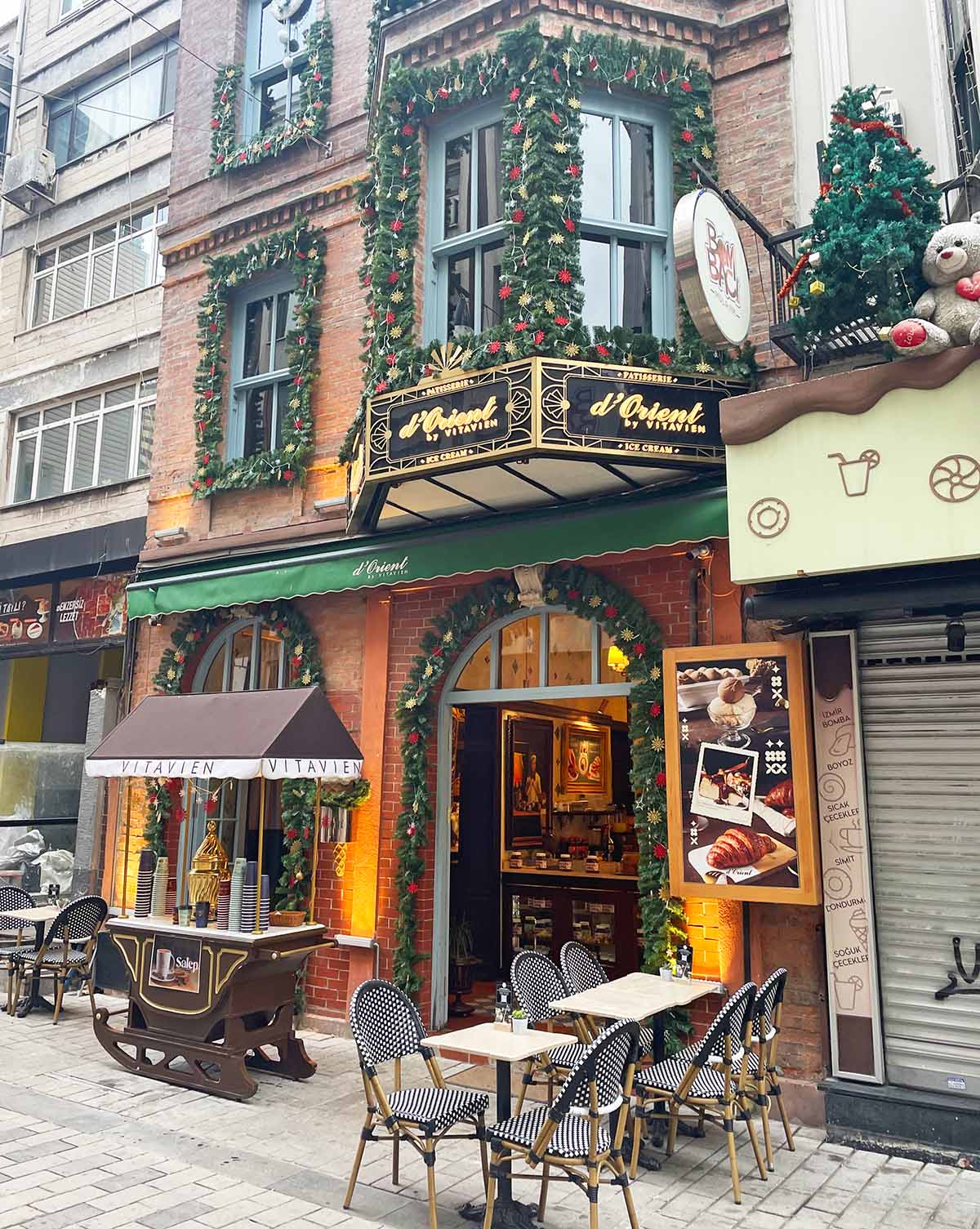 Did you know that Santa Clause originated in Turkey?
Santa Clause originated from the legends of a Greek Bishop who was born in Patara, near Myra in Turkey, named St Nicholas. He is believed to have been born around 280AD and became respected for his kindness. He travelled around visiting the poor and giving away all his wealth. In Turkey today Santa Clause is known as Noel Baba and he brings children presents on New Years Eve.
As we mentioned, Christmas is not celebrated by many in Turkey but New Year's is a big deal. If you are in Istanbul for Christmas you may want to stay an extra week to join the celebrations.
New Year's Eve – watch the fireworks at the Bosporus Bridge
The midnight fireworks for New Year's in Istanbul takes place over the Bosporus Bridge. The fireworks against the city skyline is stunning. You can either go to a restaurant or a bar to watch the fireworks or just camp out on the shore.
Count down to the New Year in Taksim Square
Another place to count down to the New Year is in Taksim Square.
The main gathering place for New Year's Eve in Istanbul is Taksim Square and the adjoining İstiklal Street which will be beautifully decorated and will be packed with thousands of locals and tourists.
What do locals do on New Year's Eve?
On New Year's Eve, Turks often gather with extended family for a big dinner. The national lottery is a big event in Turkey with state channels announcing the winner at midnight, so often families will watch the results on tv, in addition to exchanging gifts.
Sometimes people will gather in parks after dinner to watch the fireworks.
It's a tradition to wear red at New Year's, so you may see lots of red worn if you stick around after Christmas. Another tradition is to smash pomegranates on the front door, which is said to bring good luck for the new year.
What's the weather like at Christmas time in Istanbul?
The weather in Istanbul in December is cold, around 41-51 F (5-11 degrees Celsius). It usually snows once or twice in Istanbul each year, however it rarely snows at Christmas time. Snow is more likely to come in the month of January, Istanbul's coldest month.
If you decide to spend Christmas in Istanbul, we hope you enjoy the beautiful city, all sparkling in the festive winter season, with delicious aromas wafting out of bakeries and restaurants.
Mutlu Noeller (Merry Christmas)!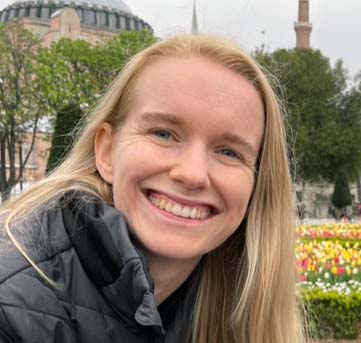 I'm a teacher and writer living abroad. I love languages, drinking lots of çay (tea) with friends, experiencing different cultures and going on adventures with my family.