Whether you're an Istanbul local or a visitor, it's handy to have a list of indoor activities ready for a rainy day.
The rainiest season in Istanbul is generally winter where it's common to get heavy rain. A typical Istanbul winter is also quite cold with just over 5 degrees Celsius as the daily average.
We love Istanbul when it's cold and wet. You'll stumble across cosy cafes, soup restaurants and patisseries with delicious aromas wafting out. There are less tourists around so it's a great time to explore Istanbul with your family.
Best indoor activities in Istanbul
Here is our list of the top indoor activities for families in Istanbul. Some of these may involve moments of being outside, such as waiting in queue, so be prepared if it's raining.
Dolmabahce Palace
Vişnezade, Dolmabahçe Cd., 34357 Beşiktaş/İstanbul, Türkiye
Step back in time with your family and experience the magnificence of Ottoman sultan life housed at Dolmabahce Palace (the Sultan moved here from the Topkapi Palace in 1856). Located on banks of Bosphorus, this Istanbul attraction is renowned for its lavish interior. If features a stunning collection of European paintings, furniture and silk carpets.
Topkapi Palace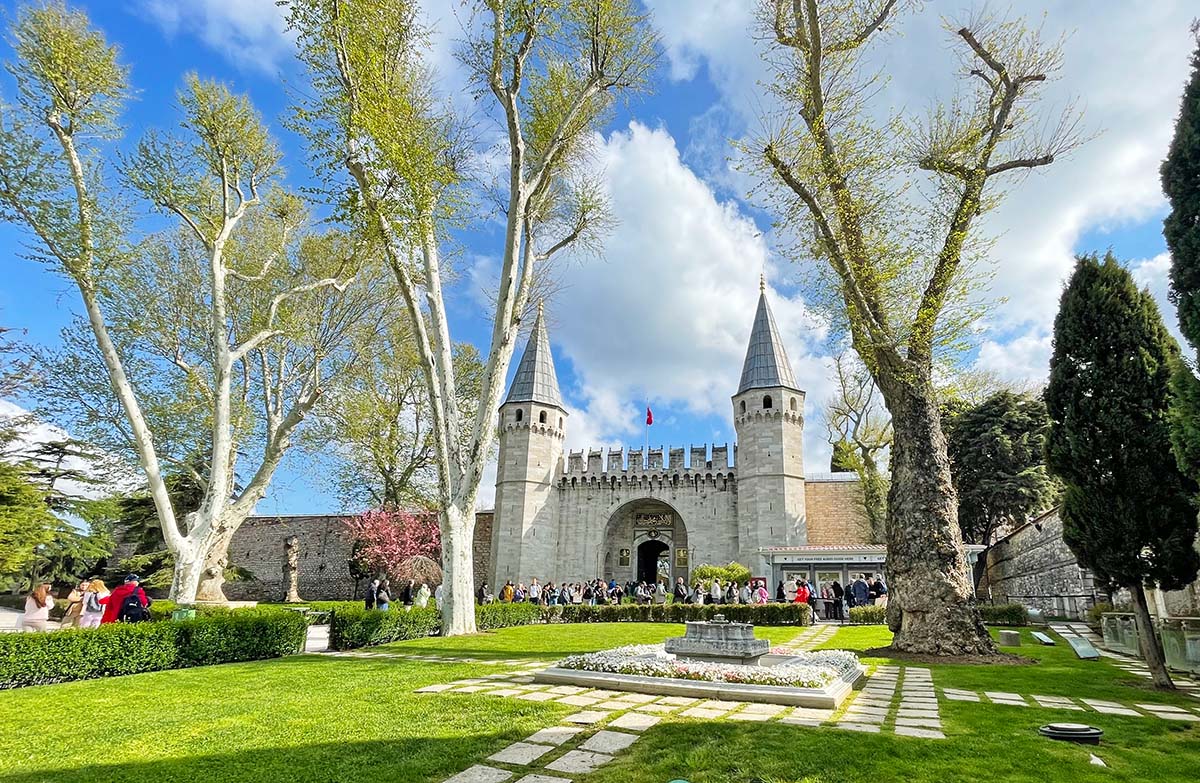 Cankurtaran, 34122 Fatih/İstanbul, Türkiye
The whole family will enjoy a visit to Topkapi Palace. Spanning four centuries, it served as the seat of power for dozens of Ottoman sultans. Home to Sultan Mehmet II and others after him before the Dolmabahce took its place, this 300-000 square meter complex is the largest palace in Istanbul's Old City. Famous around the world for its immense historic value, it's definitely worth checking out on a rainy day.
Hagia Sofia
Sultan Ahmet, Ayasofya Meydanı No:1, 34122 Fatih/İstanbul, Türkiye
The Hagia Sophia is one of the most iconic buildings in history. It started out as a Church in 537 AD before it was converted into a mosque by Sultan Mehmet after Constantinople's conquest. What makes it unique are the artworks that lie inside, all delicately crafted over centuries.
It became a UNESCO world heritage site and eventually an impressive museum in 1934. Recently it became an active mosque again, which now means there is no entry fee.
A rainy day will mean less crowds, but you may have to queue outside before going in.
If you're visiting Hagia Sofia, we recommend you visit the Blue Mosque, Topkapi Palace and Basilica Cistern at the same time as they are all located close together in Sultanahmet.
Blue Mosque
Binbirdirek, At Meydanı Cd No:10, 34122 Fatih/İstanbul, Türkiye
Another beautiful monument to see is the Blue Mosque. It's an iconic piece of Ottoman history that, like the Hagia Sofia, functions as a mosque today and draws many tourists. It was built between 1609-1616 during the time of Sultan Ahmed I.
Basilica Cistern
Alemdar, Yerebatan Cd. 1/3, 34110 Fatih/İstanbul, Türkiye
If you're looking for a mystical experience, then a visit to one of Istanbul's iconic underground cisterns is definitely worth your time. The Basilica Cistern is the largest and best excavated and we found it a great place to explore with friends. There are also others, like the Serefiye Cistern.
These underground cisterns used to hold the water for the city of Constantinople in the 4th Century. The Basilica Cistern has featured in many different movies over the years including James Bond.
Grand Bazaar
Beyazıt, 34126 Fatih/İstanbul, Türkiye
The largest of the Ottoman bazaars in Istanbul is the Grand Bazaar which was built in 1461, located in Fatih. It has 3600 shops and you'll find it a colourful experience with handbags, gold, diamonds, jewellery, souvenirs, household goods, and more for sale.
Spice Bazaar
Rüstem Paşa, 34116 Fatih/İstanbul, Türkiye
Also known as the Egyptian Bazaar. The Spice Bazaar was built in 1640 and, like the Grand Bazaar, is covered, so perfect for less than optimum weather. It has 86 shops with spices, deli items and sweets, also located in Fatih. Check out both Bazaars at the same time as they are both near each other.
Turkish Hammam – Hurrem Sultan Hammam
Cankurtaran, Ayasofya Meydanı No:2, 34122 Fatih/İstanbul, Türkiye
If you have older kids who enjoy luxury and a bit of pampering, you might want to check out a Turkish Hamman and Spa. There are many hammam's in Istanbul, but the one that stands out to us is built on the foundations of an ancient Roman bath. The Ayasofya Hurrem Sultan Hammam is opposite the Hagia Sofia. This beautiful Turkish Bath is probably the most famous hamman in Turkey.
Bookstore cafés in Istanbul
Reading in a café on a rainy day feels like a thing of the past now that we have a toddler, but we still enjoy a coffee out as a family. Istanbul has several bookstore cafes that also have children's books for sale.
Türk Alman Kitabevi and Cafe
Şahkulu, İstiklal Cd. No:237, 34431 Beyoğlu/İstanbul, Türkiye
This is a cosy German-Turkish bookstore and café on the busy İstiklal street. They offer German cakes, pastries and hot drinks, as well as educational books for children.
Minoa Akaretler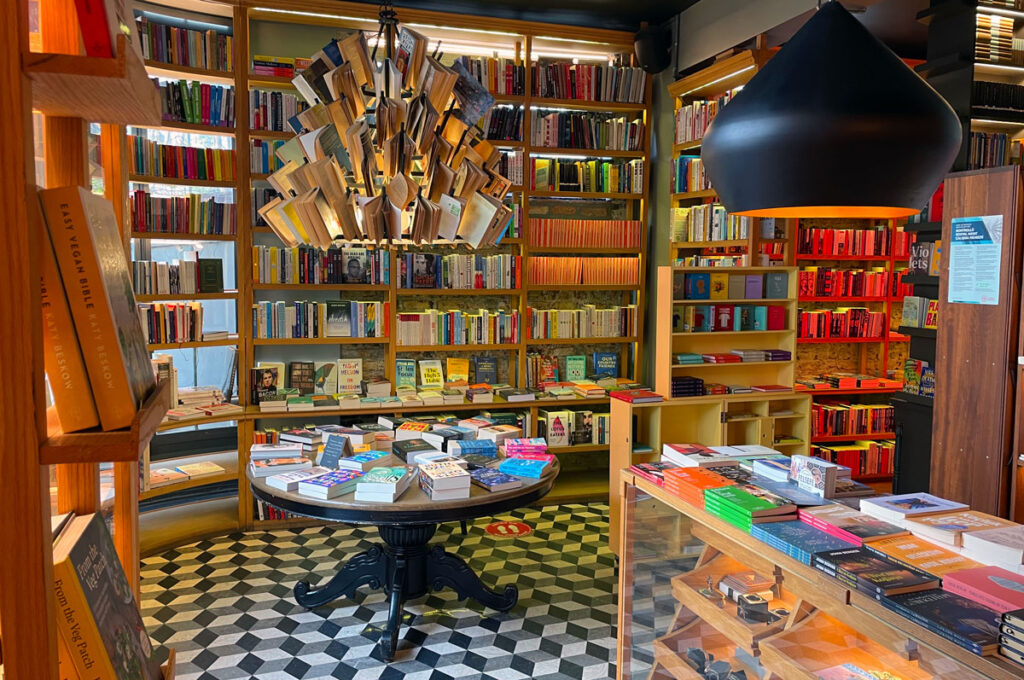 Vişnezade, Süleyman Seba Cd. No:52/A, 34357 Beşiktaş/İstanbul, Türkiye
This is probably our favourite bookstore-café in Istanbul. It is located in Beşiktaş and has a beautiful café with delicious breakfast and lunch options. Its attached bookstore has an impressive number of books spanning three levels, one of which is dedicated to children. They have a decent range of English books.
Shopping centres in Istanbul
Istanbul has some huge shopping centres, a few of which cater to families with children's activities, playgrounds and toy stores.
Here are the best malls for children on the European side:
Kanyon Mall
Levent Mah, Büyükdere Cd. No:185, 34394 Şişli/İstanbul, Türkiye
If you're looking for a fun family outing, Kanyon Mall is the place to go. It has three toy stores – Armagan Oyuncak, LEGO Store and Tirtil Kids – as well as Cinemaximum on the first floor, if you feel like a trip to the movies. Kanyon Mall is located in Levent in the Besiktas district.
The Forum
Kocatepe, Paşa Cd, 34045 Bayrampaşa/İstanbul, Türkiye
The Forum in Bayrampaşa is Istanbul's largest shopping centre and is home to LEGOLAND® Discovery Center, SEA LIFE Aquarium, a Cinema, IKEA, Joypark and FunLab.
Sea Life Istanbul is home to Europe's longest underwater ocean tunnel at 83 meters long – and 61 sharks from 15 different species. Then there's LEGOLAND® Discovery Center which houses over 5 million LEGO® bricks sprinkled across 3 thousand square metres of amazing installations.
Historia Shopping and Life Centre
İskenderpaşa, Adnan Menderes Blv. No:2, 34080 Fatih/İstanbul, Türkiye
Historia Shopping Centre is not too far away from the city centre in Faith. It has both an Armağan Oyuncak and a Inkilap Kitabevi, which is a bookstore with a children's section of boardgames and books.
It also has plenty of entertainment for the whole family to enjoy. You can check out the 8- screen cinema, visit the bowling alley or let your children lose on one of the playgrounds. This shopping mall also holds regular concerts with fun activities lined up specifically for children.
Akmerkez Shopping Centre
Kültür, Nisbetiye Cd No:56, 34340 Beşiktaş/İstanbul, Türkiye
Akmerkez Shopping Centre in the Etiler District has a Toyzz Shop, a D&R bookstore, Nezih, and even an indoor playground where you can drop your children off while you shop. If your children don't want to be dropped off though (like our toddler) there is also a small playground in the food court where you can stay with your children as they play.
The mall is huge with 8 floors, and it's the only shopping centre to receive 2 awards for best shopping centre in Europe when it was first built. You can take a break from toy shopping to sit in the extensive food court, which offers everything from Turkish cuisine to pizza.
Metrocity
Levent, Büyükdere Cd. No:171, 34330 Beşiktaş/İstanbul, Türkiye
Metrocity is another large shopping centre in Levent. It has a Build-a Bear Workshop, Game (UK's leading video games and console store), Lego, Smiggle, Smyths Toy store and The Entertainer. It also has a bowling alley, a children's playground and a cinema.
ÖzdilekPark Istanbul Shopping Mall
Esentepe, Büyükdere Cd. No:181, 34394 Şişli/İstanbul, Türkiye
ÖzdilekPark is another mall in Levent. It has a Toyzz Shop and a D&R. It also has several amusement centres like Play Planet and Game Factory, a Play Zone (video arcade), and a cinema.
On the Asian side of Istanbul, you'll find:
Visaport Outlet Shopping Mall
Yenişehir, Dedepaşa Cd No:19, 34912 Pendik/İstanbul, Türkiye
Located in Pendik on the Asian side of Istanbul, Visaport is one of Turkey's largest shopping centres. It has a Toyzz Shop and while you're there you can enjoy the beautiful lakeside scenery in the food court where you can see rabbits, peacocks, cats and dogs roaming free.
It also has a Pony Club where kids can learn how ride ponies or horses, a bowling alley, Amusement Centre, Sea Aquarium, a go-kart track, ice skating rink and a cinema.
Emaar Square Mall
Ünalan, Libadiye Cd. No:88, 34700 Üsküdar/İstanbul, Türkiye
Emaar Square Mall in Üsküdar has a Toyzz Shop and a D&R. It also houses the Emaar Aquarium and Underwater Zoo where you'll find over 20,000 species of marine life spread across Europe's longest glass terrace (27 meters). You'll also find the Museum of Illusion, The Jump, PlayBowling and a 4DX movie theatre here.
Toy Museums
Balat Toy Museum
Yavuz Sultan Selim, Abdülezelpaşa Cd. No:65, 34087 Fatih/İstanbul, Türkiye
The Balat Toy Museum is located on the Golden Horn coast, within walking distance to the colourful Balat houses. It houses a 50-year-old collection of rare toys with scenes from popular movies and cartoons (they also have scenes from 80's films to cater for the big kids). They have a café and workshops on for kids every day of the week, ranging from painting, pottery, making masks, putting together model trains, ceramic decoration and even slime; check out the website before you go to see what's on.
Istanbul Toy Museum
Göztepe, Dr. Zeki Zeren Sk No:17, 34730 Kadıköy/İstanbul, Türkiye
You'll find the Istanbul Toy Museum in the Göztepe neighbourhood of Kadıköy. Founded by Turkish poet Sunay Akin, this old wooden mansion contains a magical collection of toys from international auctions and antique shops worldwide. Kids and adults alike will enjoy this beautiful selection of toys. You'll find it just off Bağdat Caddesi – the main shopping strip on the Asian side.
There you have it – whether you're just visiting Istanbul or are lucky enough to be a local, our list of indoor activities will keep you and your family entertained during the wet and cold weather. Enjoy Istanbul – rain or shine!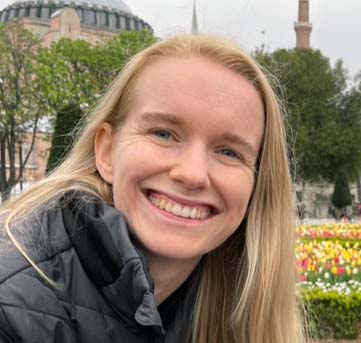 I'm a teacher and writer living abroad. I love languages, drinking lots of çay (tea) with friends, experiencing different cultures and going on adventures with my family.