Since moving to Istanbul, we often get asked what are the top things we'd recommend visitors check out. As a tourist you can easily get overwhelmed with all the options. We certainly were our first few times visiting.
Istanbul's history and lively culture has so much to offer visitors. From seeing incredible architecture to eating tasty Turkish cuisine, there are endless things to do in Istanbul. Talk about decision fatigue!
To make sure you get the most out of your stay, we've compiled a list of some of the must-do experiences in Istanbul that no traveler should miss!
Top things to do in Istanbul
1. Explore the Sultanahmet area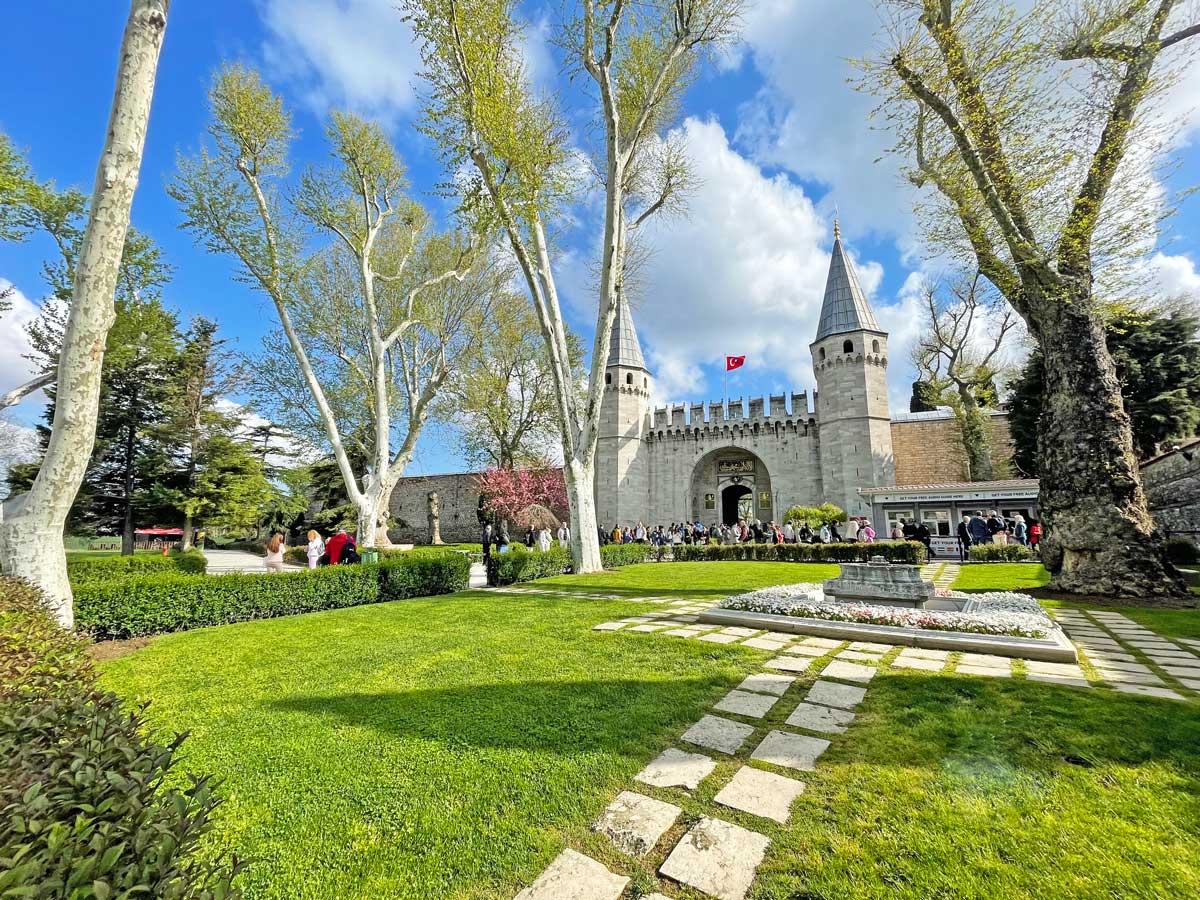 We can't start this list by first mentioning the neighborhood of Sultanahmet.
Sultanahmet is the historical center of Istanbul with many of the main historical tourist attractions in this area. Immerse yourself in the rich Byzantine heritage and the grandeur of the Imperial Capital. 
Located in Sultanahmet is the iconic Hagia Sophia and the Blue Mosque – a must-visit when in Istanbul.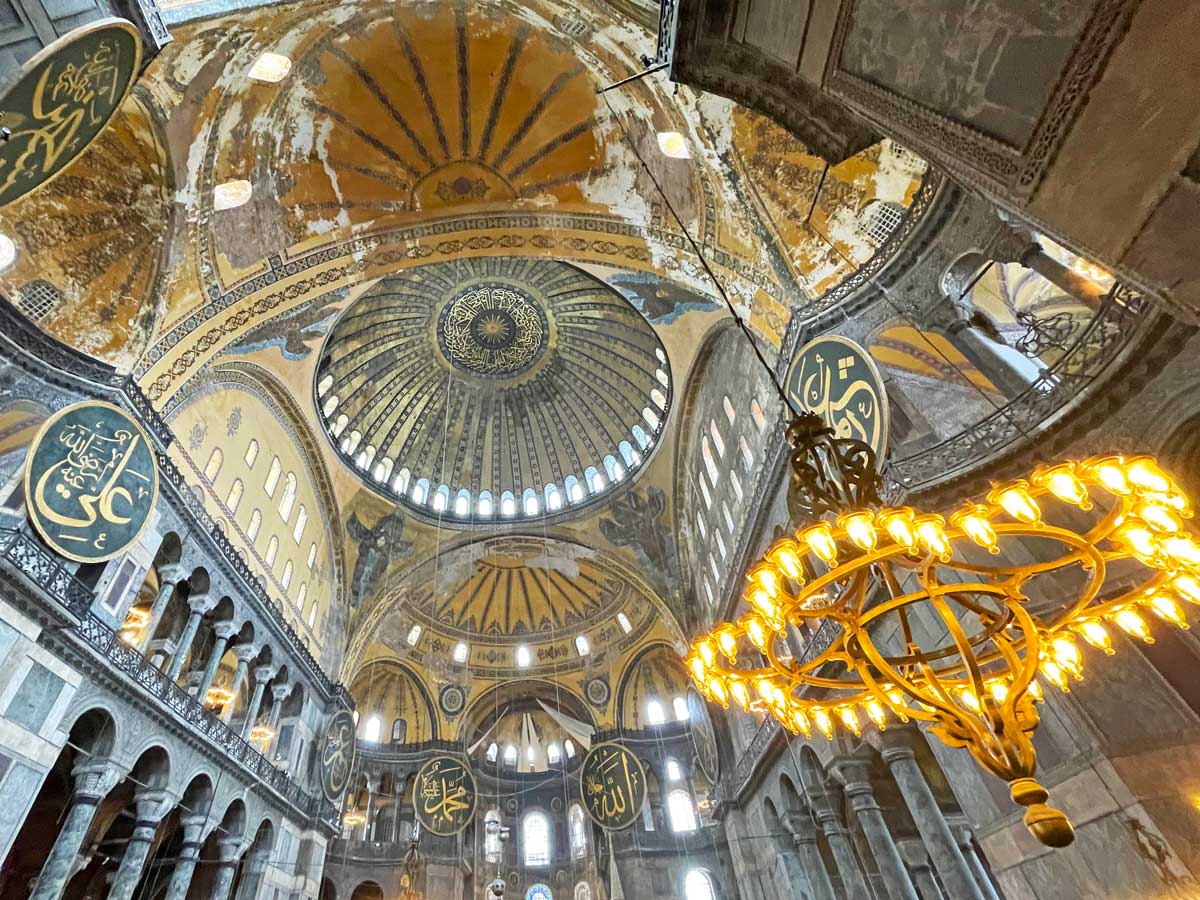 Some of the key notable locations all within walking distance from each other are:
The Hippodrome
Hagia Sophia
Topkapi Palace
The Blue Mosque
Basilica Cistern
Istanbul Archaeology Museums
Museum of Turkish and Islamic Arts
The Grand Bazaar
If you're only in Istanbul for a short time, Sultanahmet will be the best area to get a hotel so you can easily access all the main sites.
2. Cruise on the Bosphorus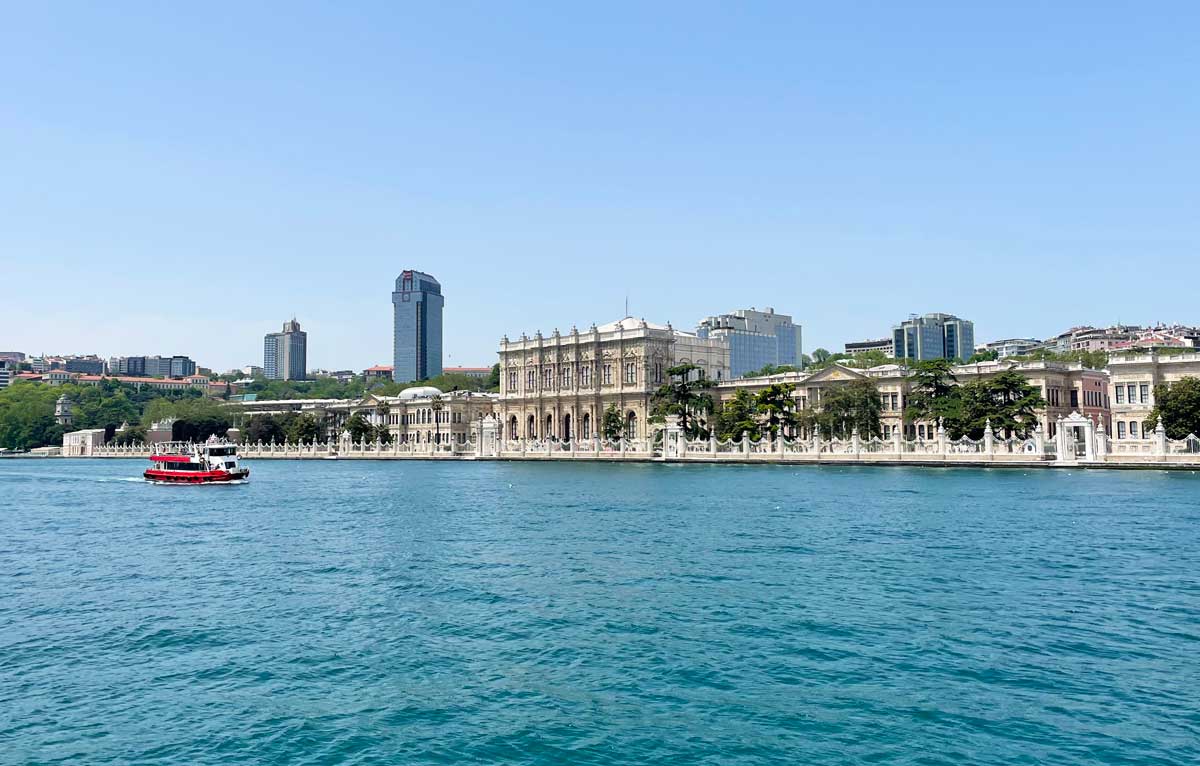 A cruise along the Bosphorus offers some awesome views of Istanbul's skyline.
You'll experience a different perspective of the city, revealing Istanbul's famous attractions like the Galata Tower, Dolmabahçe Palace, and the charming Küçüksu Palace.
As a bustling shipping route and a popular tourist destination, the Bosphorus is always buzzing with activity. Embarking on a ferry or a private cruise along the Bosphorus provides a delightful escape from the city's chaos, allowing you to take in the vistas while enjoying a moment of peace.
For a cheaper option, catching the public ferry will give you the same views as the most luxurious yacht. Often fresh juice and tea are served onboard.
3. Eat some great Turkish food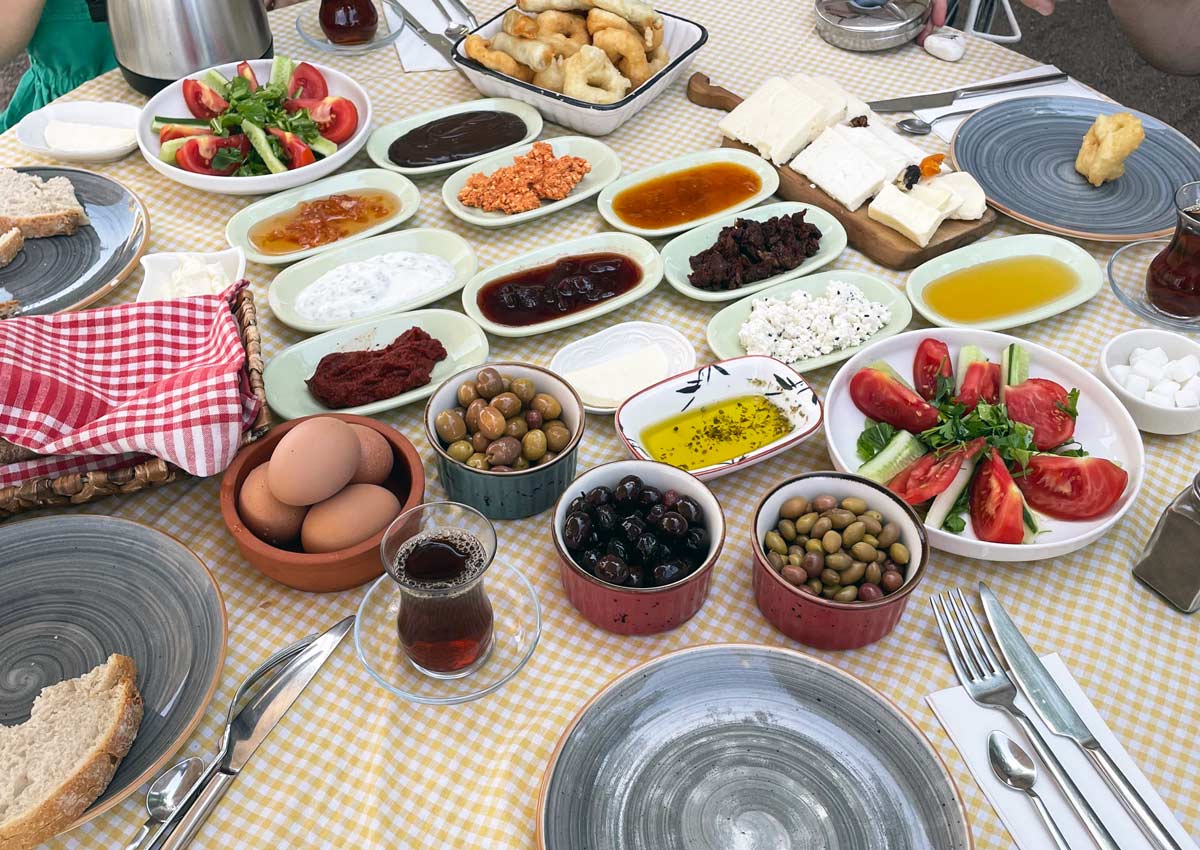 One of the things I love about Istanbul is its tasty food.
Many Traditional Turkish dishes are famous all around the world. Travelers have a heap of options to choose from, including a wide variety of Turkish kebabs, Turkish pides, tantalizing starters known as mezes, and other unique meat-based dishes. Not to mention the globally renowned Turkish sweets like baklava and Turkish delight(lokum).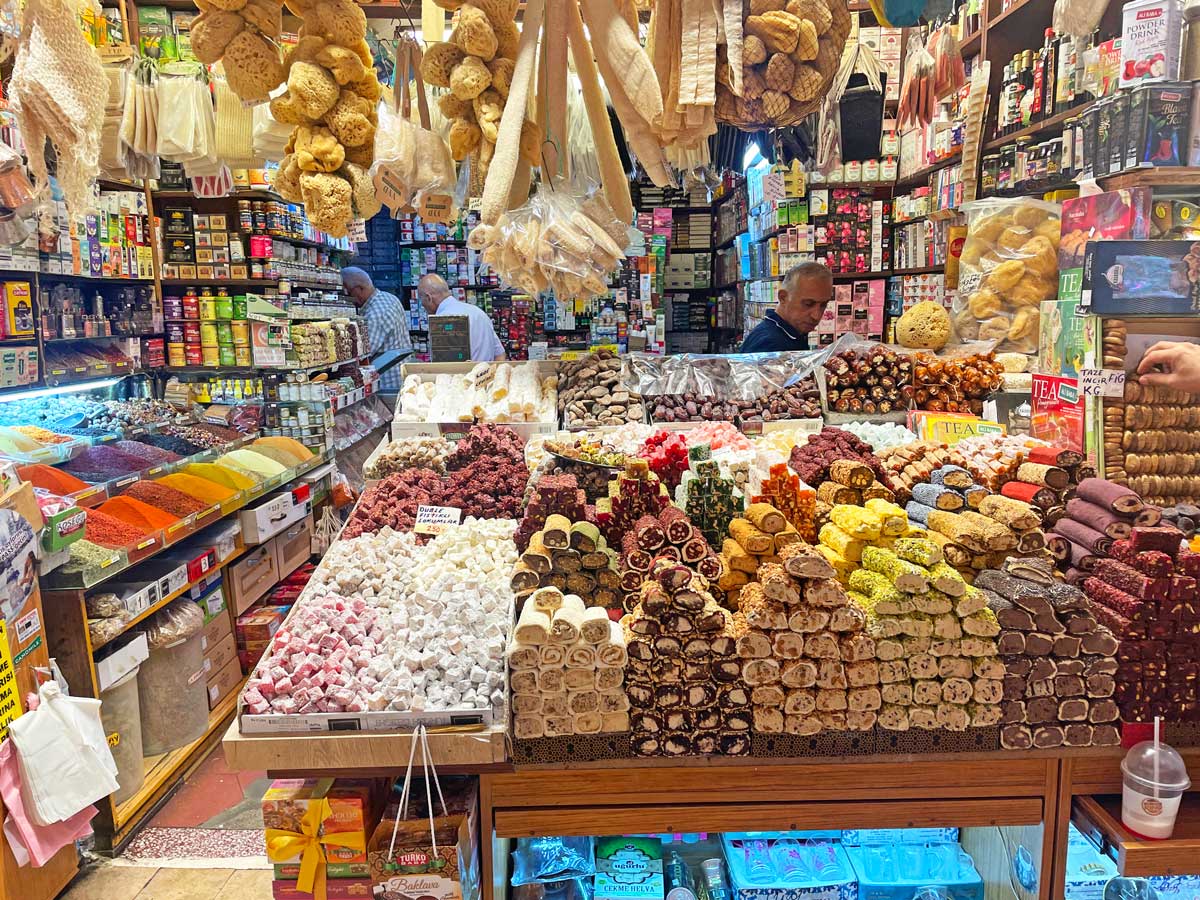 Although Istanbul may not be known for its street food culture, you will still come across some good options for quick snacks as you explore the city. Fresh fruit juice, donner kebab, corn on the cob, chestnuts, round sesame seed roll(simit) and loaded baked potatoes(kumpir) are all popular street eats in Istanbul.
Vegans are not forgotten here. My family, though not vegan, regularly enjoy the amazing Turkish vegan restaurants in Istanbul – yum!
4. Visit Galata Tower and walk to Taksim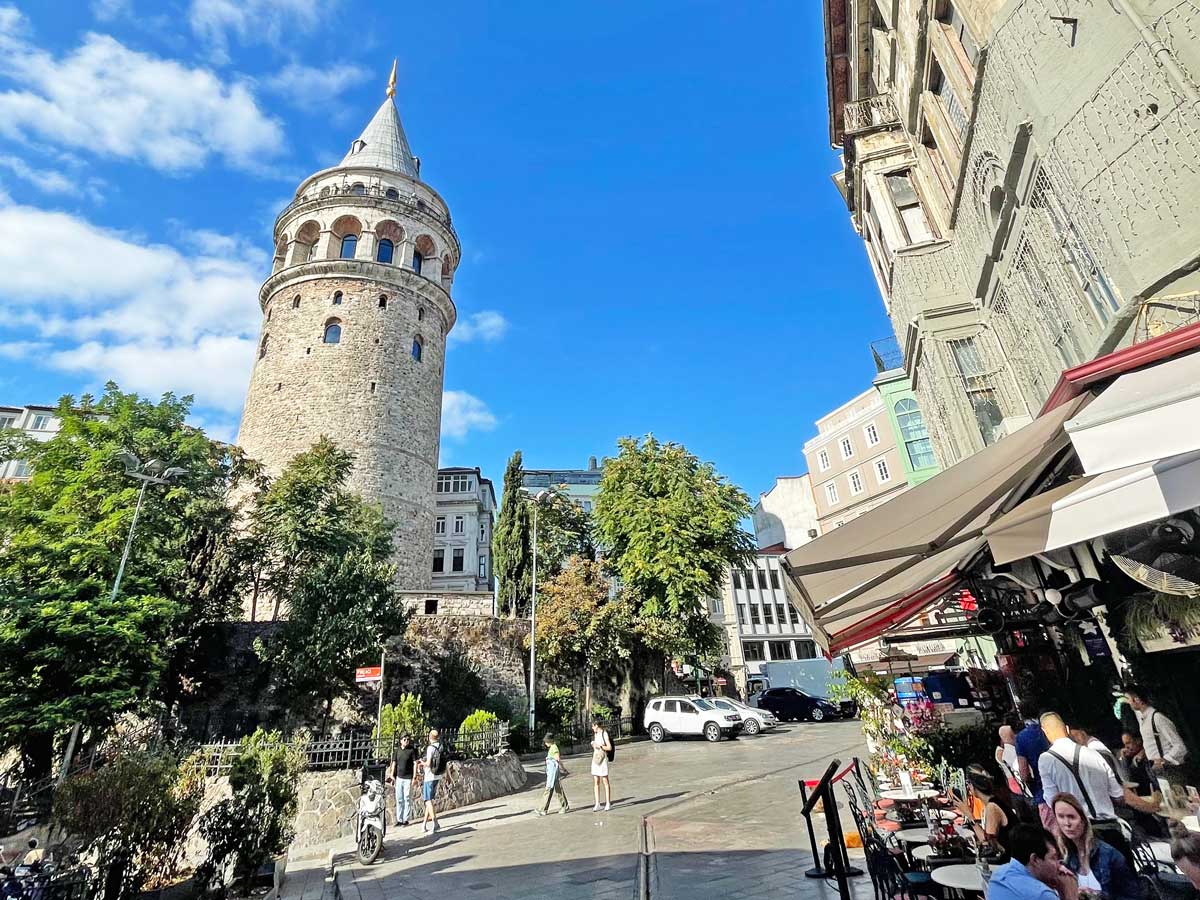 One of the city's top attractions is the Galata Tower. Situated on the North Bank of the Golden Horn, this tower offers guided tours that take you up to its observation deck, providing incredible views of Istanbul overlooking the Bosphorus.
From Galata Tower you can take a short walk up to Istiklal Street. Istiklal is the vibrant heart of Istanbul, drawing in nearly 3 million visitors daily. This pedestrian street stretches 1.4 km and is home to some great shops, boutiques and cafés.
Galata Tower is at one end and Taksim Square at the other.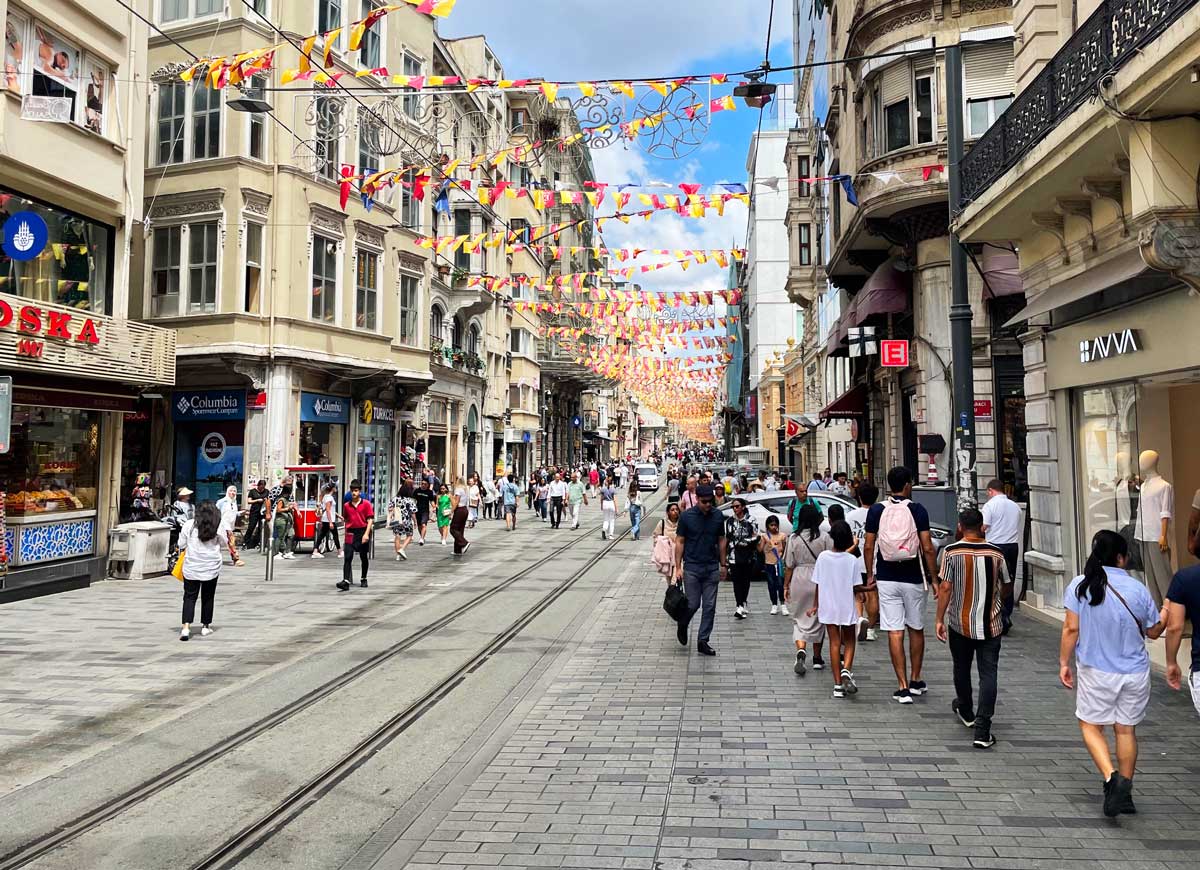 Istiklal Street features the historic red tram which you can ride all the way to Taksim Square.
Not far from Istiklal Street are the charming neighborhoods of Cihangir and Karakoy. It's definitely worth wandering through the narrow back streets – you'll find some real treasures.
5. Do some shopping in the historical bazaars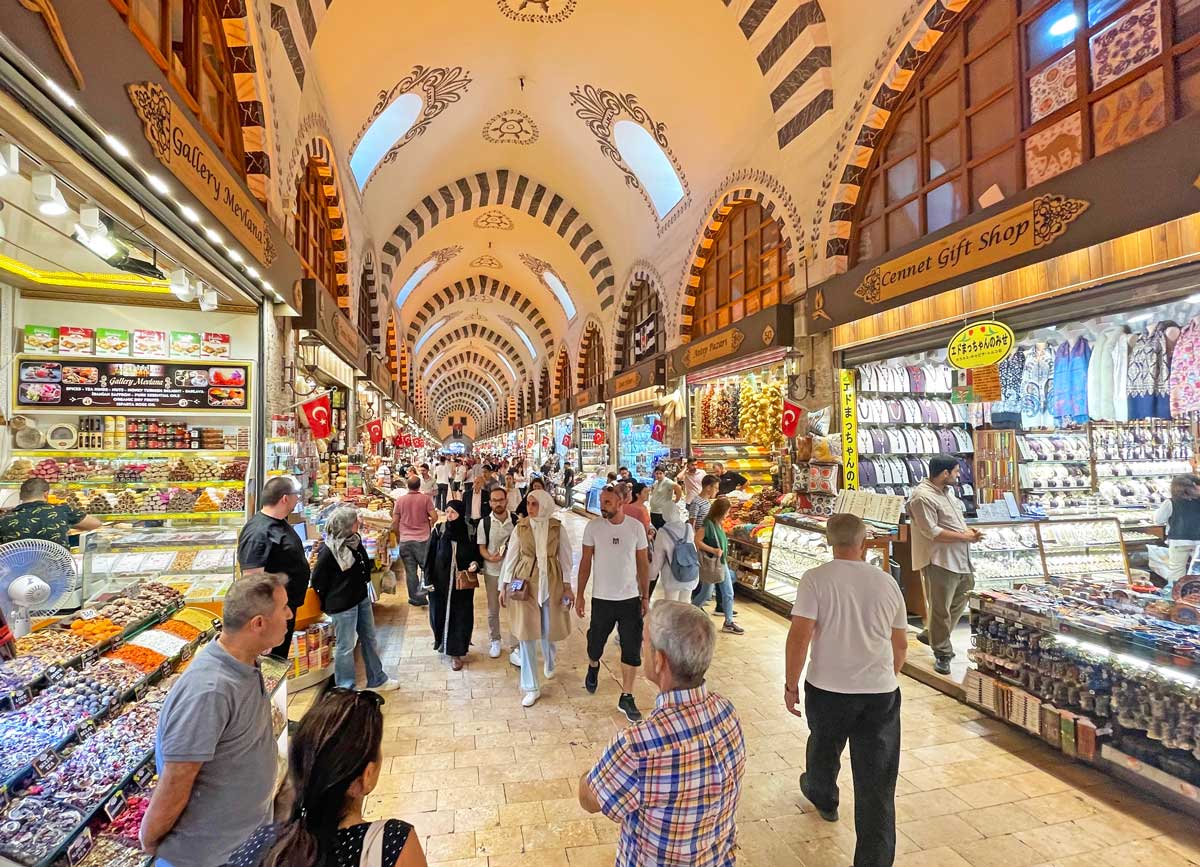 Shoppers can't miss one of the oldest indoor shopping malls in the world.
The world-renowned Grand Bazaar stands as one of the most remarkable historical shopping centers globally, boasting over 4000 shops. Additionally, the Egyptian Spice Bazaar holds great popularity, offering a delightful assortment of spices, dried fruits, basketry, jewelry, and nick nacks.
What adds to the convenience is the close proximity of the Grand Bazaar and the Egyptian Spice Bazaar, making it a short and enjoyable walk between the two.
And don't worry, if you want some more modern shopping options, Istanbul has some huge shopping malls and supermarkets.
6. Enjoy a drink at a rooftop bar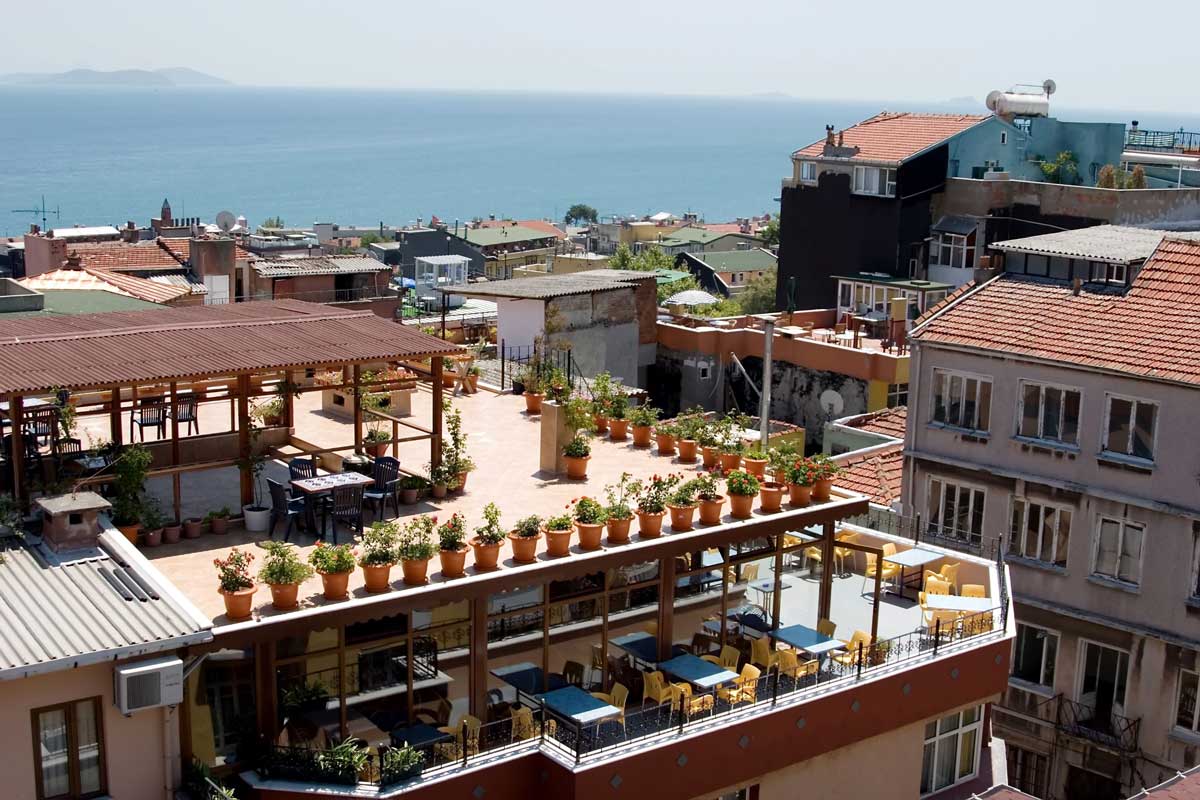 Who doesn't love a good view?
Enjoying a refreshing drink or a delightful meal at one of the rooftop restaurants is an experience not to be missed. The Sultanahmet area has a heap of these rooftop experiences, while the entire city is dotted with many more.
For a pumping nightlife scene, look no further than Istiklal Street, nestled between Taksim and the Galata Tower.
Kadikoy, located on the Asian side of the Bosphorus, offers another enticing option. Its vibrant selection of bars, pubs, cafes, and restaurants invites you to explore and indulge in its lively atmosphere.
Besiktas near the Bosphorus on the European side also has a popular pub and nightlife scene.
7. Visit one of the many mosques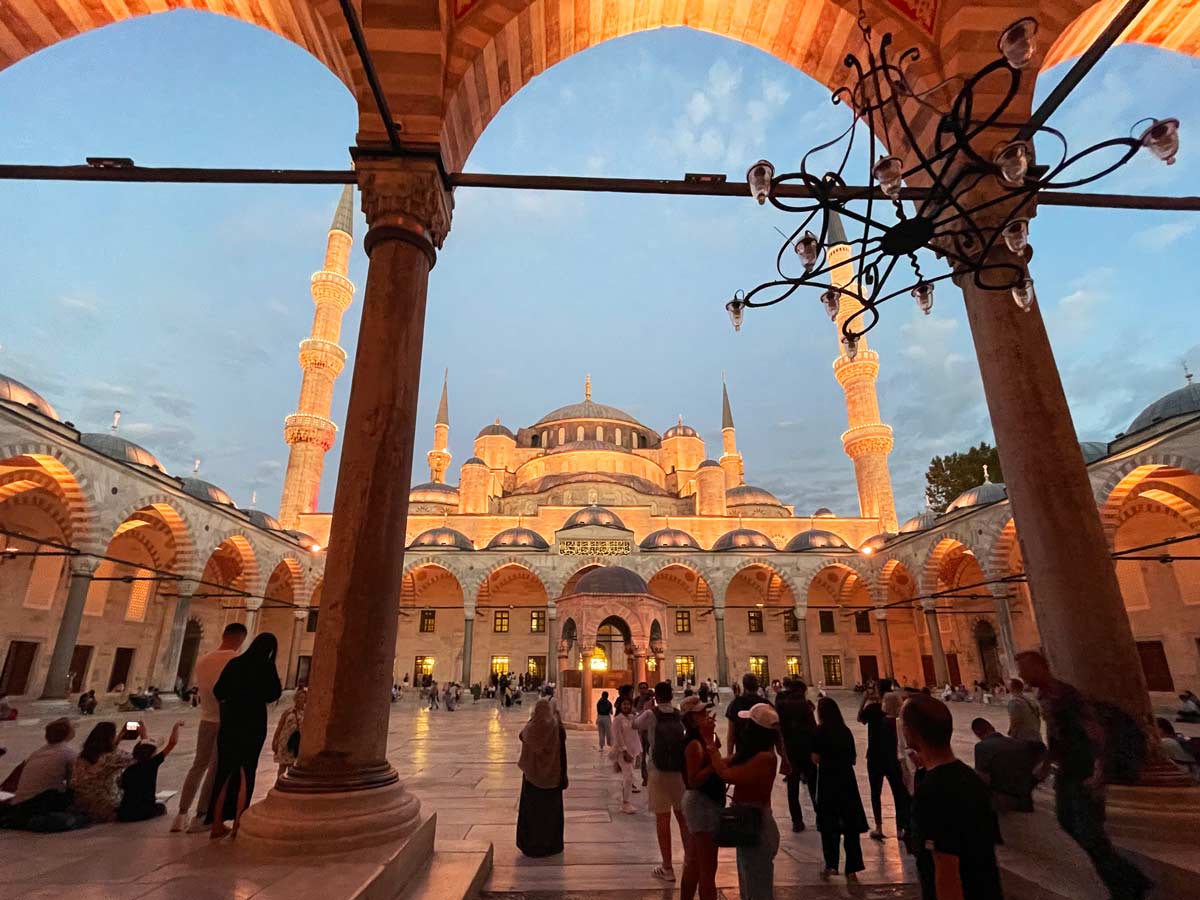 Istanbul is home to countless mosques, each with its own unique charm.
Among them, a few stand out as must-visit destinations. Of course, the Hagia Sophia Mosque, which we previously mentioned, is an absolute marvel. Yet, nearby, the Blue Mosque captivates visitors with its breathtaking blue-tiled interior, earning its reputation as one of Istanbul's most beautiful mosques.
Another architectural gem is the Süleymaniye Mosque, situated on the third hill overlooking the Golden Horn. The Süleymaniye Mosque holds its own as one of the city's most impressive sights. It once was the largest mosque in Istanbul, constructed during the 16th century Ottoman Empire.
In addition to these be sure to explore the New Mosque (Yeni Cami) and the Ortaköy Mosque, both offering their own unique allure near the Bosphorus.
Lastly, a little further out, don't miss the awe-inspiring Grand Çamlıca Mosque, the largest mosque in Turkey, which opened its doors in 2019.
8. Learn about ancient history at a museum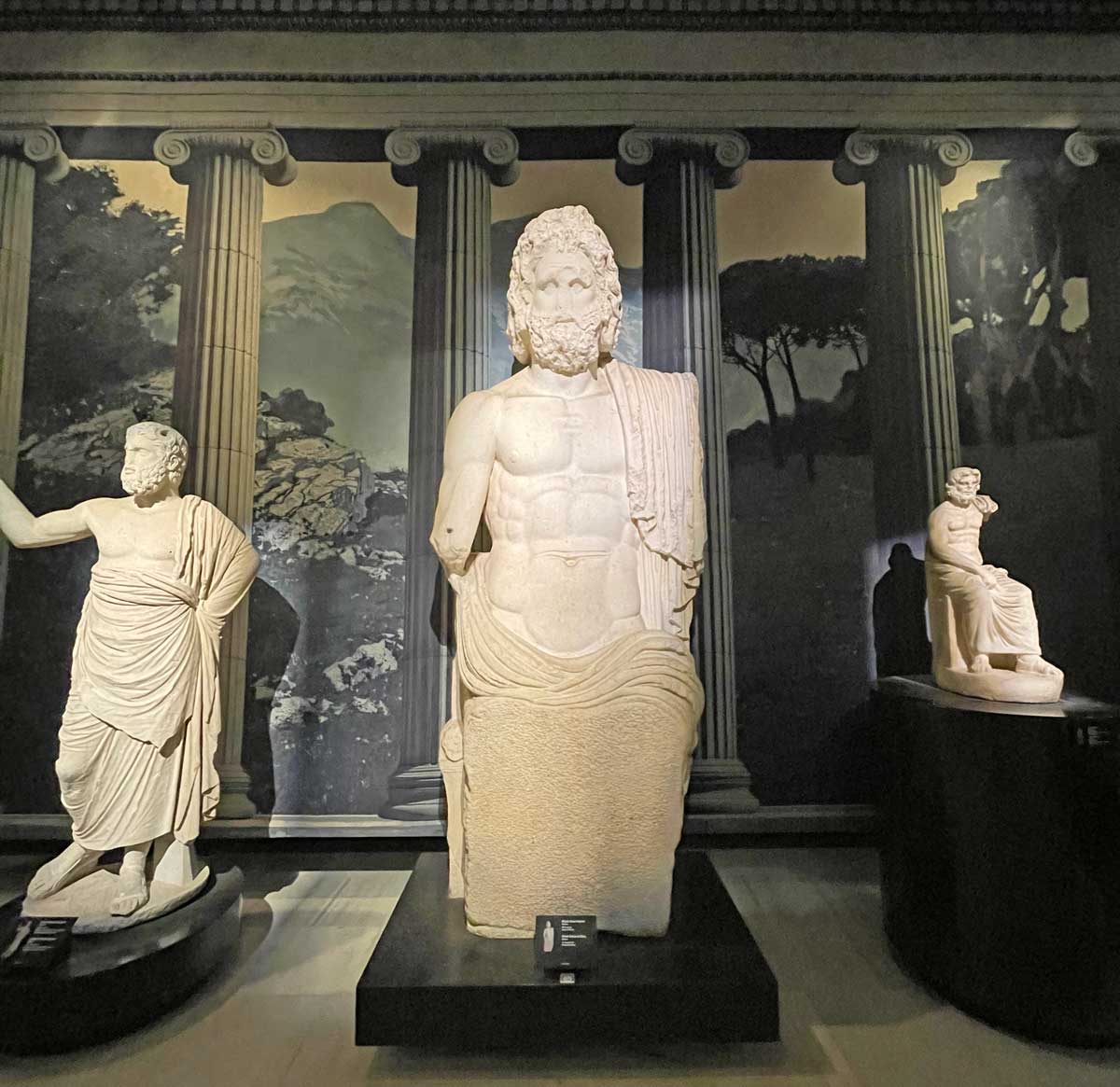 History enthusiasts are in for a treat!
The city's rich historical heritage, vibrant culture, and contemporary art scene come together in its impressive array of over 80 museums and numerous art galleries.
Istanbul's main three archaeological museums are situated on the former grounds of the Topkapi Palace. Visitors can delve into the captivating world of culture, arts, and history, exploring a range of mediums such as painting, sculpture, photography, and more.
The most notable museums in Istanbul include:
Istanbul Archaeology Museums
Topkapi Palace Museum
Istanbul Modern
Rahmi Koc Transport Museum
Museum of Turkish and Islamic Arts
9. Check out the Ottoman palaces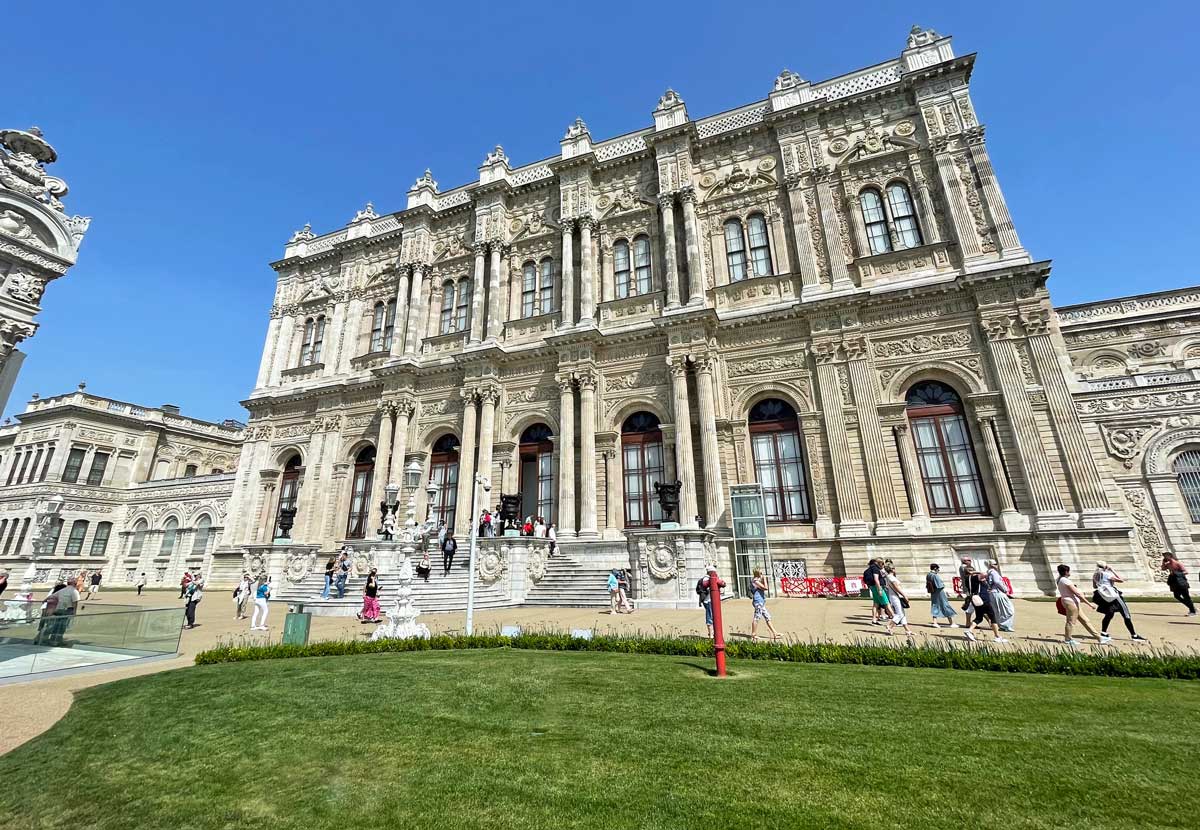 Istanbul boasts several exquisite palaces.
Topkapi Palace, once the residence of Ottoman sultans, mesmerizes visitors with its intricate architecture, picturesque grounds, panoramic views of the Bosphorus Strait, and an impressive collection of historical artifacts.
Another gem is Dolmabahce Palace, one of Istanbul's most captivating historic sites. It stands as Turkey's first European-style palace, exuding grandeur and opulence. Located by the water, it dazzles visitors with its gilded interiors and crystal embellishments. The Blue Hall, Crystal Staircase, and Grand Ceremonial rooms steal the show.
Beylerbeyi Palace serves as a splendid testament to the opulent lifestyle of the Ottoman rulers. The summer residence mesmerizes visitors with its white marble exterior and lavish interior adorned with art, priceless vases, fountains, and crystal chandeliers.
Explore these magnificent palaces and immerse yourself in the rich history and beauty they hold.
If you can afford to go Lux, there are some palaces in Istanbul have been transformed into luxury hotels.
10. Take a walking tour and explore a local neighbourhood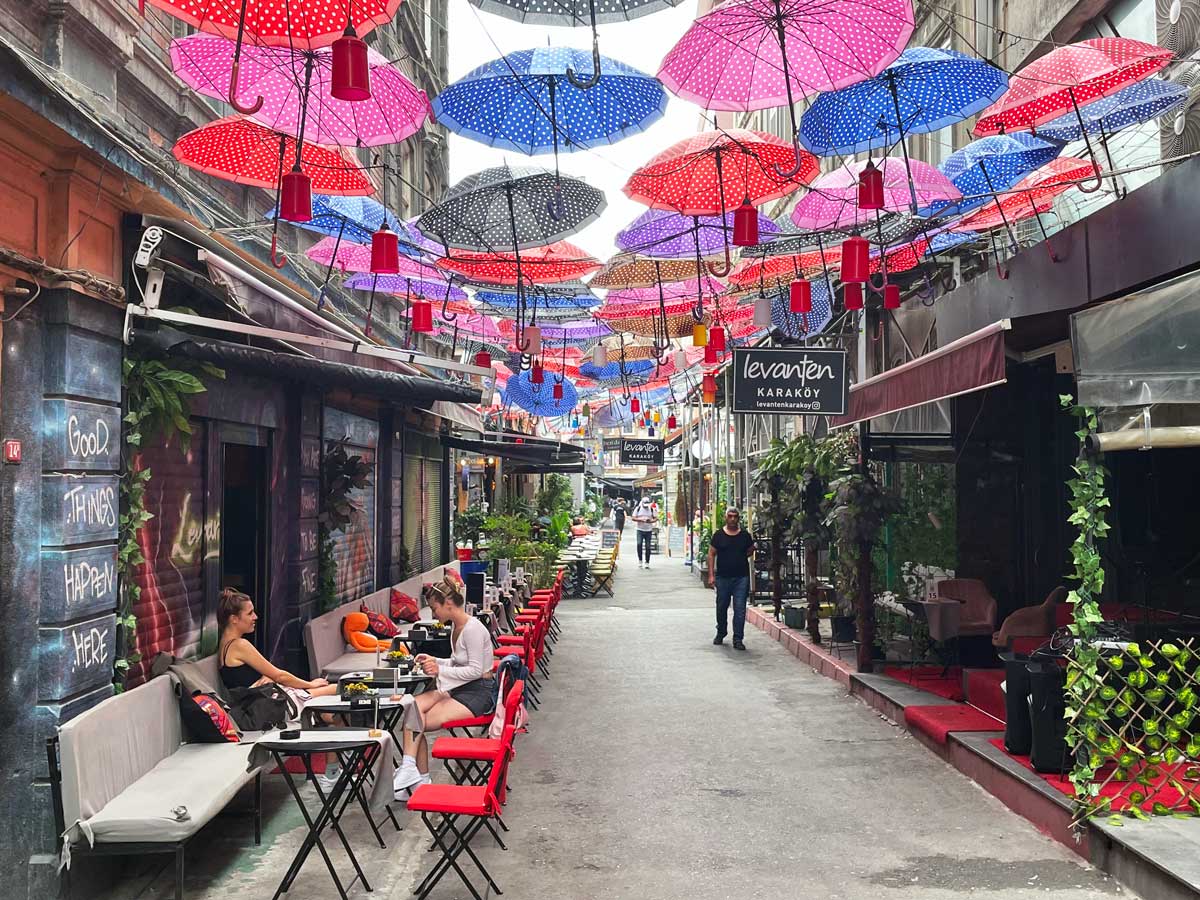 Istanbul has some fun neighborhoods, each with their own unique character and style. Whether you choose to wander solo or enlist the expertise of a local guide, you'll discover some great history and fascinating stores in the backstreets.
As a tourist, there are certainly a few neighborhoods that should be on your radar.
Kadikoy, Istanbul's most renowned neighborhood on the Asian side. Visitors enjoy its vibrant and bustling atmosphere. The streets are adorned with eye catching street art, and you will find many cafes and modern restaurants. Situated along the scenic shores of Istanbul's Asian side, Kadikoy offers easy access via ferry, conveniently dropping visitors right at its doorstep.
Formerly the Jewish quarter of Istanbul, Balat is known for its vibrant colors. If you're an enthusiast of capturing quirky buildings and street life through photography, make sure to include a visit to Balat in your list of 'Instagramable' things to do in Istanbul.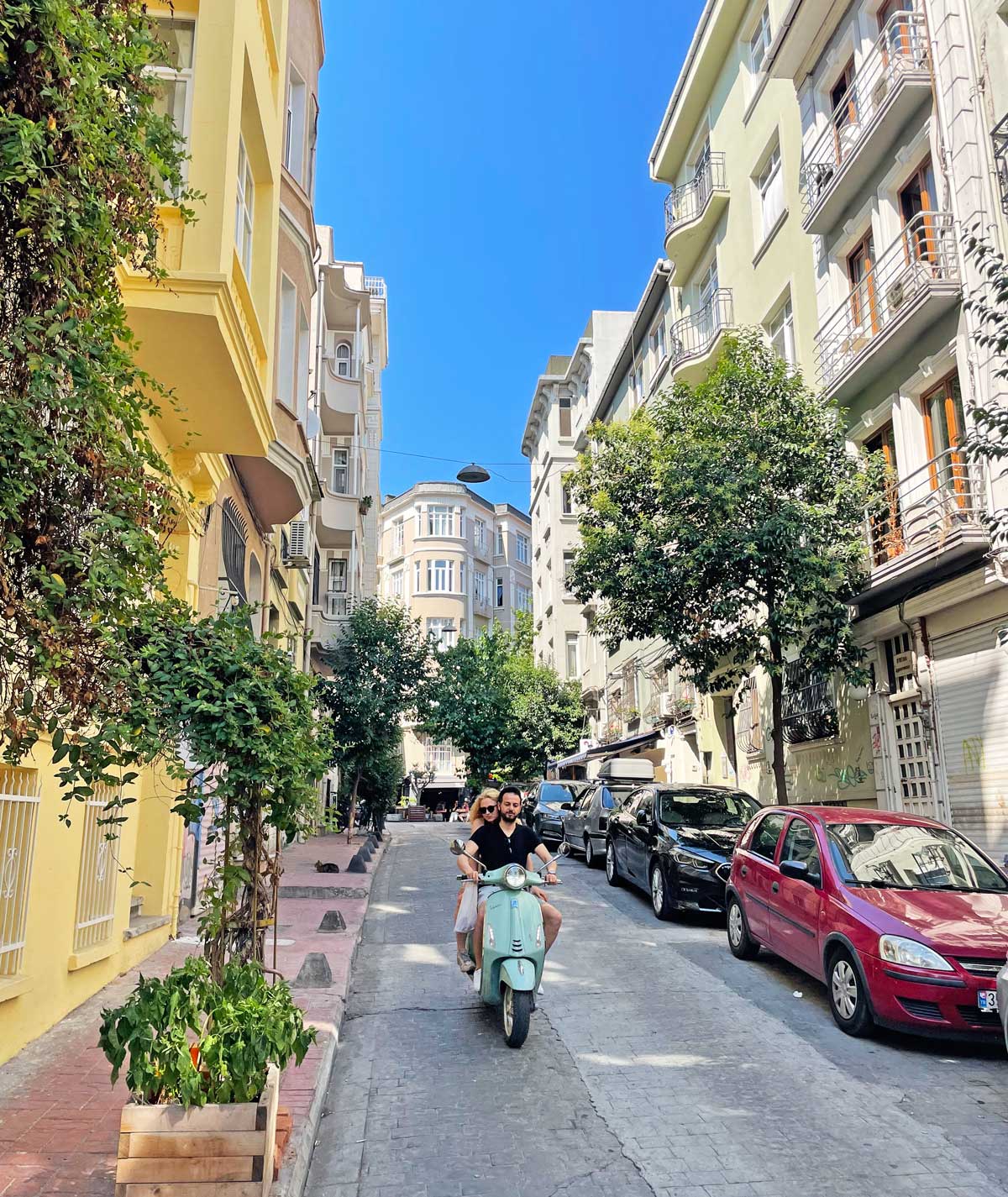 Cihangir in Beyoglu is an artsy, hipster area. Nestled in-between Karakoy and Istiklal it's got that classic charm of old Istanbul. You'll find plenty of good restaurants, cafes and an antique shop or two.
11. See a local show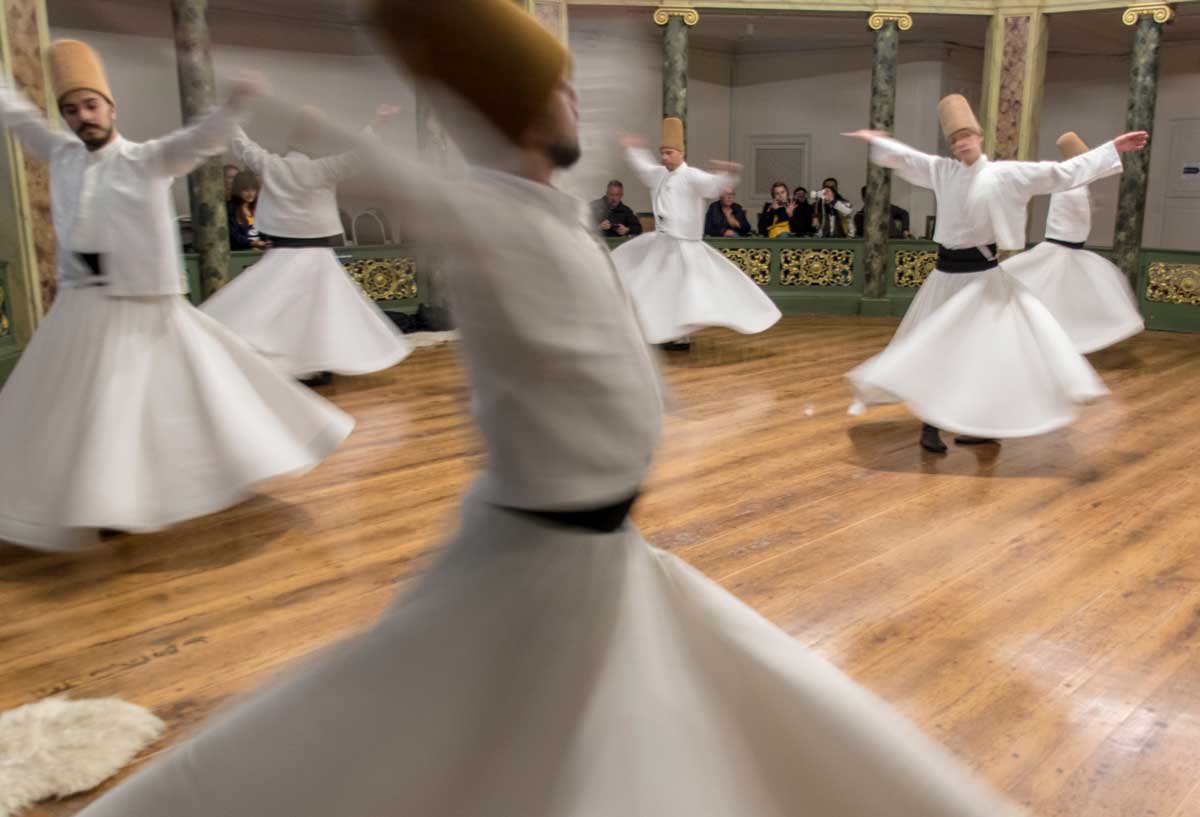 Istanbul offers a multitude of local performances that are worth experiencing.
At the Galata Tower, you can indulge in a Turkish show accompanied by belly dancing and whirling dervishes at their restaurant café and nightclub. 
Witness the Mevlevei Sema ceremony, featuring whirling dances and dervishes, at the Kizlaragasi Medrese in the heart of Istanbul. 
Immerse yourself in the enchantment of Turkish folklore as you delve into the magical world of 1,001 Nights, where traditional dances come to life amidst the ancient walls of the 550-year-old Ottoman bath Hodjapasha Hammam.
12. Relax at a Turkish hammam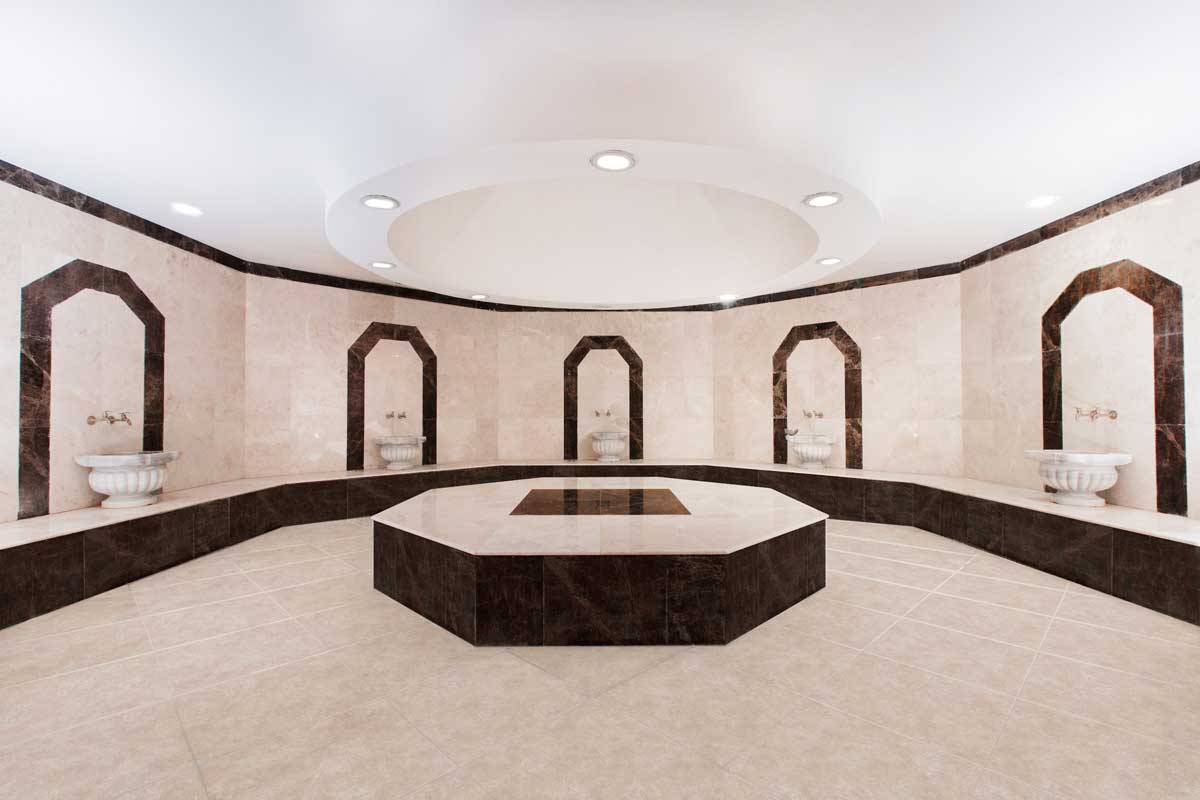 For the more adventurous souls out there, a hammam experience is a different kind of adventure. Known as a traditional Turkish Bath, it offers a unique opportunity to rejuvenate your body. Brace yourself though – it's a steamy session where you are expertly cleansed and massaged.
The process commences with a refreshing water splash, followed by a blissful break on a heated marble platform to unwind. Then, a skilled attendant employs black soap and a specialized rough mitten to exfoliate your skin vigorously (very vigorously!), bidding farewell to dead cells. Finally, enjoy a lathering bubble wash.
The experience can be intense. It has elements of slight pain and full-on relaxation.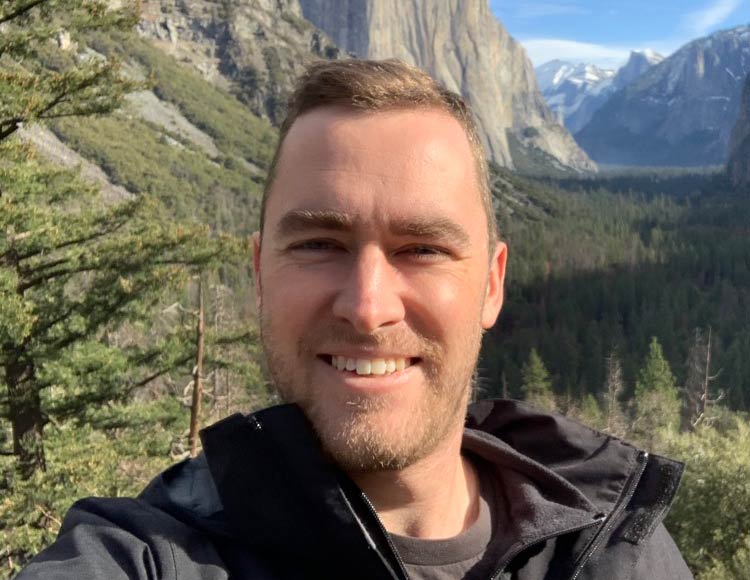 I'm a writer and graphic designer currently living in Turkey with my family. I enjoy learning language, great food (chicken kebab is a favourite at the moment) and experiencing places less-traveled.