There aren't many countries around the world more synonymous with coffee than Turkey. It's one of only a handful of countries with a coffee type sharing its namesake.
If you're planning on travelling to Istanbul soon, you're probably wondering where to get the best Turkish coffee.
Best Turkish Coffee in Istanbul
Some of the top Turkish coffee shops in Istanbul include Pierre Loti, Mandabatmaz, and Emirgan Tarihi Cinaralti. Other great options are Dervis Cafe and Restaurant, Corlulu Ali Pasa Medresesi, and Suflor Kadikoy.
Read on to learn more about where you can get the best cup of Turkish coffee in the historic city of Istanbul.
1. Pierre Loti
Eyüp Merkez, Karyağdı Sk. No:20, 34050 Eyüpsultan/İstanbul, Türkiye
Located on Pierre Loti Hill, this coffee shop with the same name is a prime destination for those looking to treat all their senses.
Pierre Loti cafe is known for its stunning scenery. You'll get to sip on some of the best Turkish coffee that Istanbul has to offer while you enjoy the breeze.
Your best bet for experiencing this coffee shop without the crowds is to visit on weekdays. As for the commute, it's part of the experience. The scenic cable ride from Eyup station is a great precursor to the cafe itself.
2. Dervis Cafe and Restaurant
Sultanahmet Mah, Kabasakal Cd. No:1 D:2, 34122 Fatih/İstanbul, Türkiye
The Sultanahmet neighborhood of Istanbul is riddled with incredible landmarks. As you're exploring what the area has to offer, you'll inevitably want to stop for a rest. There aren't many better places to do so than Dervis Cafe and Restaurant.
Not only does this place offer delicious Turkish coffee, but it also gives you a chance to take in a whirling dervish show at no additional charge.
Dervis Cafe and Restaurant's location is very close to the Blue Mosque and the Hagia Sophia. Despite being in this prime piece of real estate, this cafe's prices are surprisingly affordable.
If you've gotten hungry from walking all over Sultanahamet, you can also indulge in the scrumptious food options that Dervis Cafe has to offer.
3. Mandabatmaz
Asmalı Mescit, Olivya Gç. 1/A, 34430 Beyoğlu/İstanbul
Mandabatmaz arguably has the richest history of any coffee shop on this list. It's been operating since the late 1960s and is located on the world-famous Istiklal Avenue.
Even the cafe name has an intriguing story behind it. The word "manda" is Turkish for "buffalo." And Mandabatmaz means that the cafe's coffee has foam so thick that "even a buffalo won't sink in it."
The place is rather small, but locals love it so it's worth ducking in, even for just a quick coffee break.
4. Suflor Kadikoy
Osmanağa, Nihal Sk. No:5/a, 34714 Kadıköy/İstanbul
Suflor Kadikoy's interior design is unlike anything you're likely to see anywhere else. Its walls are decorated with enthralling black and white illustrations and sketches that'll have you feeling like you're sitting inside an artist's mind.
When you walk through this cafe's door, you'll feel like you've ventured into a wonderfully weird world. You can enjoy a game of chess over a cup of Turkish coffee. Don't walk out of this coffee shop without trying its souffles, with plenty of mouth-watering flavors to choose from.
5. Emirgan Tarihi Cinaralti
Çengelköy Mah. Çengelköy Cad, Çınarlı Cami Sk. No:4, 34680 Üsküdar/İstanbul
Turkey is one of only two countries in the world that span two continents. At the Emirgan Tarihi Cinaralti cafe, you can enjoy a pristine cup of Turkish coffee while taking in the body of water that stands between the country's European and Asian portions.
Whether you're looking into the sea's horizon or feasting your eyes on the beautiful scenes of the Emirgan neighborhood, the view is absolutely breathtaking.
This coffee shop rivals Mandabatmaz in terms of its rich history. It's been in business since 1948, providing locals and tourists a place to relax and enjoy their coffee ever since.
6. Limonluk Cafe
Vişnezade, Dolmabahçe Cd., 34357 Beşiktaş/İstanbul
Do you want to sip coffee in a setting that makes you feel like royalty? If that's the case, the Limonluk Cafe is an excellent choice.
This coffee shop is located inside Dolmabahce Palace (it's in the palace's garden to be exact). The garden boasts a beautiful pond that several swans call home. The petals of the garden's magnolia trees give the garden a splash of color.
To allow you to take in the garden's sights in all its glory, Limonluk Cafe has an enclosure made exclusively of glass. You'll also find your eyes drifting away from the outside scenes to take in the coffee shop's majestic indoor water fountain.
7. Pera Palace Hotel
Evliya Çelebi, Meşrutiyet Caddesi, Tepebaşı Cd. No:52, 34430 Beyoğlu/İstanbul
The undisputed champion of this guide in terms of historical significance is the Pera Palace Hotel coffee shop. This place has been a prime destination for flawless Turkish coffee and desserts since the late 19th century.
As a product of that unrivaled history, being inside this coffee shop gives you a sense of luxury and grandeur like no other.
Do you know what the best part is?
You don't have to be staying in the hotel to enjoy this coffee shop's ambiance. The Pera Palace Hotel has opened the place to the public, and anyone can walk in and order a coffee.
8. Brew Coffeeworks
Hobyar, Hamidiye Cd. No:16, 34112 Fatih/İstanbul
Like the previous entry in our guide, Brew Coffeeworks is also located inside a hotel, located on the ground floor of the Legacy Ottoman Hotel. Although the hotel is over a century old, the coffee shop is fairly new.
The coffee shop's recency doesn't mean that it lacks an appreciation for history. In fact, you can feast your eyes on Osman Hamdi Bey's famous Tortoise Trainer painting and Kemalettin Bey's architectural portraits as you sip your coffee at Brew Coffeeworks.
This place prides itself on having an array of coffee types to offer. However, Turkish coffee remains its specialty. Brew Coffeeworks also serves delicious desserts, such as macaroons and cheesecakes.
You will find other Brew CoffeeWorks cafes located in Galata and Karaköy, which are equally as nice.
9. Sade Kahve
Rumeli Hisarı, Yahya Kemal Cd. no 20, 34470 Sarıyer/İstanbul, Türkiye
Do you want to have breakfast like you've never had before? Sade Kahve is more than capable of providing that experience, and it has been for over two decades.
For starters, the coffee shop overlooks pristine Istanbul hills and the Bosphorus strait. The views there will have you getting your camera out.
The scenery, along with the coffee shop's amazing Turkish coffee and breakfast options makes it worth the long drive from the city's center.
10. Corlulu Ali Pasa Medresesi
Mollafenari, Yeniçeriler Cd. No:38, 34120 Fatih/İstanbul, Türkiye
If you're looking for a coffee shop that'll make you feel like you've gone back to Ottoman times, then Corlulu Ali Pasa Medresesi is your best bet. This coffee shop is known for its breathtaking authentic oriental design and decor.
The Turkish coffee offered here has a unique flavor thanks to the way it's made. Corlulu Ali Pasa Medresesi stays true to its roots and brews its coffee on a coal fire.
If you're interested, you can also find authentic shisha with plenty of flavors at Corlulu Ali Pasa Medresesi.
11. Sark Kahvesi
Beyazıt, Yağlıkçılar Sk. No:134, 34126 Fatih/İstanbul, Türkiye
Sark Kahvesi is one of the longest-standing landmarks of Istanbul's iconic Grand Bazaar. Over its 60 years of existence, this coffee shop is a local favourite.
It's the perfect place for tourists looking to take a break from the crowds of the Grand Bazaar.
We also recommend that you indulge yourself while you're there and try the delicious baklava.
12. Tarihi Bagdat Kuru Kahvecisi
Suadiye, Bağdat Cad./kazım Özalp Sok. Kazım Kulan Pasajı No:371 D:6, 34740 Kadıköy/İstanbul – Asya, Türkiye
Tarihi Bagdat Kuru Kahvecisi is located on the Asian side of Istanbul. More specifically, it's on Bagdat Street.
This coffee shop's allure lies in its unique take on Turkish coffee. It incorporates natural gum mastic into the brew, giving it a taste that you won't experience in any of the other coffee places mentioned in this guide.
Tarihi Bagdat Kuru Kahvecisi's ingenuity doesn't stop there. It also serves Turkish coffee with chocolate and milk. So get ready for some new sensory experiences.
13. Karabatak
Kemankeş Karamustafa Paşa, Karaali Kaptan Sk. No:7, 34425 Beyoğlu/İstanbul, Türkiye
This place is in the historic neighborhood of Karakoy and its ambiance goes hand in hand with that history.
If you're seated in the coffee shop's interior, you'll find yourself looking at vintage bicycles and works of art hanging from the ceilings and brick walls.
On the other hand, those who don't want to get some sun can enjoy their delicious Turkish coffee on the street side tables that Karabatak has to offer.
14. Cumbali Kahve
Ayvansaray, Balat, Kürkçü Çeşmesi Sk. No:12, 34087 Fatih/İstanbul, Türkiye
Despite being only eight years old, Cumbali Kahve has become a staple of Balat, one of Istanbul's more popular tourist destinations.
Walking around Balat is a real treat due to the wealth of architecture all over the area. When you're exploring Balat, you'll inevitably need a break.
This is when you should step into Cumbali Kahve and indulge in some of the best Turkish coffee in town.
Like Mandabatmaz, Cumbali Kahve is a favorite among Istanbul's locals, an indication that you're making the right choice in coffee.
15. Cukurcuma Antiques and Cafe
Firuzağa Mah, Çukur Cuma Cd. No:52B, 34425 Beyoğlu/İstanbul, Türkiye
If you like to be surrounded by antiques and shiny vintage trinkets while sipping on your coffee, then check out Cukurcuma Antiques and Cafe.
As soon as you walk through the doors, you're transported from the loud crowdedness of Beyoglu into an entirely different ambiance.
From the colorful lamps to the velvet armchairs and vintage oak tables, this cafe's interior will have you in awe.
Where to get ground Turkish coffee beans in Istanbul
If you're going to live in Istanbul for an extended period, getting your coffee at a coffee shop every day may not be financially sustainable. So you may want to consider buying your own beans and brewing your Turkish coffee at home.
The best brand of ground Turkish coffee in Istanbul is Kurukahveci Mehmet Efendi. This brand doesn't have its own coffee shop where you can sit and drink coffee. However, its products are available in shops and supermarkets all over the city.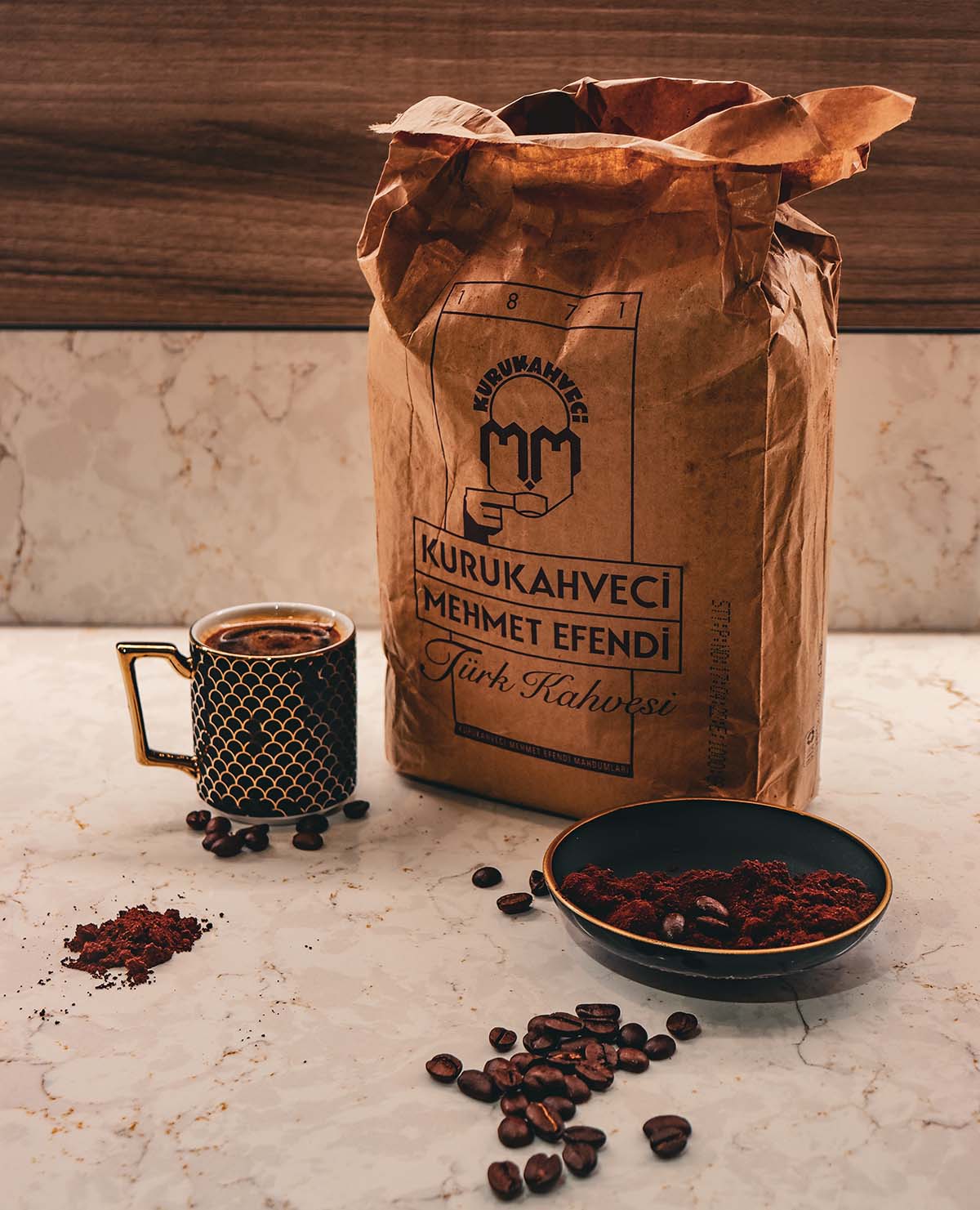 Conclusion
Turkey is full of historical significance, rich culture, and fascinating landmarks. For those who love coffee, there's an additional incentive to visit Turkey.
If you're one of those people searching for the best Turkish coffee shops in Istanbul, there's plenty of options for you. We hope you get to experience authentic Turkish coffee at its finest.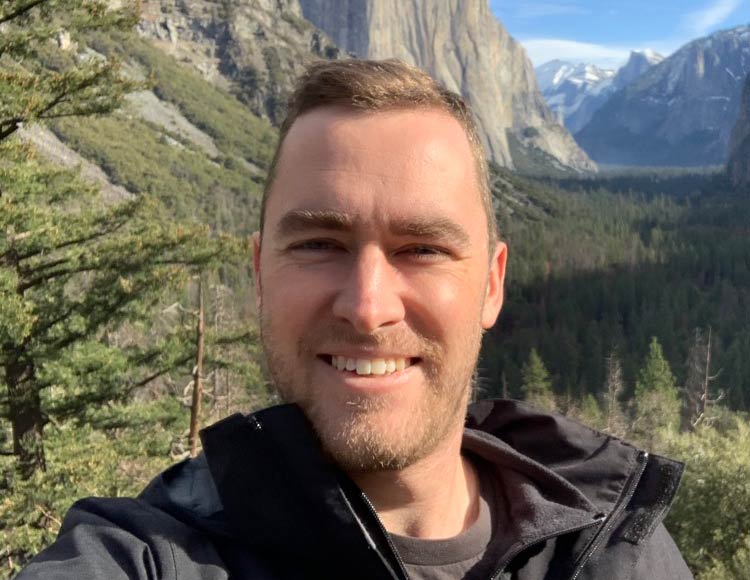 I'm a writer and graphic designer currently living in Turkey with my family. I enjoy learning language, great food (chicken kebab is a favourite at the moment) and experiencing places less-traveled.