Moving overseas resembles moving house, but on a much larger scale.
When we moved our family overseas, we took turns feeling both excited and daunted. Before we left we created a checklist to break the formidable task of moving to Turkey into smaller steps and found this made it much more manageable.
Other than booking our plane tickets, here are the top 16 things that we put on our moving checklist.
1. Pack up your house and consider what to keep, sell and donate
You'll need to decide what you want to keep, and then either sell or give away everything else. Shipping to Turkey can be expensive, so it may be cheaper to just buy new things when you arrive.
When we made our big move from Australia, we let friends and family come through our house and take anything they wanted. We sent them photos of all the big items we were giving away so they could have time to decide what they wanted. Then we donated and sold everything else. The plus of giving special things or heirlooms to family is that you're not necessarily saying goodbye to them forever, or at the very least, your family will appreciate the sentiment behind them.
2. Redirect your mail
Once you've packed up your house, the next thing to do is redirect your mail. If you don't have a permanent address overseas yet, you could have your mail forwarded to a family member while you're searching for your new home. Once set up, any mail with your old address will be sent directly to your new address. In most countries, you can apply for mail redirection at your local post office and they can set you up with either local or international mail forwarding.
3. Rent or sell your house
If own your house, you'll need to either sell it or rent it while you're gone. If you plan to rent, it's worthwhile considering getting a real estate agent to manage the property for you. Some people prefer to save the fees and rent themselves, but this can cause headaches when it comes to communicating with the tenant while overseas and organising maintenance when things need fixing.
Our real estate agent manages our property and sorts out issues when they arise, so it's one less thing for us to do.
The same for your car, if you're not shipping it with you, then you may want to sell it. As much as you'll want personal transportation till the last minute, if you don't have a buyer in mind, it's best to put your car on the market a few weeks before you leave to give it time to sell. We negotiated with the new owner of our car to use it till close to our departure date.
4. Renew expired passports
Passports take between 1 week to several months to renew, so it's a good idea to renew your expired passport as soon as possible so you're not cutting it close to your departure date. If you're applying for a totally new passport (for example for a baby), it can take even longer as there is more paperwork involved.
We applied for a passport for our toddler several months before we left.
5. Apply for a visa
The time it takes to apply for a visa varies depending on what kind of visa you need. A tourist visa is generally easy to get in Turkey, whereas applying for a student, residency or work visa is a longer process and it's not guaranteed your application will be approved.
The tourist visa for Turkey lasts for 90 days. Once you get to Turkey, you can apply for a longer visa, such as the tourism residency permit which is typically issued for one year. You have to be in the country to apply for this permit.
6. Set up a bank account you can use overseas
You will probably want to set up an account that favours international banking before you move overseas, as some banks have hefty exchange rates or charge fees for withdrawing money from ATMs overseas.
Setting up a Turkish bank account is also an option, but you'll have to wait to do this till you are in the country, as you will need to give a local address to apply.
Helpful tip
Before you leave, let your bank know you are moving/traveling overseas otherwise they may lock your card. It's also useful to have more than one bank card or credit card so if one stops working you're not put in a difficult situation.
7. Purchase travel insurance
It's a requirement for your residency visa to get health insurance once you're in Turkey. You may want to get travel insurance to cover you in the meantime though.
8. Get up to date with immunisations
Your doctor will be able to tell you what vaccinations are recommended for Turkey. The Centre for Disease Control and Prevention also have a list of all the suggested vaccines for each country. The vaccines they listed for Turkey are pretty routine, so we already had most of them.
You may even want to get some extra optional boosters to have protection for any common diseases where you are moving.
The National Immunisation Program Schedule is a series of immunisations to be given at specific times in a person's life, ranging from a baby to adulthood.
Turkey has its own national immunisation program so it won't be a problem getting your (or your child's) vaccinations in Turkey, however you may want to get up to date with vaccinations before you go as it's one less thing to do.
9. Make medical appointments
Even though Turkey is known for medical tourism and a high level of medical care, it's a good idea to book a final check up with your doctor so you can make a plan together for any ongoing medical care and medications. Check whether you can easily source your prescriptions in Turkey and work out what you'll do if your medication is not freely available (organise postage, etc).
If you wear glasses, take a spare pair with you, or pack your prescription.
10. Let friends and family know how to contact you
Your friends and family won't be able to send you text messages while you're in Turkey (unless you activate international roaming, which is expensive), so it's a good idea to let them know your preferred social media or messaging platform, such as WhatsApp and Facebook Messenger or a video platform like Skype or Facetime.
We let everyone know to contact us on WhatsApp a few weeks before we left, as we didn't miss want to miss any important messages.
11. Make copies of important documents
You'll want to take certified copies of your important documents with you if you're moving to Turkey for an extended period of time. If you're planning on relocating with your spouse, you will need to provide proof of marriage for your visa application. Important documents like birth and marriage certificates will come in handy when applying for a driver's license, photographic identification or setting up a new bank account. You may also want to make 2 copies of your passport, travel insurance and credit cards.
We kept these documents close by in carry-on, just in case our suitcase went missing at the airport. Some people prefer not to take original copies of their documents overseas, but if you're applying for a longer visa then you'll need the originals.
12. Do I need to get an international driver's license for Turkey?
In Turkey you can drive for up to 6 months with your foreign driver's license, after which you will need to apply for a Turkish driver's license.
13. Set up a phone plan that you can use overseas
You may be able to use your phone plan in Turkey if it is unlocked and compatible with local networks. However just because you can, doesn't mean you'll want to. International roaming is expensive, and most likely not something you'll want to do for very long.
Instead, you can buy yourself a local sim card or get an e-sim. Buying a local sim is the cheapest option when using your phone in Turkey, and you can get a generous amount of data and local call and text from one of the mobile network providers like Turk Telecom. You can buy a local sim at the airport when you arrive, or a phone provider.
Helpful tip
We've used a service called Airalo multiple times. It's a mobile app which allows you to purchase and install an e-sim. This will give you a decent data package which will work as soon as you arrive in Turkey. Great to have until you've set up a local SIM card.
14. Notify relevant authorities of your plans (government tax agencies, etc)
If you are moving overseas for 6 months or more, some countries require you to notify an appropriate government agency within 7 days of leaving, for example in Australia you need to contact the Australian Taxation Office to update your details. This is commonly called an international travel notification and involves updating your mobile and international residential residence, mail and email addresses.
Most governments require you to report your worldwide income while you're away, and if your income is above a certain amount you may have to pay tax.
You may also have to keep making repayments overseas if you have a study or training loan.
15. Cancel all memberships, utilities and subscriptions
Internet
Many internet providers require 30 days' notice to cancel, so let them know early to avoid paying for longer than is necessary.
Car and house insurance
Not taking your car with you? Then you can cancel your cart insurance, yay!
If you have house insurance, call them to let them know you're moving overseas.
When renting out your house, you will need to contact your insurer to switch from personal to landlord's insurance.
Gas/electric
Call your gas or electrical provider to let them know you're moving. Again, if you're renting your house, let them know so you don't end up paying your tenant's bills while you're away (we unfortunately made this mistake for several months).
Subscriptions
In Turkey, the cost for things like Netflix, Adobe Suite and YouTube Premium is cheaper than most countries, so (depending on where you're coming from) you are better off cancelling your current subscription and creating a new account when you get there. It's worth checking prices in your current country to work out whether to keep your accounts or to cancel.
16. Make a plan for your first week overseas
Are you planning to rent or buy a house in Turkey? Then come up with a list of places where you'd like to go house hunting in the first few weeks. You also will want to pre-book temporary accommodation for at least the first few days so you have somewhere to go when you arrive.
Helpful tip
We chose to book an Airbnb for the first month when we moved to Turkey which gave us time to explore longer-term options. We highly recommend doing this as you may not know what neighbourhood is right for you until you spend a bit of time there. Our Airbnb was in a neighbourhood in Istanbul where we thought we'd like to live.
Planning to learn Turkish? As much as you'd like, you won't become fluent overnight and you'll need to make a plan to get there.
Starting a new job or studying overseas? Then you'll want to have a contact person set up so you know who to call for all your questions. For example, we had a friend who could speak Turkish who said she'd be happy to answer any emergency questions we had as we got settled.
Moving overseas for the first time? Then prepare yourself for the adjustment by asking others you know who have moved countries about their experience.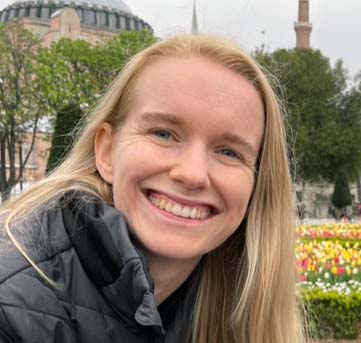 I'm a teacher and writer living abroad. I love languages, drinking lots of çay (tea) with friends, experiencing different cultures and going on adventures with my family.