Living in Istanbul, we've had our moments of sickness where we've had to seek out a doctor and buy medication. Not always easy in a foreign country.
If you're planning on visiting or living in Istanbul, like us, you'll want to know what to do if you get sick.
Medical tourism is popular in Turkey because of the affordability and the high quality offered, and this is also true for the general healthcare system.
You'll be happy to know that there are many first-rate clinics and hospitals in Istanbul, and most doctors speak at least basic English.
In this article, we'll go over common illnesses, the different types of healthcare providers in Istanbul, as well as how to make an appointment and what to expect during your visit.
Key takeaways
Some common illnesses in Istanbul are food poisoning, the common cold and flu, rotavirus and heat stroke.
Finding a doctor in Istanbul is easy, even for English speakers, with many first-rate clinics and hospitals in the city.
Finding a doctor in Istanbul
Here are some options for finding medical care in Istanbul:
Public Hospitals
Public hospitals (called hastane) in Istanbul are run by the Turkish Ministry of Health and offer low-cost medical care to Turkish citizens and foreigners. However, they said to be overcrowded and may not have the same level of amenities as private hospitals. You will need to bring your passport and proof of travel insurance, or identity card if you are a resident in Turkey.
Sometimes doctors in public hospitals in Turkey are freshly out of medical school, as they often complete their training in public hospitals before moving on to other job placements.
Helpful tip
People say the waiting times are long at public hospitals in Istanbul. However, when we took our daughter to the local hospital's emergency department, we were seen immediately, so it really depends on the hospital and the time of day you go.
Private Hospitals
Private hospitals in Istanbul are more expensive than public hospitals, but they offer a higher level of care and often have English-speaking staff. Many private hospitals in Istanbul cater to medical tourists and offer a range of services, including cosmetic surgery, dental care, and fertility treatments.
If you have travel insurance, check with your provider to see if they cover medical care at private hospitals. You will also need to bring your passport and any relevant medical records.
English-speaking doctors
If you prefer to see a doctor who speaks English, there are many private clinics in Istanbul that cater to expats and tourists. These clinics often have English-speaking doctors and offer a range of services, including general practice, paediatrics, and gynaecology.
To find an English-speaking doctor in Istanbul, you can check with your hotel or ask for recommendations from other expats or tourists. We've found that many locals in Istanbul have a private family doctor they see in addition to using the local hospital. Generally, people will see their private doctor first, and use the hospital for more serious conditions or on the weekends when doctors' surgeries are closed.
Pharmacies and medications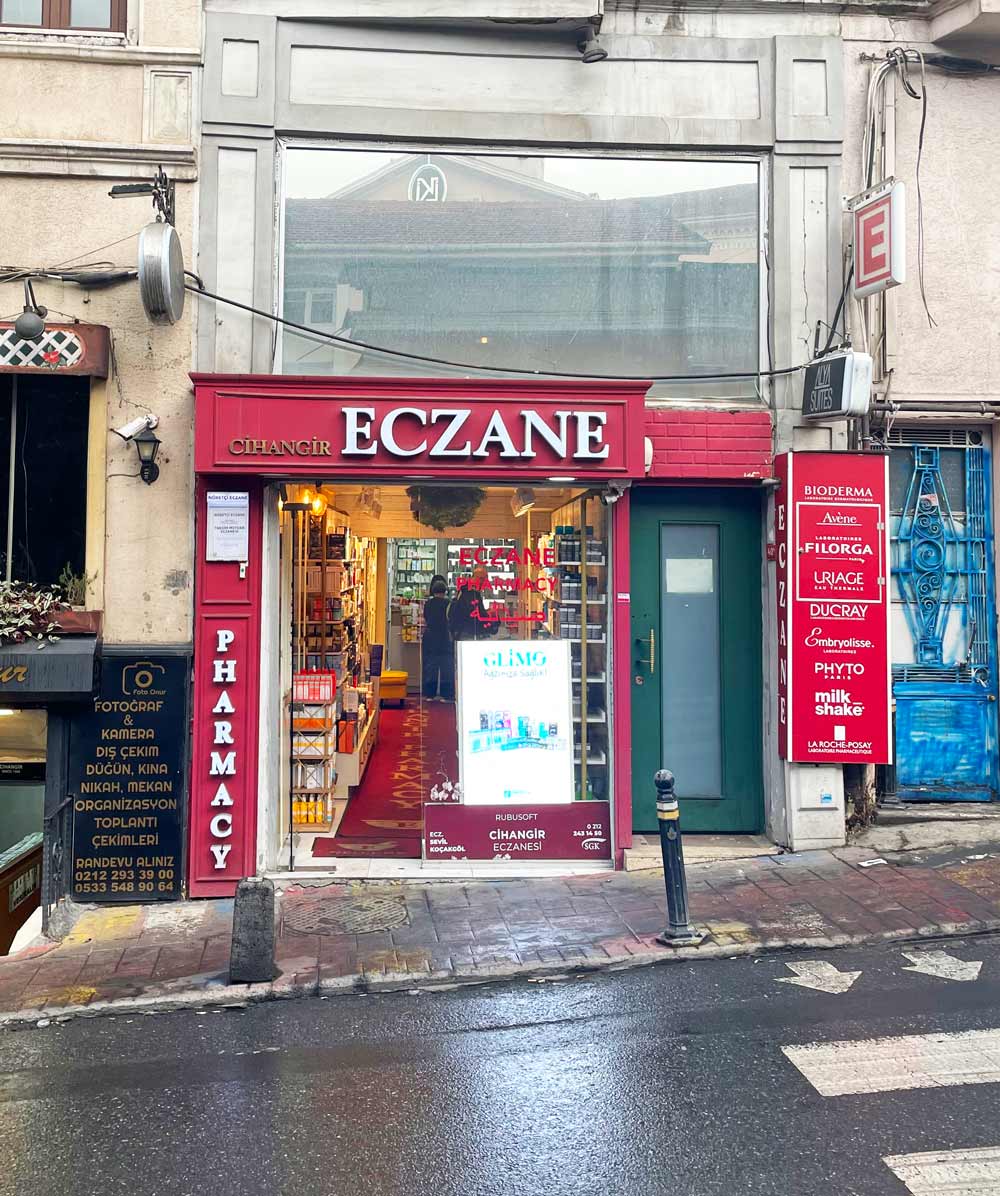 If you get sick while in Istanbul, you can easily find a pharmacy to purchase over-the-counter medications or prescription drugs.
Pharmacies are called Eczane (pronounced e-zan-e) and are commonly found throughout the city, sometimes within 100 metres each other. There is generally one in each town that is open 24/7.
In Turkey, pharmacies are marked with a red 'E' sign, so they are easy to spot.
Over-the-counter medications
Over-the-counter medications are readily available in Istanbul's pharmacies. You can purchase common medications such as painkillers, cough and cold remedies, and antihistamines without a prescription. However, it is important to note that the brand names of medications may differ from those in your home country.
If you aren't sure about which medication to take, or if you have any questions about dosage or side effects, you can ask the pharmacist for advice. Many pharmacists in Istanbul speak English and are knowledgeable about the medications they sell. If they don't speak English then you can show them a picture of the medication you want and they should be able to help you.
Common over the counter medications in Turkey
Panadol or paracetamol for children in Turkey is called Calpol
Ibuprofen is called Nurofen
For diarrhea ask for Reflor
Lozenges for sore throats are called pastels
Antibiotics is called Antibiyotiks
Prescription medications
If you need prescription medications while in Istanbul (for medication like antibiotics), you will need to visit a doctor or a hospital. Once you have a prescription, you can take it to any pharmacy to have it filled.
When traveling to Istanbul, we'd recommended that you bring enough of your prescription medication to last for the duration of your trip so you won't need to book a doctor's appointment.
Health insurance and costs
It's a good idea to purchase travel health insurance before your trip to any foreign country, including Turkey. This will provide you with coverage for medical expenses, including emergency medical treatment, hospitalization, and medical evacuation if needed.
Private health insurance is also available in Istanbul, and it may be a good option if you want to have access to a wider range of medical services and facilities. Private health insurance plans typically offer more comprehensive coverage, including specialist consultations, diagnostic tests, and elective procedures. However, private health insurance can be expensive, and the cost will depend on factors such as your age, health status, and the level of coverage you need.
Emergency services in Istanbul
If you need emergency medical attention while in Istanbul, rest assured that the city has efficient emergency medical services available. Here's what you need to know about emergency services in Istanbul:
Calling an ambulance in Istanbul
If you require urgent medical assistance, call the number 112 for the emergency department. An ambulance will be dispatched to your location and transport you to the nearest emergency room. Thankfully the emergency medical service (EMS) system in Istanbul is reliable. But unfortunately Istanbul traffic can be crazy at times and this could cause delays.
Popular Hospitals for emergency visits in Istanbul
In Istanbul, the Taksim Training and Research Hospital (Taksim Eğitim ve Araştırma Hastanesi) is a public hospital that offers emergency services. It is located just down the road from Taksim Square. If you need urgent medical attention, you can visit the emergency room of this hospital.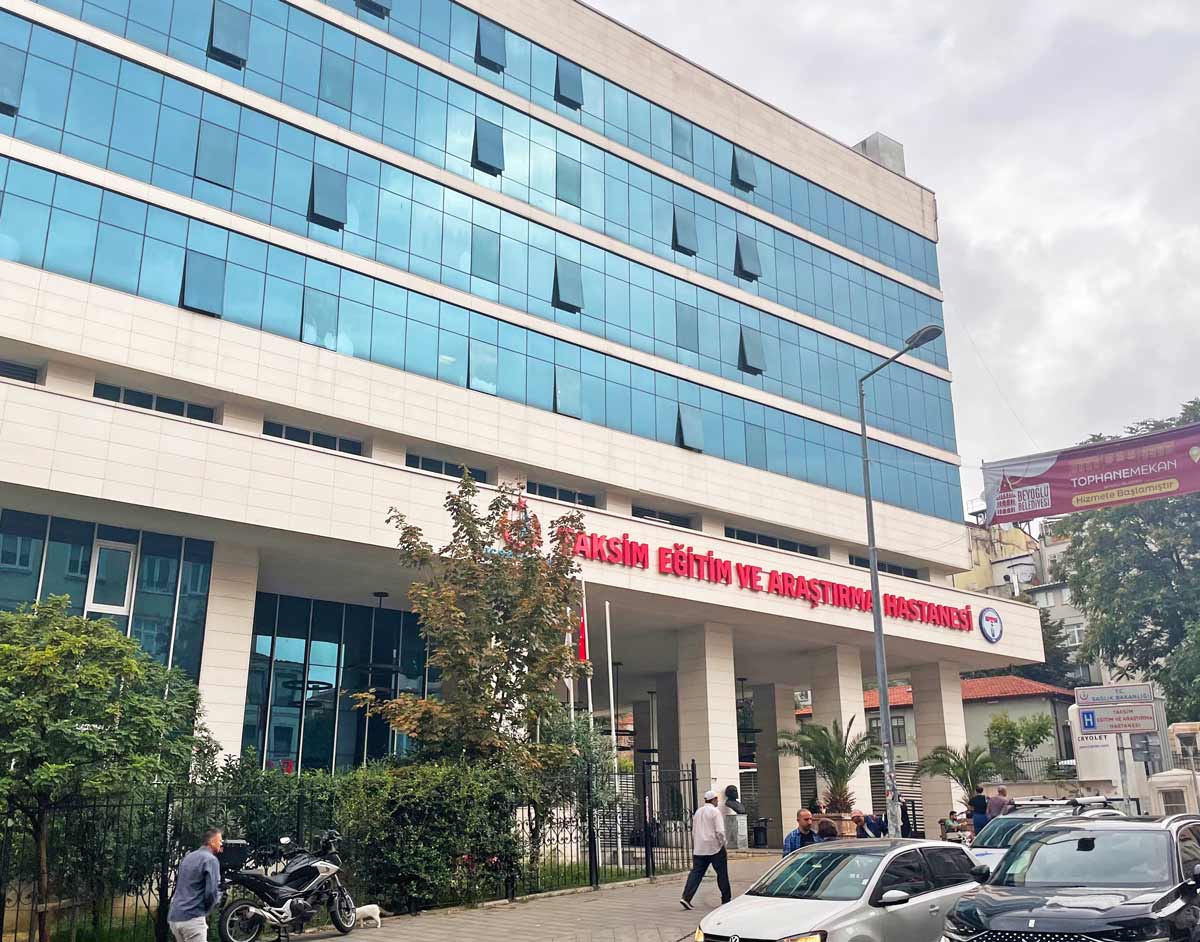 Taksim Eğitim ve Araştırma Hastanesi
Katip Mustafa Çelebi, Sıraselviler Cd. No:48, 34433 Beyoğlu/İstanbul
Some private hospitals that also offer emergency services in Istanbul include:
The American Hospital Istanbul
Teşvikiye, Güzelbahçe Sk. No:20, 34365 Şişli/İstanbul
Acıbadem Hospital
İnönü, Nizamiye Cd. No:9, 34373 Şişli/İstanbul
Memorial Şişli Hospital
Kaptan Paşa, Kaptan Paşa Mah. Piyale Paşa Bulv, Okmeydanı Cd. No: 4, 34384 Şişli/İstanbul
Private Austrian St George's Hospital
Azapkapı, Bereketzade Medresesi Sk. No:7, 34421 Beyoğlu/İstanbul
These hospitals have modern facilities and highly trained medical staff who can provide you with the care you need. Of course, these are more expensive than public hospitals but are highly rated by expats.
It's important to note that emergency services in Istanbul are not free. If you require medical attention, you will need to pay for the services provided.
What if you need a paediatrician in Istanbul?
Klinlik Etiler is a children's hospital in Istanbul that comes highly recommended by locals. However, it closes at 5pm, so if you need to visit emergency at night, then you can try Prof. Dr. Cemil Taşcıoğlu Şehir Hastanesi which has a paediatric emergency department and is open 24/7.
Klinlik Etiler
Levazım, Ahmet Adnan Saygun Cd. No:21, 34340 Beşiktaş/İstanbul
Prof. Dr. Cemil Taşcıoğlu Şehir Hastanesi
Kaptan Paşa, SSK Okmeydanı Hst. No:25, 34384 Şişli/İstanbul
If you're looking for an exceptional paediatric doctor, expats recommend going to Dr Mehmet Kesikminare at Acibadem Hospital.
Helpful tip
Our daughter had a high fever in the middle of the night so we took her to the paediatric department at Prof. Dr. Cemil Taşcıoğlu Şehir Hastanesi and we had a good experience there.
Their emergency department is open all night and the doctor saw our daughter right away (as soon as we paid and showed her identity card). He took an x-ray and did a thorough examination and we were happy with the level of care she received.
The receptionist and the rest of the staff did not speak the best English, however we got by with Google Translate and using Turkish phrases that we had learnt.
Recognizing common illnesses in Istanbul
If you're settling in Istanbul for an extended stay, then here are some of the most common illnesses that you are likely to face (we faced all these in our first six months in Istanbul):
Food poisoning
Food poisoning is one of the most common illnesses travellers report. It is caused by eating contaminated food or water. Symptoms of food poisoning include nausea, vomiting, diarrhea, stomach cramps, and fever.
To avoid food poisoning, make sure to only eat food that has been cooked thoroughly and is served hot. Be cautious of food that has been sitting out for a long time. We avoid food that has been sitting at room temperature for several hours, which you may find at some "lokanta" in Istanbul (known as worker's restaurants).
While tap water in Istanbul is generally safe to drink, it is recommended that tourists only drink bottled water. Bottled water is widely available in Istanbul and can be purchased at grocery stores and convenience stores, which are on every street corner in Istanbul.
What should I do if I suspect food poisoning in Turkey?
If you suspect that you have food poisoning, you should drink plenty of fluids to prevent dehydration. You can also take over-the-counter medications to relieve symptoms such as diarrhea and nausea, just ask for Reflor.
Heat stroke
Istanbul can get very hot during the summer months, and heat stroke is a risk for travellers who are not used to the heat. Symptoms of heat stroke include headache, dizziness, nausea, confusion, and a rapid heartbeat.
To avoid heat stroke in Istanbul, make sure to stay hydrated by drinking plenty of water throughout the day. You may also want to plan your trip for cooler months like during fall or spring.
Common cold and flu
The common cold and flu are both highly contagious respiratory illnesses that can be easily spread in crowded areas like airports, public transport, and tourist attractions. We had multiple bouts of the flu in our first 6 months in Istanbul, and not just in winter months but in spring and summer as well.
Symptoms of the common cold include a runny nose, sore throat, and cough. Symptoms of the flu are similar but are often more severe and may include fever, body aches, and fatigue. You can get Cold and Flu Nurofen for adults over the counter at pharmacies in Turkey and Calpol (which is a type of Panadol) for children without a prescription.
To avoid catching a cold or the flu, make sure to wash your hands frequently. Istanbul is known for its many animals, particularly cats, that wander the streets. Be sure to use hand sanitiser if you pat them.
If you are staying in Istanbul for a few months or more you may want to consider getting the flu vaccine, which are available at pharmacies across the city.
Rotavirus
Rotavirus is another common illness in Istanbul. It causes diarrhoea in children and spreads fast in playgrounds, childcare centres and schools.
If your child does catch this in Istanbul then make sure to give them plenty of fluids and gentle foods like bananas, apples, dry toast, and things that they can keep down. Locals suggest giving children ayran (a popular yoghurt drink) and boiled potatoes for rotavirus.
Frequently Asked Questions
How much does a consultation cost at a hospital in Istanbul?
Public hospitals in Istanbul are reasonably priced. In September 2023, a doctor visit in emergency cost us 370 TL ($13.55 USD) and it was 70 TL for an x-ray ($2.56 USD). A visit to our private family doctor was a little more pricey at 900 lira ($32.78 USD). Private hospitals will be more expensive of course.
Turkish citizens have universal health care which means emergency hospital visits and primary care is free. This is funded by the state, workers and employees. All workers have to pay 12.5% of the earnings to contribute to the healthcare scheme.
How can I find a doctor in Istanbul if I get sick?
If you need to see a doctor in Istanbul, you can ask your hotel to recommend a doctor or search for a private clinic online. If it's an emergency, go directly to a hospital. You can see the list we provided above.
Are residents able to apply for free healthcare in Turkey?
If you are an expat and have lived in Turkey for a year, you are eligible to apply for universal health insurance, known as "Genel Sağlık Sigortası" (GSS). This system covers basic healthcare services, including doctor visits, hospitalization, and medication. However, it is important to note that this system may not cover all medical expenses, and you may need to pay out-of-pocket for certain medical treatments and procedures.
To enrol for GSS, you will need to visit your local social security centre and pay a monthly fee. Under universal health care in Turkey the following services are included:
Primary and emergency care
Tests and diagnosis
Some dental and optical examinations and treatments (not aesthetic treatments though)
Pregnancy and maternity services including assisted reproductive technology such as IVF
Rehabilitation services
Healthcare services due to work accidents
Prescription drugs are partially covered by Turkey's universal healthcare. Generally, patients cover 20% of the cost of medications, with the rest subsidised.
How do I make a doctor appointment in Turkey?
If you need to see a doctor in Turkey, you can make an appointment in a few different ways. Here are your options:
1. Make an appointment online
You can make a doctor appointment online through the Turkish Ministry of Health's website.
This website is called the Central Physician Appointment System (MHRS), and it allows you to search for doctors and hospitals in your area and book an appointment online.
To use this system, you will need to have a Turkish ID number or a residence permit.
2. Make an appointment by phone
If you prefer to make an appointment by phone, you can call the Turkish Ministry of Health's healthcare helpline at 182. This service is available 24/7, but it is only available in Turkish.
When you call, you will need to provide your Turkish ID number or your residence permit number.
3. Make an appointment in person
Another option is to make an appointment in person by going to a health institution. You can visit a public hospital or a private clinic to make an appointment.
When you make your appointment, be sure to bring any necessary documents with you, such as your passport, residence permit, or health insurance card.
If you have been recommended a private doctor by a local, private doctors usually use WhatsApp to communicate with patients so you can message to organise an appointment time.
Overall, making a doctor appointment in Turkey is a straightforward process, whether you choose to do it online, by phone, or in person. Just be sure to have your passport, ID or residence permit with you and be prepared to pay for your appointment.
What is the procedure for visiting an emergency department in Istanbul?
Show ID at reception
When you arrive at the hospital, look for the emergency department which is called 'acil' in Turkish. If you require urgent attention, tell the triage nurse your symptoms. Otherwise, go to the reception desk and show your passport and health insurance. If you are a resident, then you can show your Turkish ID card.
Make payment
The receptionist will either take payment or tell you where to pay. If you arrive at night, you may be instructed to pay the night duty officer.
See the doctor
After payment, wait in the waiting room until your name is called. When you see the doctor, you can begin by asking if he or she speaks English. If not, you can ask if there is someone in the hospital who speaks English who can translate for you.
Get any procedures or tests the doctor orders
Once you have told the doctor your symptoms, he may suggest follow up procedures like x-rays or blood tests. In a public hospital, you will have to go back to the place you made the initial payment to pay again for each procedure and test. After the test, you generally return to the doctor and he will either admit you to hospital, tell you how to manage your symptoms at home, or write you a prescription.
Do I need a prescription to buy strong medicine in Turkey?
In Turkey, some medicines that require a prescription in other countries can be purchased over the counter without a prescription. However, there are also some medications that are strictly controlled and require a prescription from a doctor.
To give you an idea, here are some examples of medications that require a prescription in Turkey:
Antibiotics
Antidepressants
Painkillers (such as opioids)
Sleeping pills
Steroids
If you need to buy any of these medications, you will need to have a prescription from a doctor in Turkey.
Are prescriptions from Turkey safe?
Turkey has a well-regulated pharmaceutical industry and a reliable system for selling medications across the country.
The Turkish Ministry of Health is responsible for regulating pharmaceuticals and medical devices in the country. All medications sold in Turkey must be approved by the ministry and meet strict safety and quality standards.
One way to ensure that you are purchasing safe and effective medication is to only buy from licensed pharmacies. Look for the "Eczane" sign, which indicates that a pharmacy is licensed and regulated by the Turkish Ministry of Health.
What are hospitals in Turkey like?
Public hospitals in Turkey can be overcrowded and understaffed, and it can be difficult to get an appointment with a specialist. However, they are generally cheaper than private hospitals and are a good option if you don't have private health insurance.
Private hospitals in Turkey are more expensive than public hospitals, but they offer higher quality care and more modern facilities. They are often staffed by English-speaking doctors and nurses, which can be helpful if you don't speak Turkish.
If you do need medical attention in Turkey, you will need to pay for it upfront, even if you have travel insurance. Make sure to keep all your receipts and medical records so that you can claim reimbursement from your insurance company when you return home.
Helpful tip
When we've been to emergency at a hospital in Istanbul, we had to pay upfront before seeing the doctor, and then again before he took an x-ray. If you come from a country with free medical care, payment before receiving medical care may feel strange. However, on the plus side it means medical fees are never a surprise as you have to agree to the payment first.
We hope you don't fall sick in Istanbul, but if you do, you are in good hands with the healthcare system. As locals would say, Geçmiş olsun! (Get well soon).
Disclaimer
We do our best to provide the most accurate and helpful information, but rules and procedures can change. We are not medical professionals so do not take our words as professional advice. Your experience could be different depending on your country of origin and the specific hospital, doctor or pharmacy you attend. For the most current information check official government sources and speak to a local medical professional.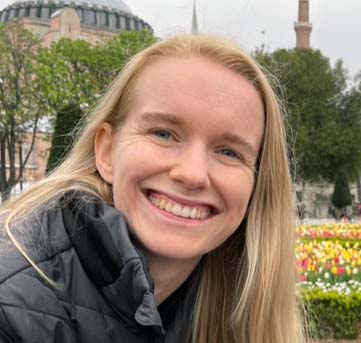 I'm a teacher and writer living abroad. I love languages, drinking lots of çay (tea) with friends, experiencing different cultures and going on adventures with my family.