If you're planning a trip to Turkey with children then you might be wondering what the rules are around child seats when traveling.
There is some unclear information online about this, which is partly due to the difference between law and common practise in Turkey.
In 2010, to comply with the laws of the European Union, a law came out that all children under 150cm and less than 35kg must wear an appropriate child restraint for their size. This is not just for private cars, but also for taxis, rental cars and buses.
Driving with children in Turkey – what do locals do?
As with anywhere, Turkish parents want to keep their children safe, and will generally use a car seat for infants, although not always for toddlers.
As for buses, it's not possible to use a child seat in one. The buses in Turkey are generally full and busy and there is no space to mount a child seat.
2010 Child Restraint Law
To be specific, Turkish law states that infants under 1 year old must be placed in an infant seat in the back seat with the baby faced towards the back window.
Children under 4 years weighing between 10-18 kilos are to be secured in a toddler seat in the back and can travel with their seat mounted forwards.
Children between 4-12 years old who are under 36 kilos are supposed to use a booster seat.
Children under 10 years old are also not allowed to travel in the front seat.
However, we have seen young children in Turkey sit in the front seat. Children also sit on adult's laps in cars if there are not enough seats for everyone.
What about rules for children in taxis?
Officially, it is mandatory for children to use child seats in taxis in Turkey too. We found this surprising, as many countries don't mandate car seats for taxis. For example, in the UK and Australia, children and babies can travel in taxis with no child restraint.
However, although taxis are included in the child restraint law, we have never seen a taxi with a child seat in Turkey.
When booking a ride from the airport, taxi booking services online give the option of hiring a child restraint. You can book infant seats, toddler seats and booster seats, based on the age and weight of your child.
Helpful tip
You may need to be flexible. We booked an airport taxi when we first arrived in Istanbul and requested a child seat. Unfortunately, it arrived without the car seat, as it wasn't available at the time.
Of course, just because child restraints are not strictly policed, doesn't mean you should be reckless with your child's safety. Especially in Istanbul traffic as taxis are known to start and stop suddenly.
Another option is to bring your own child seat with you. You could ask the taxi driver to help you mount it. However, if you are out exploring all day, it may be difficult to carry a car seat around everywhere. If that is the case, and you're travelling around a lot, it might be easier to hire a car instead which you can have fitted with a child restraint.
What about other road rules in Turkey, you may be wondering, like seatbelts, parking, speed limits and talking on the phone?
Unique Road rules in Turkey
All passengers in Turkey are required to wear a seatbelt.
In practise, only passengers in the front will be fined for not wearing a seatbelt. Not all taxis in Turkey have functioning seatbelts in the back seat anyway; for example, sometimes you'll see the seatbelt, but no buckle to fasten it.
The limit is 120 km/h on motorways and 50 km/h in urban and built-up areas.
If you have an accident, leave your vehicle where it is and call traffic police to report it. If it's an emergency, then you can use the number 112 in Turkey which covers police, firefighting, health, ambulance and shore and coast police. To dial traffic police directly, call 154.
You'll need to have your license and vehicle registration documents with you all the time when you're driving.
The legal blood alcohol limit is 0.5%.
It is illegal to use a cell phone when driving. However, hands free kits are allowed.
Some road rules are ignored at times. As foreigners, we feel it's best to stick to the rules as much as possible. We try to remember we're guests in the country and we want to be welcome here each time we visit.
Parking in Turkey
You won't find any metered parking in Turkey; however, parking officials sometimes collect parking fees in person.
Are the roads dangerous in Turkey?
As a parent you may be wondering whether the roads are dangerous in Turkey.
Road fatalities in Turkey are roughly 12 for every 100,000 people. It's slightly more than the average for European countries which is 9 per 100,000, but it's actually the same as the United States.
Heavy traffic does make it challenging to drive in Turkey, especially in Istanbul, so we recommend hiring a car only if you are an experienced driver. Not everyone is known for their patience on the road, so you'll need to remain calm.
We've seen drivers suddenly stop in the middle of the road, wherever it's convenient for them, which can cause hold ups. You'll need to get used to manoeuvring around them. Even if you are willing to wait patiently for them to finish their errand, chances are the drivers behind you will be keen to find a way to get past.
In Turkey, hand gestures are considered aggressive and insulting. If you truly get out of your depth, you can turn always turn on your emergency lights and cars will make way for you.
Police Check Points
You'll see lots of police check points on the road, where police may wave you down to check your license and registration. If you have your paperwork on hand, then you shouldn't run into any problems.
Animals on the Road
There are lots of animals on the road, so you'll need to keep a look out for them. If a dog runs after your car barking, just keep driving slowly until the it gets bored of you.
If you are misfortunate enough to hit an animal, you can call 153, the number for the free animal service in Istanbul.
One bonus to self-driving in Turkey with kids is that you are allowed to play movies on the car screen while driving. This makes travelling easier as everyone in the back can easily see the screen.
Petrol is expensive in Turkey so driving is not cheap, but it's an easy option with kids if you're travelling between cities where public transport is less frequent. It solves the child restraint problem in taxis and you can stop for as many breaks as needed.
Whether it's rules about child restraints or seatbelts or even rules around PPE when building, there's a certain care-free vibe in Turkey. Not everything is mandated or policed – personal responsibility plays a big part. We've enjoyed the ability to make our own choices about what we feel safe and comfortable with as we travel Turkey. Iyi yolculuklar! (Have a good trip!)
Disclaimer
We do our best to provide the most accurate and helpful information, but rules and procedures can change at short notice. Your experience could be different. For the most current information check official government sources and speak to professional taxi or shuttle company.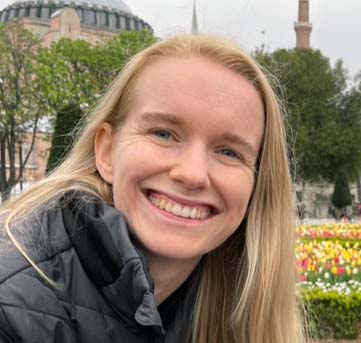 I'm a teacher and writer living abroad. I love languages, drinking lots of çay (tea) with friends, experiencing different cultures and going on adventures with my family.