The new Istanbul Airport (IST) in Turkey opened its doors in October 2018 and is officially the world's largest single terminal building. It's already a major transportation hub connecting three continents, Africa, Asia and Europe with 200 million passengers projected to be travelling through each year.
It currently has only one Domestic/International Terminal, but construction will continue until 2028 to expand even bigger.
Because it's a major transportation hub, millions of people fly through Istanbul on their way to somewhere else each year, especially people travelling from the Middle East to Europe. If you have a long layover, then you may want to leave the airport and explore the city for a few hours.
The airport is located in Arnavutkoy Area, which is roughly 40km away from the city center (a 50 minute drive, depending on the traffic, which is usually heavy). You'll also need between 1-1.5 hours to get through security and walk the distance of the enormous terminal.
If you have a layover of less than 8 hours though, we recommend you stay in the airport. You might be wondering then can you sleep in istanbul airport?
Staying in the airport: Where to sleep in Istanbul Airport
If you layover is under 8 hours, there are plenty of options to keep you busy at Istanbul Airport. In addition to lots of shopping opportunities, it has over 150 restaurants and cafes. It also has the largest duty-free centre in the world.
But if you have a lengthy layover at Istanbul Airport, then sleep and not shopping will probably be on your mind. We've compiled a list of all the best places at Istanbul Airport to get some sleep, with options to suit all budgets.
Free nap zone at Istanbul Airport
Istanbul Airport has "Nap Zones" in the international terminal with semi-reclined seats. You'll find one of these nap zones near Gate D. If it's not too busy, then this is a great free option for a rest.
If you decide to fend for yourself at Istanbul Airport rather than book somewhere to sleep, then you'll be glad to know it has plenty of amenities. The Istanbul airport nap zone is popular for those shorter layovers to catch a few moments of piece and quiet.
Sleeping pods at Istanbul Airport
If you don't mind paying for somewhere comfortable to sleep, then you can rent a sleeping pod by the hour. These are great if you want somewhere private to sleep during a long layover.
They are located in the International Terminal, and as of 2023, cost around $9 USD per hour and $2.15 for blankets and pillows. They have both solo and family options.
Istanbul Airport hotels
YOTEL Istanbul Airport Hotel is one of the largest airport hotels in the world (the biggest in Europe), with a whopping 451 rooms available. Of these, 171 can be booked by everyone while 280 are restricted to those flying internationally into or out of Istanbul Airport.
Yotel Hotel is the only hotel located in the airport. It is the most convenient option, but their rates start from around $250 USD per night.
YOTEL Istanbul Airport Hotel Airside
YOTEL Istanbul Airport Hotel Airside is located in the international transit (Duty-Free) area on the Departures Floor (2nd floor). If you follow Gates A and B, you will find it next to the LCW store.
If you're in a rush, this secure zone of the hotel is a good idea. With self-serve check-in, it's easy to get settled in quickly. And don't worry if your layover is short, you can book day rooms here in blocks of 4 hours.
YOTEL Istanbul Airport Hotel Landside
YOTEL Istanbul Hotel Landside is located opposite the Terminal Door Entrance. If you have a decent block of time, then you might want this option, as it has a gym and a bar and restaurant. It is accessible to the general public near entrance #7 and check-in counter 'R'.
They also have flexible meeting spaces that you can book for business meetings.
If you don't want to pay for a room but need a quiet place to rest, then you can book into the Komyuniti Lounge at the YOTEL hotel. For around $70 USD per person gets you access to this comfortable 24/7 space.
Food and drinks are provided all day and night (including a continental breakfast, lunch and dinner and late-night snacks) so you can relax and refuel before flying out.
Lounges at Istanbul Airport
IGA Lounge (also known as Istanbul Airport Lounge) – Location: International Terminal, Mezzanine Floor or Domestic terminal near Gate G11. You can pay at the door here. The walk-in rate is $63 USD per person. Note: this lounge is not available for arriving passengers, only for departing or in-transit passengers.
SkyTeam Lounge – Location: Terminal A, Level H. You'll need to sign up to one of their membership programs to access the lounge.
Turkish Airlines Lounge Domestic is located in the Domestic Terminal.
Both Turkish Airlines Lounge Miles & Smiles and Turkish Airlines Business Lounge are in the International Terminal.
Does Istanbul Airport have showers?
There are a two shower options at Istanbul Airport.
Ambassador Spa and Beauty Salon
Located at Istanbul Airport Transit Area, next to the IGA Lounge on H Floor
The showers include shower gel, shampoo/conditioner, shower cap, towel, slippers, hair-dryer, comb, cotton swaps and body cream. It costs 15 Euro per person.
IGA Shower at Istanbul Airport
Located at the International terminal, IGA Lounge Floor
IGA Shower offers separate shower cabins for men and women and is available to those in the IGA lounge. There are 6 shower cabins. The service fee includes shampoo, hair dryer, disposable body and hair towel. A shower kit that can be purchased for an extra fee which includes a few more items. It costs 10 Euro per person.
What about hotels near Istanbul Airport?
There are several hotels near the airport, but unfortunately not all of them offer airport shuttles.
Park Inn by Radisson, Istanbul Airport, Odayeri
Night rates here start from $95 USD. Park Inn Hotel is 15 kilometres from Istanbul Airport (roughly a 15 minute drive). It has beautiful views, as well as a restaurant with local and international cuisine and large meeting rooms that fit up to 90 people.
The best way to get to Park Inn from Istanbul Airport is by taxi.
Durusu Club Hotel
Day Rates here start from $60 USD. Durusu Club Hotel is set in a pretty location with forest views. They are located 15 kilometres away from Istanbul airport (a 13 minute drive) and have indoor and outdoor restaurants, picnic areas, and indoor and outdoor pools.
Menalo Hotel Premium Istanbul Airport
Day rates here start from around $100 USD. Menalo Hotel is a 10 minute drive from Istanbul Airport. They offer perks like VIP airport drop off and pick up, plus they're located in a picturesque location surrounded by forest.
Amenities at Istanbul Airport
Showers
If you want a shower, you'll have to either book into one of the lounges in Istanbul Airport, the Yotel Hotel or The Ambassador Spa & Beauty Salon which offers shower packages from $16 USD.
Phone Charging
You can charge your phone at every gate with mobile charging under the seats.
Storing Luggage
While most passengers tend to nap next to their luggage, you may prefer the peace of mind of storing your bags while you have a sleep. Öztürk Luggage Storage offer services in the International Area, Landside, Arrivals Area.
WIFI
At Istanbul Airport you get free access to Wifi for one hour when you login.
Playground
If you're at Istanbul Airport with children then you may want to check out PlayLand on the Departure Level to let them burn off some energy.
Leaving Istanbul Airport during a layover
If you have more than an 8-hour layover, you may be keen to see a few sights and get a meal out before your next flight. We've put together a list of some of the sights you can quickly squeeze in and our favourite restaurant for an amazing Turkish meal.
If you only have a few hours to explore, we recommend you head straight to Sultanahmet. Sultanahmet is the most popular destination for tourists as it has several of the key historical sights in Istanbul, like the 1500-year-old mosque the Hagia Sofia, the Blue Mosque and Topkapi Palace all next to each other.
Depending on the length of your layover, you may not be able to see inside all of them, but it's worth even just walking past as they're pretty impressive from the outside.
Sultanahmet Square is a vibrant district, alive with history and culture. Here you'll also find the grand Egyptian Obelisk of Theodosius in addition to remnants from antiquity like the 4th-century Stone of Million pillar ruin.
There are plenty of parks, gardens, fountains and bustling shops selling Turkish delight and baklava in the Arasta Bazaar, plus an array of traditional street food options. You'll see food carts with people selling simits, and roasted chestnuts and corn on the cob.
If you want a traditional Turkish feast, our absolute favourite restaurant in Sultanahmet (and where we take all our friends who stop through on a layover) is Platinum Café and Restaurant.
It has a huge menu, so you can get anything from chicken shish to stews cooked in traditional clay pots. You can also get a freshly squeezed juice and finish your meal with dessert and a Turkish cay.
Don't forget to ask if you can see the Roman ruins beneath the restaurant, as they have a viewing area where you can walk through the tunnels below.
If you have less than 3 hours to explore before you need to head back to the airport, then we'd recommend a quick walk around Sultanahmet Square, going inside the Hagia Sophia (which is free since being turned into a mosque), having a meal and finishing with a walk through Arasta Bazaar to pick up some Turkish delight.
If you have more than 3 hours there is a heap of things to do in Istanbul, you may want to go inside the Blue Mosque and purchase tickets for the Topkapi Palace, too.
Just be sure to leave plenty of time to get back through the heavy traffic to the airport for your next flight.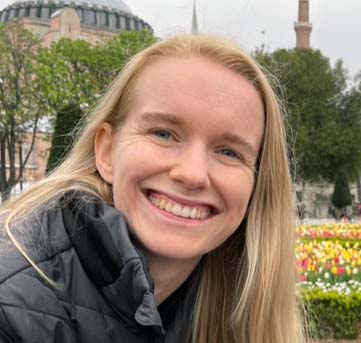 I'm a teacher and writer living abroad. I love languages, drinking lots of çay (tea) with friends, experiencing different cultures and going on adventures with my family.