Istanbul has some good toy outlets, but you won't find these stores just anywhere. You might assume that Istanbul's busy Istiklal Street would have a good toy range, and although it does have a few tiny stores, the selection is small and over-priced.
It can leave you wondering where all the good toy stores are, but you just have to know where to look and what to look for.
So what toys stores are worth visiting? We've compiled a list of the most popular toy stores in Istanbul.
Stand-alone toy shops in Istanbul
Toyzz Shop
This is a good all-round toy store with toys for every age, from sensory toys for babies to remote control gadgets for teenagers.
They have brands like Barbie, Hot Wheels and Fisher Price. We visited one of their stores earlier this year and the inner teacher in me was excited to see educational toys, flashcards, books, stationery and board games alongside all the toys.
Toyzz Shop have 253 stores across Turkey with numerous stores in Istanbul. 
Toys e Toys
There are 7 Toys e Toys stores in Istanbul. This small chain has some large toy stores that are quite similar to Toyzz Shop in their wide toy range. They have a whole section devoted to babies, another for toddlers and other sections for bigger kids.
They also have educational toys and stationery, and lots of choice when it comes to Playdough, Barbies, Lego and building blocks. Plus they have bikes, tents, dress ups and even prams. We visited one their stores twice in one week to get toys for our toddler. It's definitely one of our favourite toy stores!
Nezih
Nezih is another chain with 30 stores that are mostly in Istanbul but a couple are in Ankara, too. It has a big stationery and book section with school-related items like backpacks. They also have scooters and Lego. They don't have many baby toys, but if you have school-aged children then this store is worth a visit. 
Armağan Oyuncak
Armagh Oyuncak chain has 20 stores spread across Istanbul. They stock toys for children aged 0-13 years old, with a mixture of Turkish and international brands. You can shop in store or have toys delivered, with its easy return policy. They have a wide range with the usual Barbie, Lego and baby toy collections as well as stationary, musical instruments, electronics and outdoor products, like scooters and pool and garden toys. 
Joker
Joker is another chain with around 14 locations in Istanbul. They have books, movies, stationary, art, play sets and even baby-related items like prams, high chairs, baby food and baby clothes. 
D&R Music and Book Store
D&R is a music and bookstore with stores all across Turkey and 27 locations just in Istanbul alone. It has a children's section with educational toys, books, puzzles and games. 
It's not just franchises that offer good toys in Turkey; there are a few stands outs that are stand alone stores.
Imaginarium
Suadiye, Bağdat Cad. No:410/1, 34740 Kadıköy/İstanbul, Türkiye
Imaginarium is a big toy store located in Kadıköy and it has baby toys, as well as toys for bigger kids like games and puzzles, art and crafts and beach and outdoor toys. 
Emre Toys
Mahmut Bey Mah. 14. Ada NO:166 – 168, İstoç Çevre Yolu, 34218 Bağcılar/İstanbul, Türkiye
Emre Toys is located in Bağcılar, Istanbul and has a pretty cool collection of toys, like an electronic car that fit 2 children inside, playground equipment like slides and seesaws, and even an educational potty-training seat. They have plenty of battery and remote-control powered toys, as well as bikes, roller skates and trikes. 
Erkol Oyuncak
Mahmutbey, 2433. Sokak No:17, 34218 Bağcılar/İstanbul, Türkiye
Erkol Oyuncak is another store in Bağcılar, Istanbul and it has a really good educational toy selection with science kits, puzzles, board games, musical instruments and preschool flashcards and games. They also have a big outdoor section with pools, bikes, basket-ball hoops and garden games. They are rated highly, with lots of positive Google reviews. 
Calimero Toys
Caferağa Mahallesi Sakız Sokak Moray Apt No:2/B Moda, 34710 Kadıköy/İstanbul, Türkiye
Interested in wooden toys? Then you'll have to check out Calimero Toys in Kadıköy which has a big selection of aesthetic toys all made from wood. They have trains and blocks and even play kitchens and building stations.
Where can you find several toy stores all together?
Popular toy stores are often in modern shopping malls. And you'll normally only find one toy store in a Turkish shopping mall. If you want to visit a few toy stores in one go, then you should check out Trump Towers which has a Toyzz Shop, Imaginarium and a D&R Kids store.
There are some other malls that have several toy stores and also good entertainment options for kids in Istanbul.
On the European Side, you'll find:
Kanyon Mall
Levent Mah, Büyükdere Cd. No:185, 34394 Şişli/İstanbul, Türkiye
If you're looking for a fun family outing, Kanyon Mall is the place to go. It has three toy stores – Armagan Oyuncak, LEGO Store and Tirtil Kids – as well as Cinemaximum on the first floor, if you feel like a movie night. Kanyon Mall is located in Levent in the Besiktas district.
Historia Shopping and Life Centre
İskenderpaşa, Adnan Menderes Blv. No:2, 34080 Fatih/İstanbul, Türkiye
Historia Shopping Centre is not too far away from the city centre in Faith. It has both an Armağan Oyuncak and a Inkilap Kitabevi, which is a bookstore with a children's section of boardgames and books. It also has plenty of entertainment for the whole family to enjoy.
You can catch a movie on one of their 8 cinema screens, check out the bowling alley or let your children lose on one of the playgrounds. This shopping mall also holds regular concerts with fun activities lined up specifically for children.
Akmerkez Shopping Centre
Kültür, Nisbetiye Cd No:56, 34340 Beşiktaş/İstanbul, Türkiye
Akmerkez Shopping Centre in the Etiler District also has a Toyzz Shop, D&R, Nezih, and even an indoor playground where you can drop your children off while you shop.
The mall is huge with 8 floors, and it's the only shopping centre to receive 2 awards for best shopping centre in Europe when it was first built. You can take a break from toy shopping to sit in the extensive food court, which offers everything from Turkish cuisine to pizza.
The Forum
Kocatepe, Paşa Cd, 34045 Bayrampaşa/İstanbul, Türkiye
The Forum in Bayrampaşa is Istanbul's largest shopping centre and is home to LEGOLAND® Discovery Center, SEA LIFE Aquarium, a Cinema, Joypark and FunLab.
Sea Life Istanbul is home to Europe's longest underwater ocean tunnel at 83 meters long – and 61 sharks from 15 different species. Then there's LEGOLAND® Discovery Center which houses over 5 million LEGO® bricks sprinkled across 3 thousand square metres of awe-inspiring installations.
Metrocity
Levent, Büyükdere Cd. No:171, 34330 Beşiktaş/İstanbul, Türkiye
Metrocity is another large shopping centre in Levent. It has a Build-a Bear Workshop, Game (UK's leading video games and console store), Lego, Smiggle, Smyths Toy store and The Entertainer. It also has a bowling alley, a children's playground and a cinema.
ÖzdilekPark Istanbul Shopping Mall
Esentepe, Büyükdere Cd. No:181, 34394 Şişli/İstanbul, Türkiye
ÖzdilekPark is another mall in Levent. It has a Toyzz Shop and a D&R. It also has several amusement centres like Play Planet and Game Factory, a Play Zone (video arcade), and a cinema.
On the Asian side of Istanbul, you'll find:
Visaport Outlet Shopping Mall
Yenişehir, Dedepaşa Cd No:19, 34912 Pendik/İstanbul, Türkiye
On the Asian side of Istanbul in Pendik, Visaport is one of Turkey's largest shopping centres. It has a Toyzz Shop and while you're there you can enjoy the beautiful lakeside scenery in the food court where you can see rabbits, peacocks, cats and dogs roaming free.
It also has a Pony Club where kids can learn how ride ponies or horses, a bowling alley, Amusement Centre, Sea Aquarium, a go-kart track, ice skating rink and a cinema.
Emaar Square Mall
Ünalan, Libadiye Cd. No:88, 34700 Üsküdar/İstanbul, Türkiye
Emaar Square Mall in Üsküdar has a Toyzz Shop and a D&R. It has started focusing on families with the Emaar Aquarium and Underwater Zoo where you'll find over 20,000 species of marine life spread across Europe's longest glass terrace (27 meters). It also houses the Museum of Illusion, The Jump, PlayBowling and a 4DX movie theatre.
What do toys cost in Istanbul?
In 2023, prices for toys are reasonable but not necessarily cheap in Istanbul. The Turkish Lira dropped due to high inflation, making imported toys more expensive (which pushes up the price of other toys, too). Some locals are struggling to stretch their pay checks to cover the increased costs of rent and food, so there is not much left over for entertainment and toys.
To give you a rough idea, here are prices for toys from popular two toy chains.
Toys e Toys
4 pack of Playdough 81 TL ($4.26 USD)
Nerf Gun 315 TL ($16.58 USD)
Hot Wheels Truck 449 TL ($23.63)
Scrabble board game 296 TL ($11.90 USD)
Baby walker 539 TL ($28.37)
Fisher Price Jumperoo 2, 650 TL ($139.49 USD)
Barbie figurines start from 298 TL ($15.58 USD)
Kids bikes are between 1000 and 2000 TL ($52- $105 USD)
Toyzz Shop
Classic Lego set 999 TL ($52.58 USD)
Fisher Price Talking Puppy 549 TL ($28.90 USD)
Paw Patrol character set 429 TL ($22.58)
Small Thomas Train 69 TL ($3.63 USD)
Uno Cards 99 TL ($5.21 USD)
Kids 120-piece block set 269 TL ($14.16 USD)
Getting your toys home
When we relocated to Turkey with our toddler, we had to leave most of her toys behind in Australia. But the upside to that was taking her to Toys e Toys and letting her pick out a fresh set of toys, we were just as excited as she was.
But if you are getting more than one bag of toys in Istanbul, how do you get them home? Most locals in Turkey don't own a car due to the expense, so you can either shop online and have the toys delivered or catch a taxi. It is really easy to get a taxi as they are reasonably priced and you can request one with the BiTaxi app or Uber app. A 10 minute drive cost us around $5 USD.
Educational toys
If you have preschool or school-aged children, you may be interested in educational toys too. Most toy stores in Istanbul have a small section with flashcards, puzzles, board games, books and educational games.
If you are planning to learn Turkish while you're in Istanbul then a good place to start is at the local toy store.
Helpful tip
At Toys e Toys we stocked up on flashcards for numbers, the Turkish alphabet, colours and words for common fruit and vegetables. We learnt them first, and then used the flashcards to teach our toddler who was able to pick up language much faster than us.
Some big grocery stores in Istanbul like MMM Migros also have a small toy section where they sell things like PlayDough, building blocks, model cars and trains, remote control toys and stuffed animals, so you have plenty of options if you are looking for toys in Istanbul.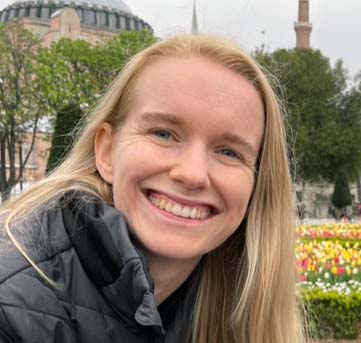 I'm a teacher and writer living abroad. I love languages, drinking lots of çay (tea) with friends, experiencing different cultures and going on adventures with my family.