Just 5 hour's drive south from Istanbul, Izmir is a city of 3 million and is known for its peaceful and relaxed lifestyle.
Compared to Istanbul, the city feels spacious. The paths are wider, it is less crowded and there are often people relaxing on the waterfront. Izmir is probably the least conservative of all Turkish cities and it has the most Western feel.
If you are visiting Turkey, Izmir is one place to put on your list. You can easily spend 3 days seeing the city sights and taking a trip to ancient ruins close by.
Top things to do in Izmir
1. Have a picnic or go for a bike ride at Kordon Alsancak Promenade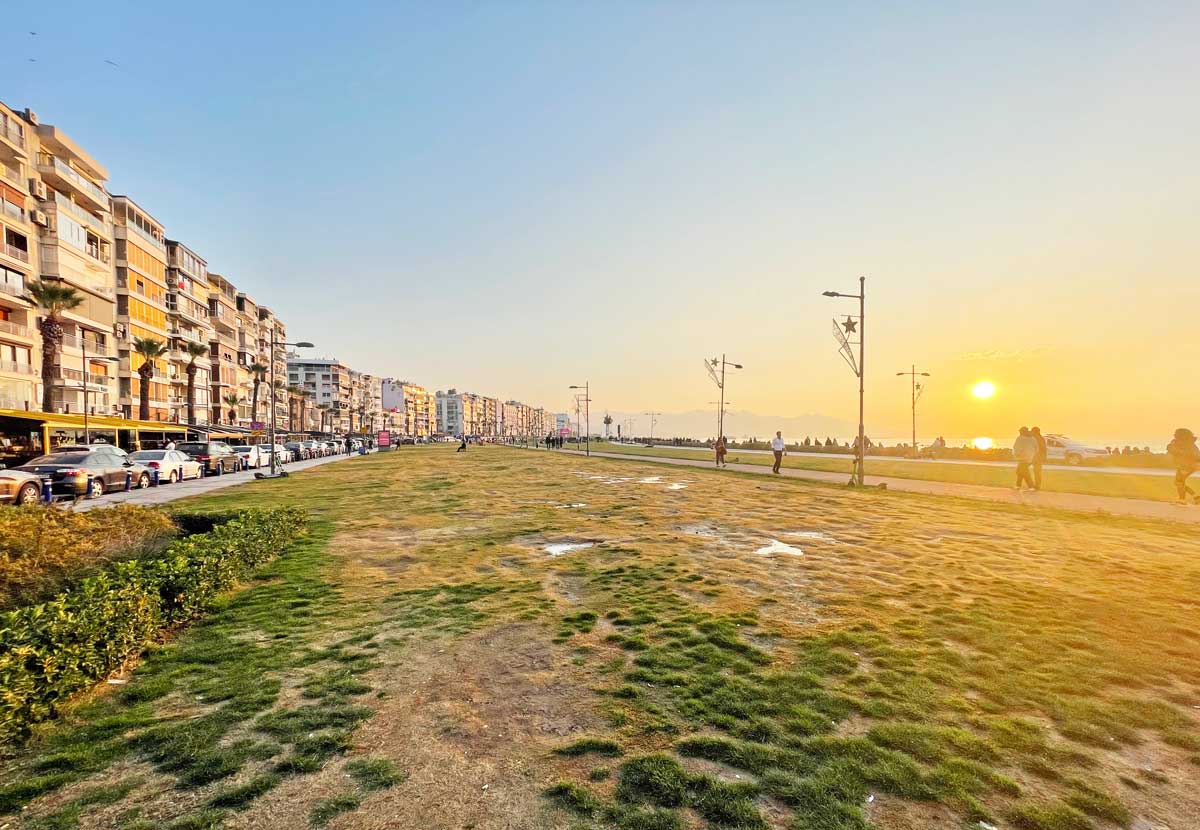 The waterfront is a popular place for locals to picnic, especially during sunset. You'll see people having a drink on the grass and lots of birthday parties and family gatherings.
The Kordon promenade at Alsacak is 1.3 kilometres long is a favourite for bike riders because of the wide biking track. You can hire bikes to quickly cover the length of the promenade or even take a small bus that looks like a tram.
2. Stroll through Kültürpark
Kültürpark is in the heart of the city, within walking distance to Konak square and Alsancak. It is a large green space with several large fountains, playgrounds, and walking tracks. You can go on a long jog or stroll without having to leave the park.
This park has a staggering number of children's playgrounds, one after the other, so there are many options for play if you have kids.
Kültürpark is also home to Luna Park, which is open most days from 3pm till midnight.
3. Shop in Downtown Izmir
If the Konak region is the city centre of Izmir, then Kıbrıs Şehitleri Caddesi is the main street. It is a pedestrian street in the heart of Alsancak with plenty of shopping and restaurants. It can be compared to Istiklal street in Istanbul, although on a smaller scale.
Izmir is known for its buzzing nightlife, and nowhere more than Kıbrıs Şehitleri Caddesi. You'll find plenty of bars, restaurants and street food joints open till well past midnight.
4. Eat Seafood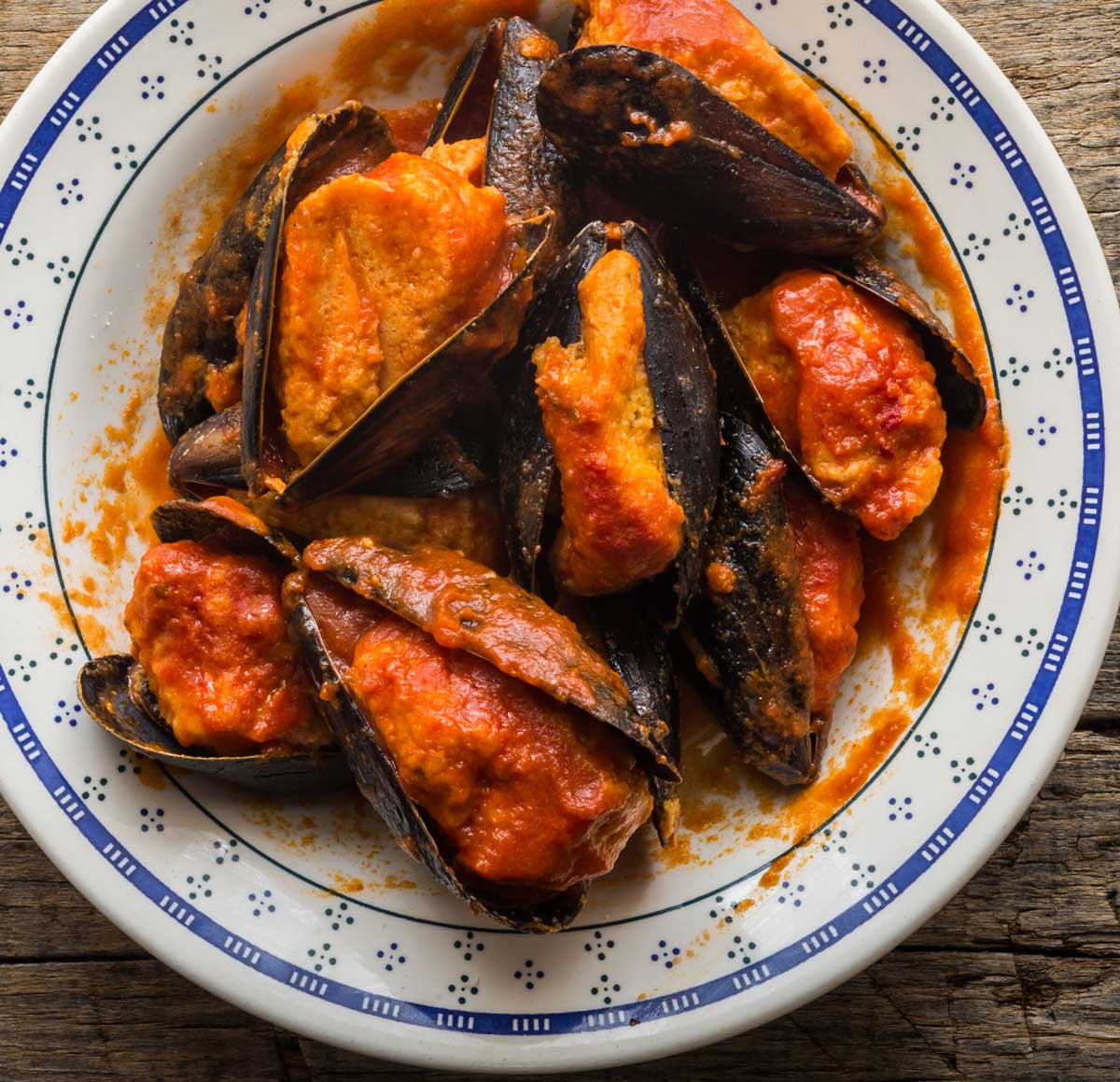 Being a coastal town, Izmir is known for its seafood. One of the most popular seafood dishes in Izmir is 'Midye Dolma,' which is stuffed mussels. These mussels are filled with a spicy rice mixture and served with a squeeze of lemon.
Another popular seafood dish is 'Kalamar Tava,' which is deep-fried calamari rings. They are usually served with a side of garlic yogurt sauce.
5. Try an Izmir Bomba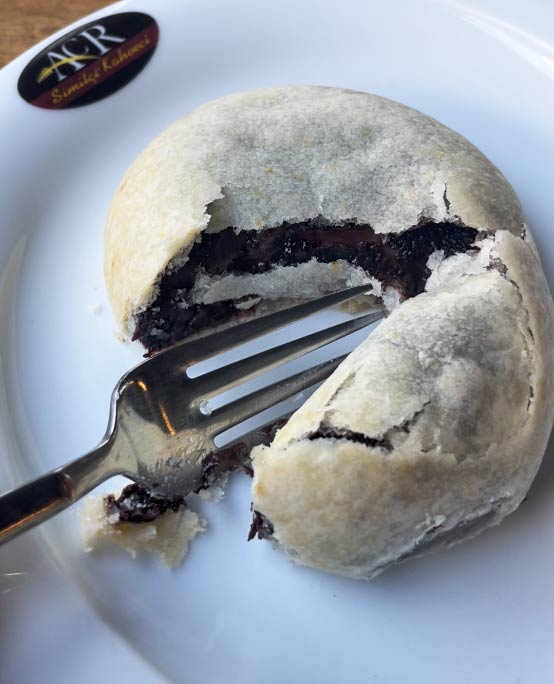 A bomba is a chocolate filled pastry which originated in Izmir and can now be found in bakeries all over Turkey. A trip to Izmir wouldn't be complete without trying a chocolate-dripping bomba.
6. Visit the seaside town of Cesme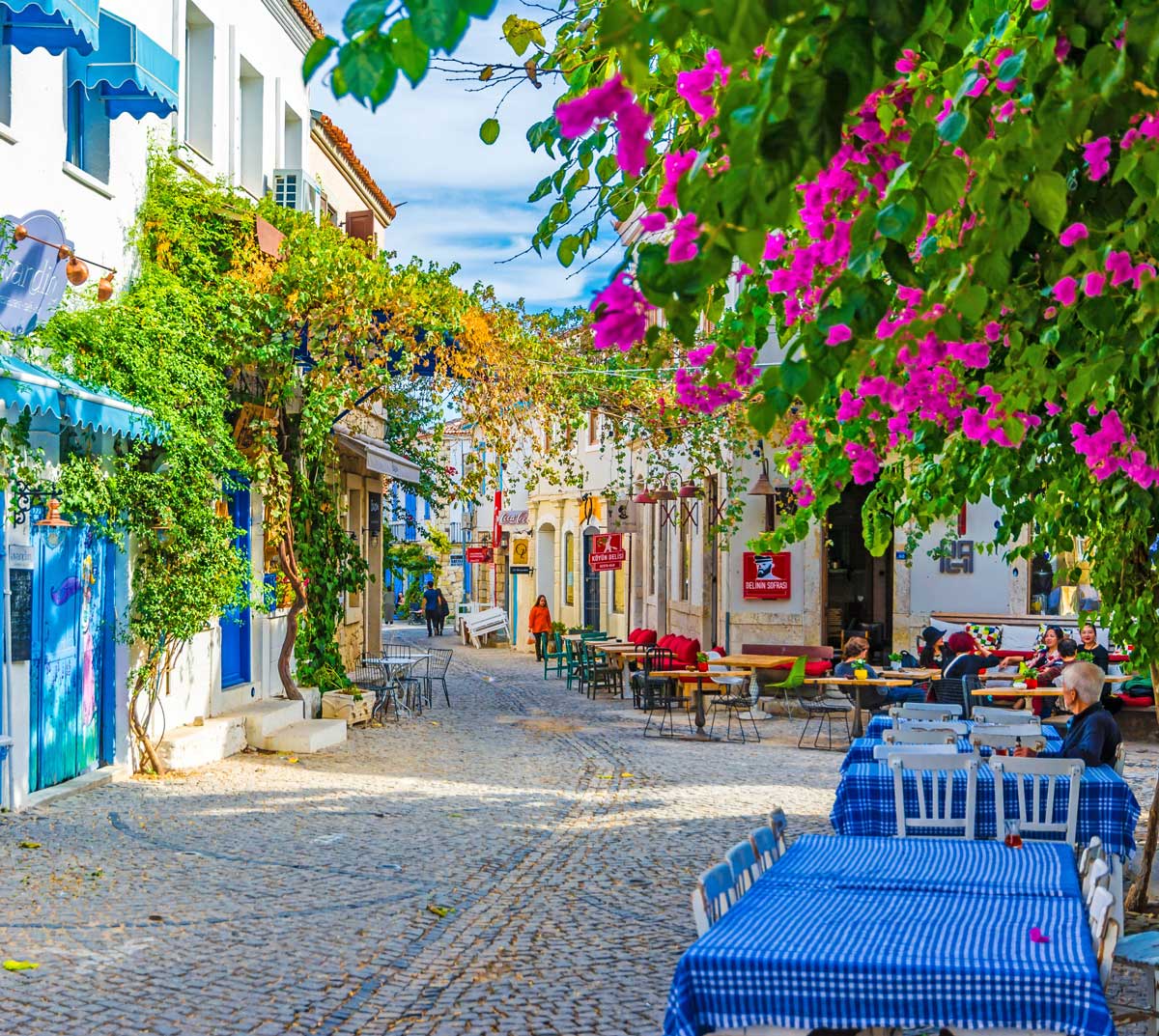 Izmir is close to some stunning locations, one of the most popular is Çeşme, a seaside town just over an hour drive from the city centre. The town of Çeşme is a popular summer location for both foreign and local tourists who flock to the many beaches there.
7. Take the ferry to Bostanli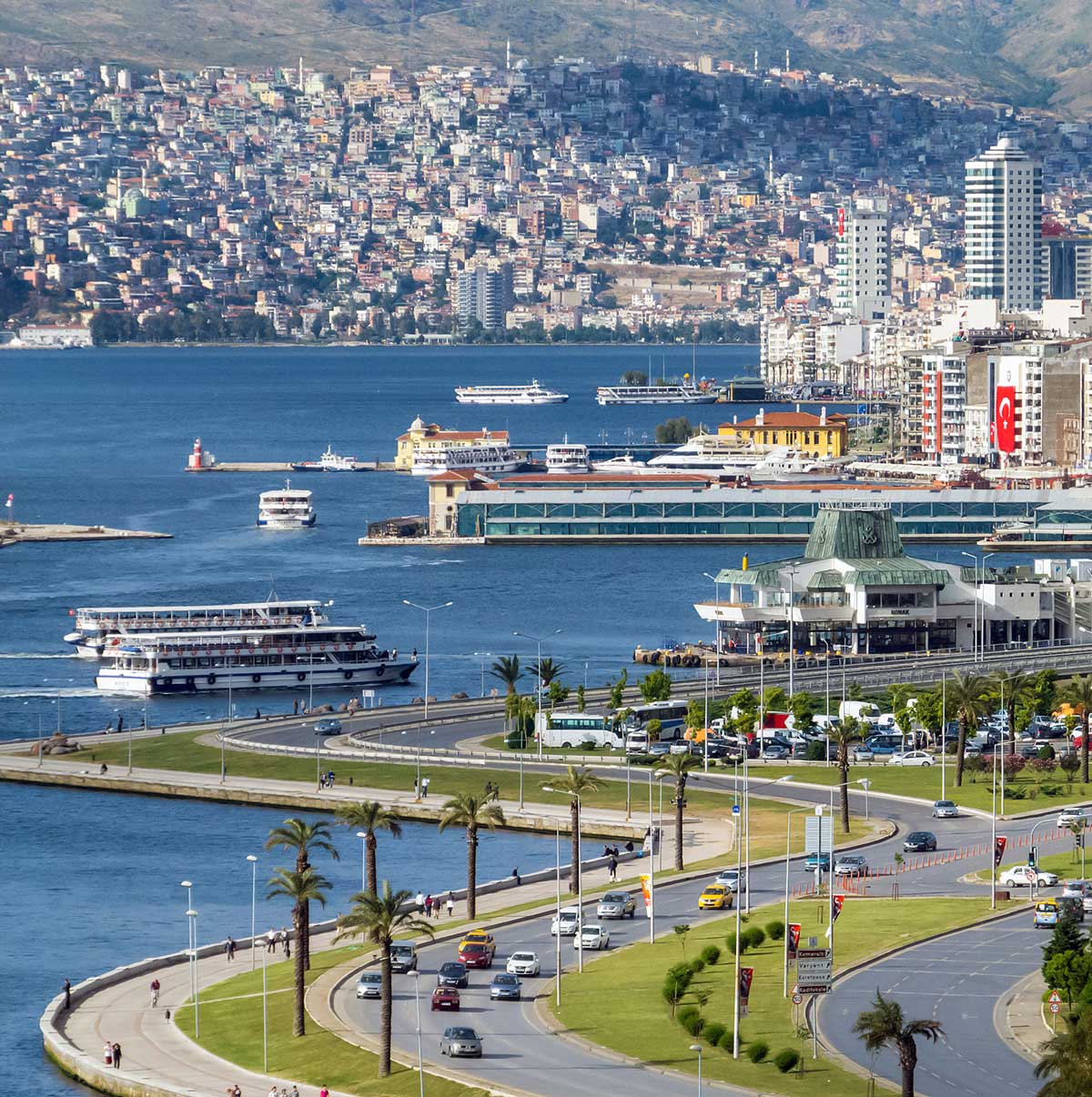 You can take the ferry from Konak İskelesi (Konak Pier) to Bostanlı İskelesi (Bostanlı Pier) by ferry. Bostanlı Sahili (Bostanli Coast) has a green space with a bike and walking track along the coast that is popular for sunsets views. Near the seaside are streets of restaurants and cafes and bars and nightclubs.
Helpful tip
In Bostanli we came across the best falafels we have ever had in Turkey. The franchise Team Hummus offer meal deals with a mixture of falafels, grilled chicken, chips and salads and their signature mint lemonade. They have 3 restaurants in Izmir, one in Alsancak and Bornova in addition to the Bostanlı location.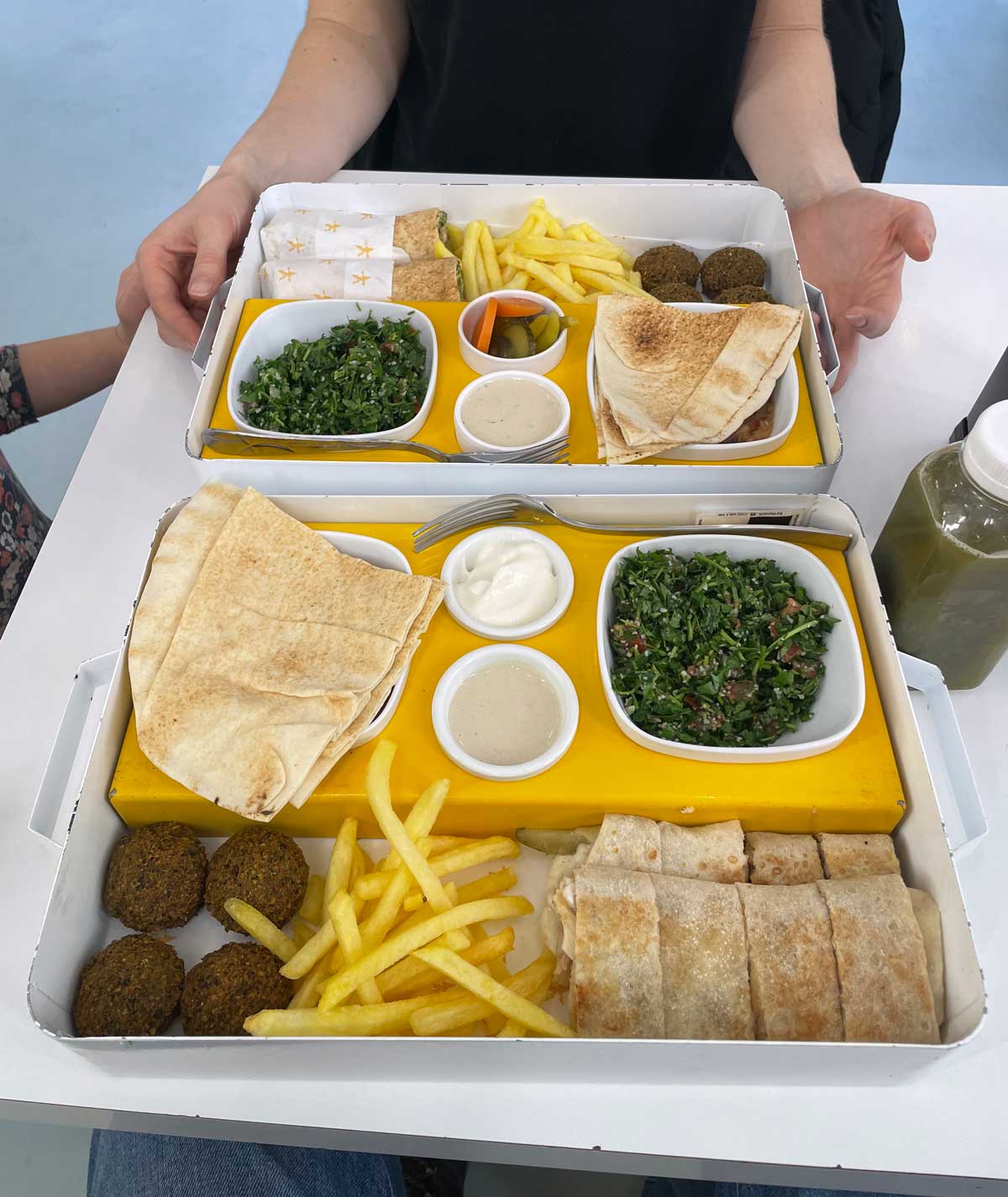 8. Visit the historical landmarks in Izmir
If you're interested in history, Izmir has a lot to offer. Here are some of the most notable historical landmarks you should check out:
Konak Clock Tower (Saat Kulesi)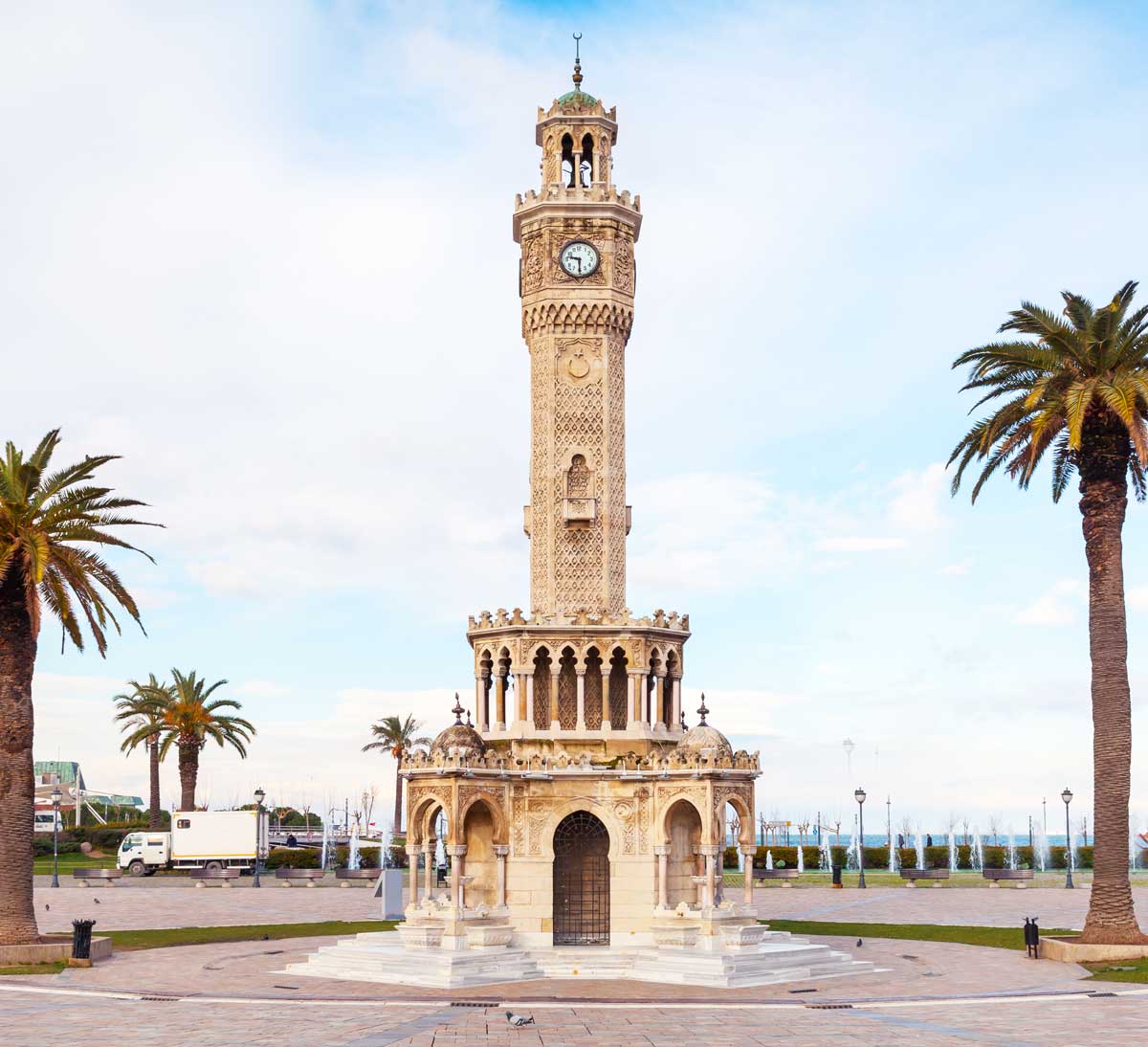 The Konak region is home to Izmir's famous Clock Tower, build in 1901, otherwise known as Saat Kulesi. It is a short walk to the ancient city of Smryna, which you can see sitting at the top of the hill, surrounded by modern architecture.
Smyrna – Agora Open Air Museum
The Smyrna Agora Open Air Museum is a fascinating collection of the ancient ruins of Smyrna located in the heart of Izmir. It was once the commercial and political center of the city, and today you can see the remains of the marketplace, the council chamber, and the public baths. There are also several statues and other artifacts on display.
Kadifekale Castle
Kadifekale Castle, also known as the Velvet Castle, is a hilltop fortress that dates back to the 3rd century BC. It was built by the ancient Greeks and later expanded by the Romans and Byzantines.
The ruins are situated about 2 kilometres from the seaside and you'll see breath taking views of the city and the Aegean Sea. It's only a 12-minute drive from Konak Clock Tower.
Ephesus Ancient City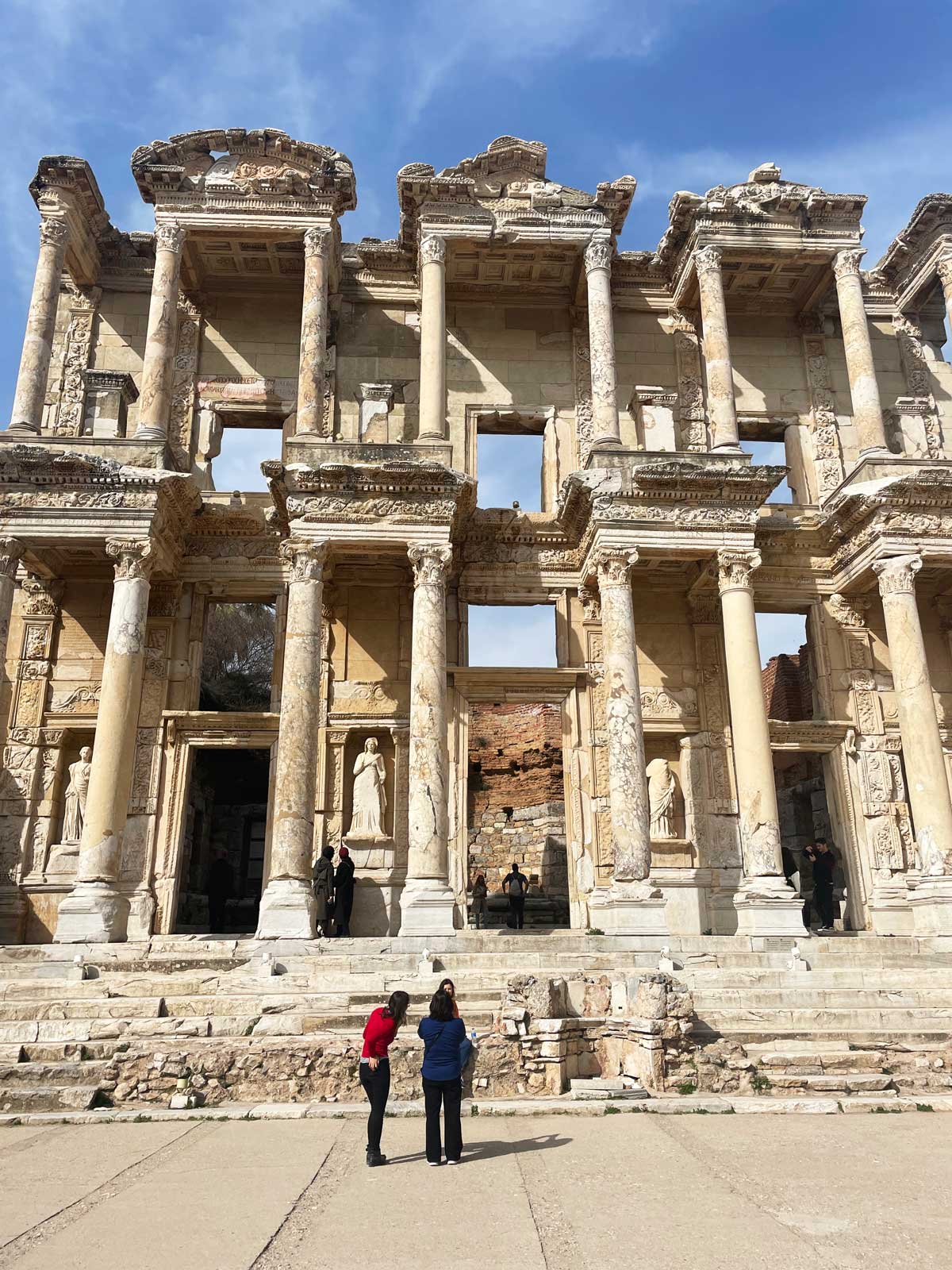 In most cities in Turkey, you will find ruins and historical buildings close by. But perhaps the most famous ruin in all of Turkey is Ephesus, known by locals as Efes, just 1 hour by car or 2 hours on public transport from Izmir's city centre.
If you are a resident of Turkey, be sure to bring your ID card as residents and citizens get a cheaper entrance fee. In 2023 it cost 700 TL ($25.46 USD) for tourists.
You can either explore the Ephesus ruins on your own or pay one of the guides at the entrance to give you a tour.
If you purchase a Museum Kart (Müze Kart), it will give you access to the ancient city of Ephesus in addition to over 300 historical cities all over Turkey. As of 2023 it cost 60 TL ($2.20 USD) for Turkish residents or citizens and 3500 TL ($130 USD) for tourists.
Helpful tip
We visited Ephesus with our toddler and we felt that 2 hours was enough time to walk through the city. If you come kid-free however, you may want more time to read the inscriptions and signs and to take photos, as well as explore some surrounding sites like the Terrace Houses and also visit the Ephesus Museum.
If you have children, it's a good idea to take them to the toilet at the entrance as there are no toilets till you reach the other side which is a decent walk.
Getting to Ephesus from Izmir
The simplest way to get to Ephesus from Izmir is to book a taxi from your hotel. However, taking the train is also straightforward and will cost less. You can go to the Basmane Gari (station) and take the Basmane-Denizli train to the town of Selcuk where Ephesus is. It is a 60-minute train ride.
Once you get to Selcuk Station, you can take a taxi to the ruins (just ask for Efes). Or you go the Selcuk Bus Station (5 minutes' walk from Selcuk Train Station) and get a minibus which departs regularly for the Efes. Minibuses in Turkey are called dolmus.
Frequently asked questions
Where is Izmir?
Izmir is situated on the Aegean coast, 5 hours drive south from Istanbul.
What is the weather like in Izmir? When is the best time to visit?
Izmir has a similar temperature to Istanbul, although slightly warner as it is further south. We recommend visiting in spring or fall as it can get very cold in winter and very hot in summer. Izmir can get as low as -3.8 degrees Celsius (38.9 F) in winter and as hot as 38.5 Celsius (101.5 F) in summer. Of course, the best time to visit varies depending on what you want to do in Izmir.
Whether you a foodie, beach bum, shopaholic, history buff or love nightlife vibes, Izmir will have something for you.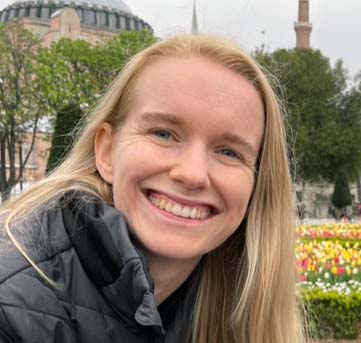 I'm a teacher and writer living abroad. I love languages, drinking lots of çay (tea) with friends, experiencing different cultures and going on adventures with my family.