It's not easy to find information on swimming pools in Istanbul. There are not that many public swimming pools available for everyone to use – for most of them you need to be a local resident.
When we first moved to Istanbul, we looked around for a swimming pool that offered swimming lessons for our toddler. It took us awhile to find information, but after talking to other expat parents and locals, we came up with a list of the best pools in Istanbul with options for both Turkish residents and visitors.
Public swimming pools
If you are a resident, then you have extra swimming options, including the use of public swimming pools. These pools generally require you to sign up for a membership. You'll also need to undergo a health check, including submitting a urine test, as well as providing documents that show that you live in the same municipality as the pool.
Acibadem Swimming Pool
Acıbadem, 34718 Kadıköy/İstanbul, Türkiye
Acibadem Kadikoy Municipality Swimming Pool has some good reviews and it's one of the few places you can purchase a membership for an adult without needing to purchase lessons too. You can only visit this pool if you are a resident of the Kadıköy area and can provide the relevant documents.
Beyoğlu Yüzme Havuzu
Bedrettin, Ambar Arkası Sk. No:8, 34440 Beyoğlu/İstanbul, Türkiye
Beyoğlu Yüzme Havuzu is a swimming pool in Beyoğlu which also shows great reviews. Some of the staff speak English so you can easily chat about memberships. Unfortunately, you need to be a resident for this one as well, and signing up includes purchasing a membership and submitting a urine test.
Swimming lessons in Istanbul
Aqua Tots
Aqua Tots comes highly recommended by Istanbul parents for children's swimming lessons. This pool is just for kids (so it's not the place to go for a family swim).
It offers swimming lessons starting from 4 months old, with classes for infants (4-12 months), toddlers and older kids (they also do pool parties there if you are looking for a creative party idea).
It's a great place for first time swimmers as it has heated pools and both private and group lessons available. They have two locations in Istanbul – Gokturk and Etiler.
Swimming Academy School
Hacı Arif Bey Sk. No:1, 34197 Bahçelievler/İstanbul, Türkiye
Swimming Academy School offers swimming lessons for both children and adults (aged 7-70). It's center is located in Bahçelievler. They also offer lessons at the following hotel pools:
Florya Crown Plaza Hotel
Ataköy Sheraton Hotel
Mercury Hotel in Beşiktaş
Şişli Yüzme Kursu – Teo Sport
Swimming instructors in Istanbul often conduct their swimming lessons in hotel pools, so you have a good chance of doing lessons close by in one of Istanbul's many hotels. Şişli Teo Sport offer swimming lessons in the following locations:
Divan Istanbul Hotel
The Elysium Istanbul
Cihangir Studio
Casa Towers Swimming Pool
Casa Towers Gym
Hotel swimming pools
This came as a surprise to us, but Istanbul has many hotels that allow you to pay to use the pool without being a hotel guest. And there are some stunning hotel pools in Istanbul. Generally, they offer both daily entry and monthly membership. You'll just need to call the hotel and ask about their pool membership options.
Ramada Plaza by Wyndham Istanbul City Centre
Ergenekon, Halaskargazi Cd. No:63, 34373 Şişli/İstanbul, Türkiye
One hotel pool that allows entry to the public is the Ramada Plaza by Wyndham Istanbul City Centre. You can sign up for a monthly subscription and also hire an instructor for group or private lessons. Not only is it a beautiful pool, but you can swim there as a family after lessons.
CVK Taksim
Gümüşsuyu, Sıraselviler Cd. No:11, 34437 Beyoğlu/İstanbul, Türkiye
If you want something for the whole family, CVK Hotel in Taksim has a pool and gym and you can hire their private instructor for children's swimming lessons.
InterContinental Istanbul
Gümüşsuyu, Asker Ocağı Cd. No:1, 34435 Beyoğlu/İstanbul, Türkiye
The Intercontinental Istanbul has a heated pool. And it has seasonal, monthly and daily passes available so you can go once or become a regular. The pool is closed during winter from November to May.
Hilton İstanbul Bosphorus Hotel
Harbiye, Cumhuriyet Cd. No:50, 34367 Şişli/İstanbul, Türkiye
The pool at Hilton Istanbul Bosphorus Hotel is popular because it includes the use of a sauna, Turkish bath and gym in the entry fee.
Are there places for families to swim in Istanbul besides swimming pools?
It's not recommended to swim in the Bosporus, but you can check out one of Istanbul's beaches. The Uzunya Beach Club located on the Black Sea (Northern Istanbul) has a restaurant by the beach and is a great spot for families. It's approximately 1 hour by car or 2 hours by public transport from the city centre. 
Sport and Fitness Centres
Another way to enjoy a regular swim in Istanbul is to get a membership to a gym that has a pool.
MAC/One GMall
Harbiye, Kadırgalar Cd. No:3, 34367 Şişli/İstanbul, Türkiye
MAC/One GMall is a fitness centre with a swimming pool in the popular Maçka Park located between Beşiktaş and Nişantaşı. They also have a sauna and a steam room and they have several different membership packages to choose from.
Hillside City Club Etiler
If you become a member at Hillside City Club then you can enjoy use of the pools, in addition to the gym of course. They have three locations in Istanbul, including one in Etiler.
MyClub World
MyClub World has 5 different locations in Istanbul, including one in Ataşehir. This is another fitness centre that also has a pool for members to enjoy.
Thinking of a water-related day trip?
Aqua Club Dolphin
Esenkent, Su Oyunları Merkezi Bahçeşehir Girişi, Cemalpaşa Cad., 34517 Esenyurt/İstanbul, Türkiye
Aqua Club Dolphin is Istanbul's largest water park and it has a variety of pools (including a children's pool) as well as slides and water activities. It is roughly 2 hours from Istanbul city centre by both car and bus.
Princes Islands
The Princes Islands are a good option if you don't have a car, as you can take the ferry there. You can pay a fee for a lounge chair and an umbrella at one of the beach clubs.
On the European side, you can get a ferry to Princes Islands from Beşiktaş, Eminönü, and Kabataş, and on the Asian side you can get a ferry from Kadıköy and Bostancı. The ferry ride is just over an hour from Istanbul to the islands.
So if you want to go for a swim in Istanbul, there are plenty of options. You just may have to be a little creative. Rather than going to a public swimming pool (unless you're a resident), you may have to sign up to a gym with a pool or check out one of the many hotel pools in the city.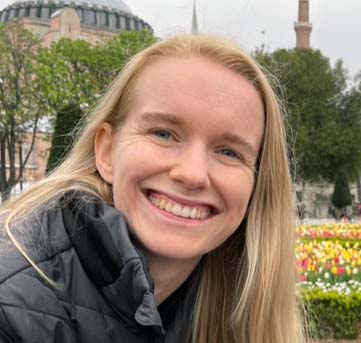 I'm a teacher and writer living abroad. I love languages, drinking lots of çay (tea) with friends, experiencing different cultures and going on adventures with my family.