Falafels are a favourite food of ours so wherever we go in the world we are always seeking out the best fresh and crispy falafels. Since we moved to Istanbul, we've been glad to find there are many different falafel restaurants throughout the city.
In this article we've listed our top restaurant picks that serve falafels in Istanbul – so you can easily find and enjoy these goodies yourself!
The top falafel restaurants in Istanbul
Falafel Koy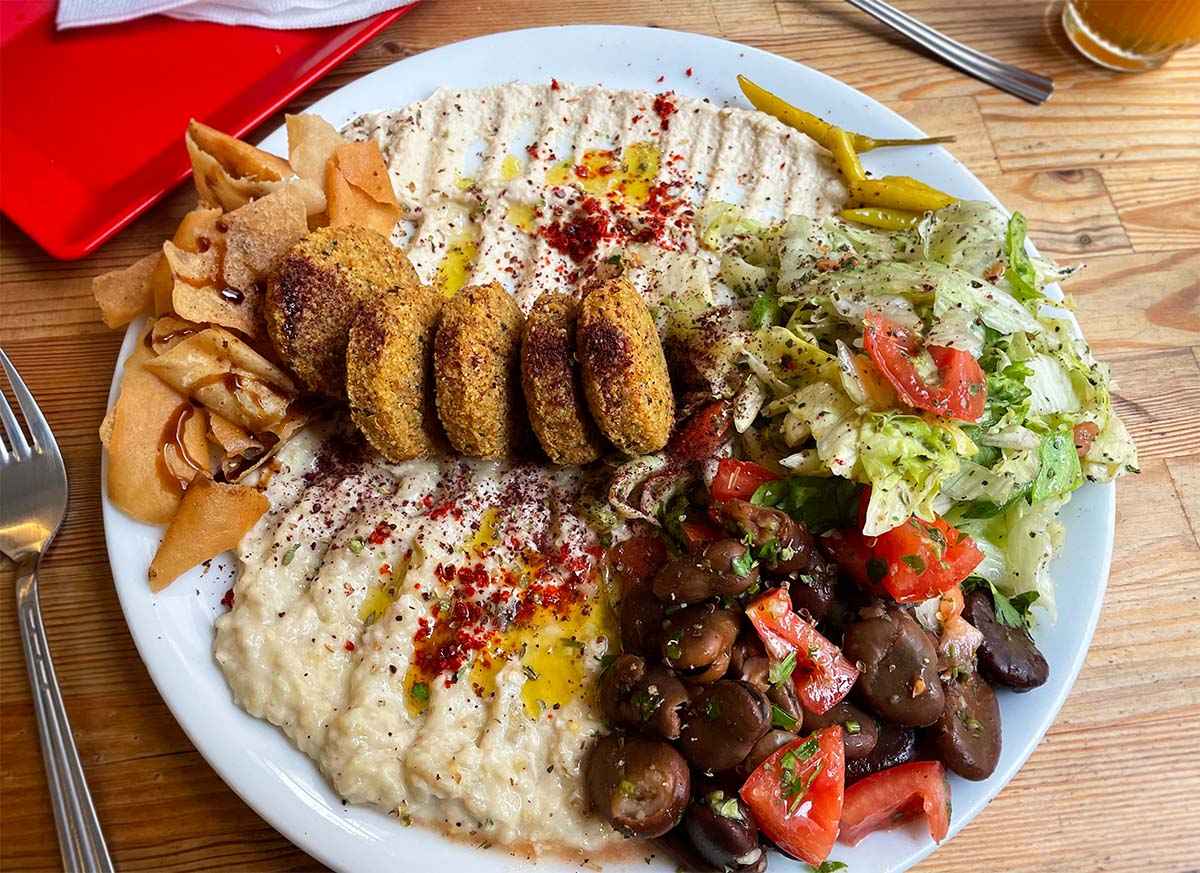 Şahkulu, Kumbaracı Ykş. No:69, 34421 Beyoğlu/İstanbul, Türkiye
The menu is all about falafels- with three main options (1) falafels wraps (2) bowls of falafels, or (3) falafel plates with mezes (houmous and baba ganoush) and salad and beans (as you have probably guessed, no meat on the menu). Everything is really affordable; it's probably one of the most affordable places we've eaten.
They also have a great drinks menu with a range of smoothies and fresh fruit juices. It's a small restaurant, but they do have indoor and outdoor seating. The staff are really friendly so make sure to say hi!
Helpful tip
Falafel Koy ties with Falafella as our favourite falafel restaurant. We've tried all the options here several times and everything is delicious, from the creamy humous to the tangy salad – and of course the crunchy falafels.
Falafel House
Kocatepe, Şht. Muhtar Bey Cd. No:19/A, 34421 Beyoğlu/İstanbul, Türkiye
Falafel House's menu of falafel dishes and chicken and salad is hugely popular. Their fresh tasty tabouleh and crispy falafels are a favourite with customers. It's a small restaurant and gets crowded quickly so you may have to wait for a seat.
Tahin Hummus, Falafel & Lebanese Grill
Locations in Beyoğlu, Kalikow, Nisantishe, Beşiktaş and Ataşehir
Tahin is a Lebanese restaurant with a big menu; they have lots of options- soup, salads, wraps, etc. But the star of the menu is the falafels. (They also have a bunch of different houmous choices, including houmous with chicken, houmous with beetroot, houmous with pine nuts and cashews, houmous with avocado, or you can even ask for it spicy, or with cumin, parsley or garlic).
Their classic main course is a falafel plate with a mixture of falafels, mezes, salad, rice and a choice of meat. Along with their Beyoğlu location, they also have Tahin restaurants in Kalikow, Nisantishe, Beşiktaş and Ataşehir.
Falafel Zone
Şehit Muhtar, Şehit Muhtar Mahallesi Öğüt Sokak, İstiklal Cd. No:4, Beyoğlu/İstanbul, Türkiye
You'll find Falafel Zone on the busy İstiklal Caddesi. They offer organic as well as vegan food and have a range of options from falafels with houmous and salad, to soup, wraps and burgers, and of course, houmous, baba ghanoush and tahini sauce.
Falafella
Caferağa, Moda Cd. No:53A, 34710 Kadıköy/İstanbul, Türkiye
Falafella is a completely vegan restaurant. They have several wrap options; our favourite are the classic falafel and the eggplant (patlican) falafel wrap. Their secret is in the sauce, a mixture of houmous, fresh herbs and something else amazing.
They also have falafel burgers and falafel portions with sides. Everything is really affordable here too. We're living on the European side of Istanbul at the moment, but we make sure to visit Falfella every time we're on the Asian side. They also have Lebanese and Palestinian style mezzes.
Helpful tip
Falafella ties with Falafel Koy as our favourite falafel restaurant. They are only open for lunch. Their opening hours say from 11am, but we've found they are rarely ready to take an order before 12pm.
They also have a restaurant located in Beşiktaş.
Falafel Tayba
Molla Gürani, Turgut Özal Millet Cd No:36, 34093 Fatih/İstanbul, Türkiye
This Syrian restaurant in Fatih has both indoor and outdoor dining. People rave about their falafels and houmous. They have falafel plates, falafel sandwiches, different kinds of houmous, pizza and lots of baked goods. Be prepared for a wait as it can get crowded.
Yalla Falafel
Cihannüma Mahallesi. Serencebey Yokuşu, Fırat iş merkezi, D:No: 1/B, 34022 Beşiktaş/İstanbul
Yalla Falafel in Beşiktaş also has high ratings. They have falafel plates with a range of sauces to choose from (houmous, yogurt, tahini, and hot sauce), as well as falafel wraps (classic and with cheddar cheese). Plus they also have Lebanese and Palestinian style dipping plates (bread with mezzes).
Gazze Felafili
Molla Gürani, Yusufpaşa, Turgut Özal Millet Cd No:8, 34093 Fatih/İstanbul, Türkiye
Another popular vegetarian restaurant in Fatih, this Arabic restaurant has lots on the menu, with falafel burgers, falafel salads and even falafel pizza.
Their fresh vegan food is raved about, as are their falafels which are cooked right in front of you. Downstairs is small but you'll find more seating upstairs.
Hamada Falafel Restaurant
İskenderpaşa, Aksaray, Meydani, İmam Murat Sk. 11-1, 34080 Fatih, Türkiye
This Falafel restaurant is affordable and full of locals. Their crunchy falafels are highly rated. If you're in the mood for delicious falafels and houmous in a street food environment, then check this place out.
Restaurants that have falafels on the menu
There are two restaurants that we thought we'd include that have extremely high ratings (Traveller's Choice 2022) and have falafels on the menu, although they are not exclusively falafel restaurants.
If you're craving falafels but your friends aren't keen, then you'll need to go somewhere with a wider menu and these restaurants won't disappoint.
Tom Tom Kebab
Firuzağa, Yeni Çarşı Cd. 39 A, 34425 Beyoğlu/İstanbul, Türkiye
Tom Tom Kebab is set off the busy Istiklal Caddesi, on a quiet rustic street. The restaurant is small but beautiful and you can watch your food being cooked right in front of you. They serve falafels, of course, as well as lamb, beef and chicken kebabs – which are some of the best we've had in Istanbul. The staff are friendly and offered us extra bread and dipping sauce and spoiled our daughter with extra treats. It's not the cheapest place but reasonable for the high standard of food and service.
Babel Café and Restaurant
Kuloğlu, Turnacıbaşı Cd. No:56, 34433 Beyoğlu/İstanbul, Türkiye
Babel is a very pretty restaurant set in the quaint town of Cihangir. They serve falafels, as well as probably the best mezze plate and salads we've ever tasted. They have a full bar and seating upstairs and downstairs. We recommend the lentil soup, vegan mezze plate and kofte. The ambience makes it a great place for a date night or a night out with friends.
What makes a good falafel?
Falafels have to be cooked fresh as they retain their crunchiness only for a few minutes after being fried (if you are getting your falafels delivered, try to pick a restaurant close by so they are still fresh when they arrive). They need to be crispy on the outside yet soft on the inside and have the perfect blend of mild spices, along with a hint of parsley and garlic.
We hope you enjoy eating some tasty falafels!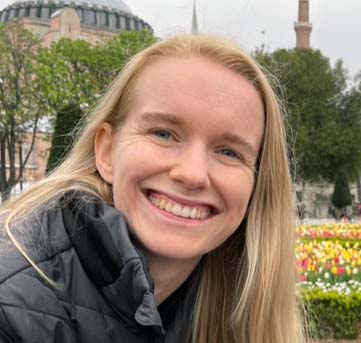 I'm a teacher and writer living abroad. I love languages, drinking lots of çay (tea) with friends, experiencing different cultures and going on adventures with my family.